Menig trader was verbaasd toen Bitcoin (BTC) met één dagelijkse candle hard door de $40.000-grens heen schoot — een koersbeweging van meer dan 5.000 USD, of zo'n 15%. ProfitFarmers denkt dat de grootste cryptovaluta naar $55.000 gaat. Daarnaast blijft het volgens de analisten niet bij positieve cijfers voor Bitcoin, zeker bij de altcoins valt wat te halen. De experts denken zelf hun ogen te hebben op altcoins die 1.000 keer over de kop kunnen gaan. Ze hebben er een gratis handleiding voor opgesteld.
Er is iets groots aan de hand volgens ProfitFarmers, dit is de samenvatting:
$200.000.000.000 nieuw (!) geld betrad de markt – ja, dat is 200 miljard USD;

Bitcoin steeg met 15% in een dag;

Double digit stijgingen voor ETH, SOL, ADA en ATOM;

Afgelopen week is bijna 10.000.000 USD in crypto gedoneerd aan internationale doelen;

Zorgen omtrent valuta in Oekraïne zorgen voor piek van 200% in activiteit bij Oekraïense exchanges.
Als dat je aandacht nog niet heeft getrokken kunnen de onderstaande grafieken dat wel. De prijs van BTC was $43.650 toen ProfitFarmers de analyses deed.
Grafiek 1 – BTCUSDT – Daily candles, gehele marktstructuur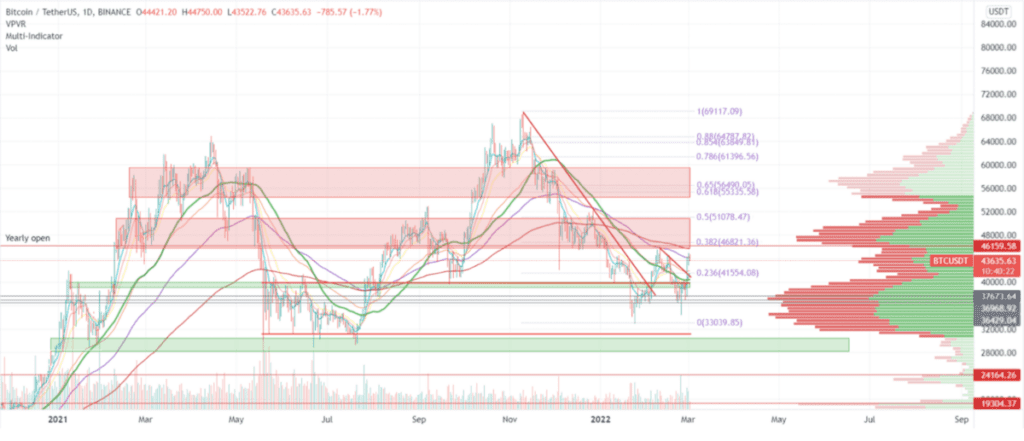 De Volume Profile Visual Range (VPVR) geeft ons drie duidelijke support– en resistance-niveau's;

BTC heeft een dubbele bodem gevonden op de plekken met het meeste volume, zoals verwacht. De market structure heeft zijn dieptepunten bij ongeveer $33.000 tot en met $37.000;

Het hoge volume op het jaarlijkse open-prijsniveau (1 januari) is de laatste drempel tussen hier en $55.000;

Dat niveau komt overeen met het 0.816-Fibonnacci-niveau. Als de prijs de yearly open overstijgt is het waarschijnlijk dat we naar dat punt gaan.
Grafiek 2 – BTCUSDT – 4-uurs candles, inverse head & shoulders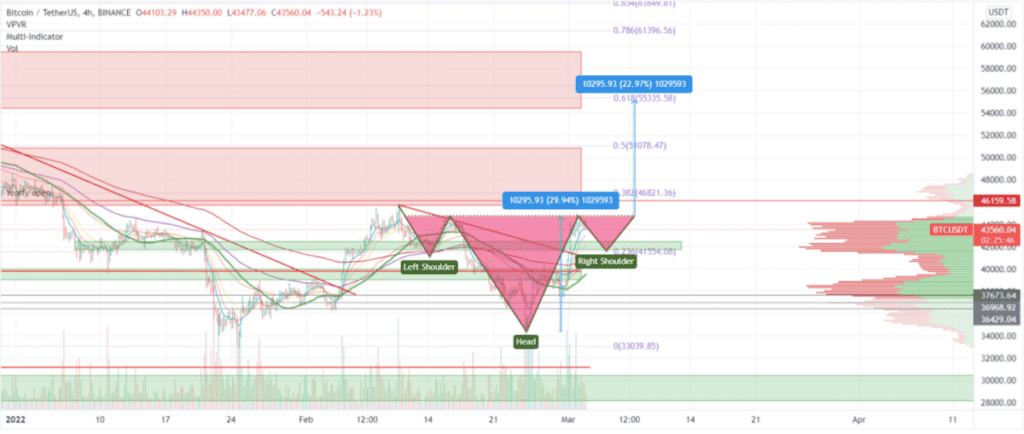 De yearly open wordt al voor de tweede of zelfs derde keer dit jaar bestookt;

Mogelijke inverse head & shoulders. Een koersbeweging tot $55.000 is waarschijnlijk volgens ProfitFarmers, als het patroon bevestigd wordt.

Plaatselijke downtrends al twee keer gebroken, beren zitten mogelijk in de ontkenningsfase.
Tradeplan – observaties
Simpele grafieken zijn positief, en we horen maar weinig signalen van de andere kant. Grafieken zonder poespas geven je een duidelijk beeld van wanneer de actie begint. De media zorgen voor een manie, en het is gemakkelijk om gehaaste beslissingen te nemen. Dit is de samenvatting van de trade:
1 – Als Bitcoin de jaarlijkse open herneemt, dan is de weg vrij naar $55.000.
2 – Als we terugvallen, dan is de kans groot dat het hooguit een dipje naar de 'rechter schouder' (inverse head & shoulder) zal zijn.
3 – Als geen van deze stappen uitkomen, blijf dan langs de zijlijn wachten. Waarschijnlijk komt dan later een betere kans.
Onthoud dat dit geen financieel advies is, dit zijn ideeën die we delen wegens educatie-doeleinden.
Hongerig naar meer? Wat dacht je van de monsterlijke stijgingen die Altcoins maken als ze uitbreken?!
Het handelsteam van ProfitFarmers heeft een stappenplan van 7 stappen gemaakt voor het vinden van de volgende 100-1000x-altcoin voordat de rest van de markt die vindt!
Wat als je $1.000 zou kunnen omtoveren tot $12.000.000 USD Of zelfs $100 in $1,2 miljoen? Dat is precies wat sommige investeerders in bijvoorbeeld XRP is overkomen die op het juiste moment zijn ingestapt. Ze realiseerden zich dat de markt op het punt stond om uit te breken, en XRP was één van die coins die de potentie had om hard over de kop te gaan.
Recentelijker hebben Dogecoin (DOGE), Terra (LUNA) en Polygon (MATIC) van de één op de andere dag voor nieuwe miljonairs gezorgd, met enorme prijsstijgingen vanuit het niets. Als Bitcoin zijn uptrend blijft aanhouden kan dit makkelijk opnieuw gebeuren. Hieronder lees je hoe je dat doet.
Allereerst moet je kijken naar de coins die meteen beginnen met dalen zodra ze beschikbaar komen op een exchange. Dat is je beste kans. Bijna elke crypto die hard is gestegen deed dat voordat deze uitbrak.
Daarna zijn er een aantal belangrijke factoren waar je rekening mee moet houden:
Volume

Momentum

Interesse van sociale media

Gebruiksdoel

Marktthema
Zoek de cryptocurrencies die meteen beginnen met dalen, en wacht totdat ze beginnen te stabiliseren. Controleer daarna deze vijf factoren. Bijna elke crypto met veel potentie houdt zich aan exact dit proces. Zodra je er één hebt geïdentificeerd heb je een geweldige kans om veel geld te verdienen.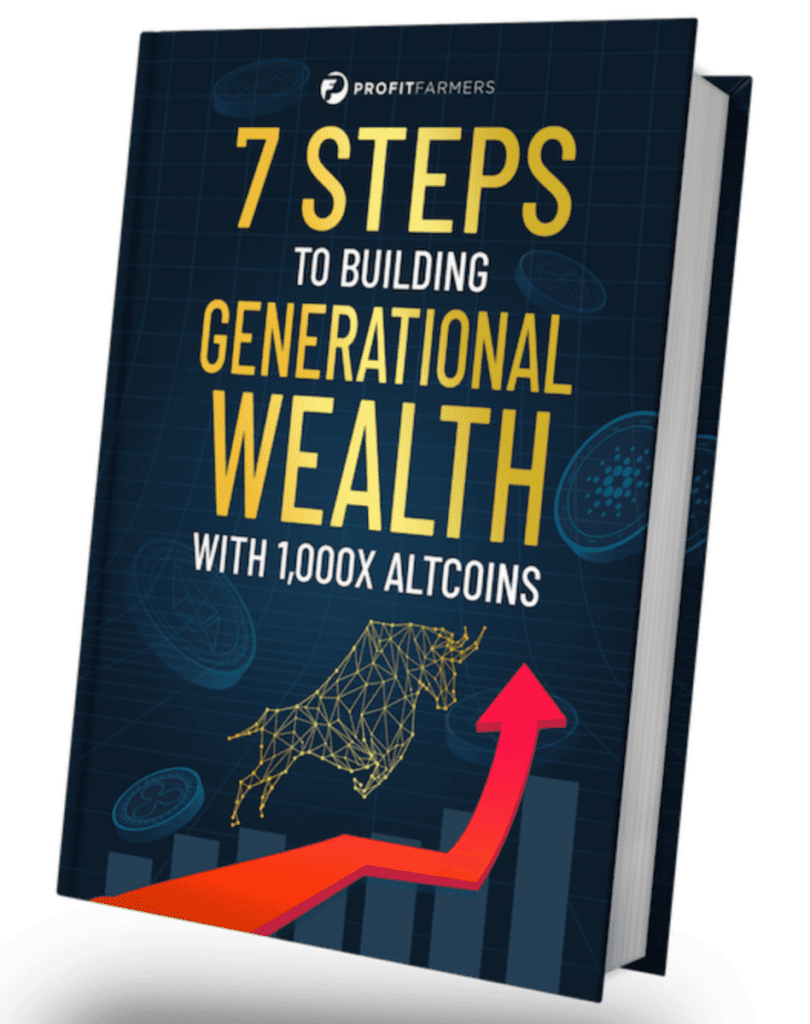 Wil je alle stappen in detail lezen, download dan onze guide met 7 gratis stappen!
---
Bovenstaand artikel is een ingezonden stuk en valt buiten de verantwoordelijkheid van Crypto Insiders. Dit is geen financieel advies.