Bitcoin steeg woensdag met ongeveer 10% en bereikte een piek van $42.580. Dit kwam doordat minister van Financiën Yellen per ongeluk details onthulde over het cryptobeleid van Biden. Er zijn echter berichten naar buiten gekomen dat er sprake zou zijn van een breuk tussen functionarissen van het Witte Huis en minister van Financiën Janet Yellen die voor vertraging hebben gezorgd bij het uitvoeren van dit beleid. BTC zakt hierdoor weer terug en levert een deel van de winst weer in en sluit ongeveer op $39.150. Maar de BTC bulls zijn het nog steeds niet eens over de bodemprijs van Bitcoin. 
Bitcoin schoot omhoog nadat crypto-investeerders instemden met Amerikaanse acties
Het Witte Huis gaf aan dat de Amerikaanse president Joe Biden op 9 maart een uitvoeringsbevel heeft getekend dat ervoor heeft gezorgd dat de regering verplicht de risico's en voordelen van een digitale dollar van de centrale bank moest beoordelen. Ook moesten zij kijken naar de problemen rondom cryptocurrencies. Toch bleek het bevel iets minder heftig te zijn dan men deed vermoeden. Het bleek dat alleen de federale agentschappen en andere even belangrijke instanties aansturen om de rol van crypto op de toekomst van het geld te beoordelen. Het ministerie van Handel zal hierdoor kunnen onderzoeken hoe crypto de Amerikaanse concurrentie in de wereldeconomie kunnen helpen ondersteunen. Het lijkt er vooralsnog op dat de Amerikaanse regering een aanpak kiest die cryptocurrencies toch zullen accepteren in plaats van verbieden. 
Lange termijn HODLers verkopen hun BTC nog niet
Ondanks de onzekerheid op de markt die wordt veroorzaakt door wereldwijde macro- en geopolitieke factoren, willen BTC investeerders hun activa niet verkopen. Uit gegevens van Glassnode blijkt dat 61,72% van de BTC die al langer dan 1 jaar vast staat in een wallet, niet verplaatst. Het percentage is sinds het begin van 2022 hard gestegen en stijgt nog harder door de oorlog die is uitgebroken tussen Rusland en Oekraïne. Dit laat nog maar eens zien hoeveel vertrouwen de investeerders hebben in een verder prijsstijging van bitcoin. 
Hoewel het nog vroeg is om te zeggen of de Amerikaanse overheid crypto daadwerkelijk wil omarmen is het een goed teken dat Biden papieren ondertekent waarin crypto enigszins wordt geaccepteerd. Dit toont ook dat hij crypto als serieus onderdeel ziet van de economie.
Hoe kan je je BTC winst maximaliseren?
Voor een BTC investeerder zijn de potentiële langetermijnwinsten erg aantrekkelijk als we kijken naar de all-time high van $69.000. Toch is moeilijk te voorspellen wanneer dit precies weer gaat gebeuren. 
Dus hoe kunnen we meer BTC verdienen voor we weer omhoog gaan?
Bexplus, een populaire cryptocurrency futures exchange, heeft een wallet programma gelanceerd waarbij gebruikers rente krijgen. Op deze manier kunnen gebruikers profiteren van een passief inkomen. Het enige wat ze daarvoor hoeven te doen is het houden van bitcoin. Ook al gaat bitcoin omhoog of omlaag, je krijgt altijd 21% rente.
Stel je zou 10 BTC storten met een rentepercentage van 21% dan krijg je per maand (10*21%/365*30)=0,173BTC in je wallet gestort zonder dat je daar wat voor hoeft te doen. Dit is een goede optie voor traders die liever risico-avers handelen.
Voor de traders met die meer risico willen nemen biedt Bexplus ook cryptocurrency perpetual contracts met een hefboom van 100x die ervoor zorgen dat je kan profiteren van een volatiele markt. Crypto perpetual contracts zorgen ervoor dat een handelaar BTC kan kopen of verkopen op basis van de analyse en voorspelling van de markttrend. Zolang er volatiliteit is op de markt is er een kans om winst te maken. Daarbovenop zorgt het hefboomeffect ervoor dat handelaren meer koopkracht hebben en dus hun posities kunnen vergroten om meer winst te maken. 
Stel dat je denkt dat de bitcoin koers terug zal gaan naar $42.000 en je opent een 100 long positie op $39.000, dan krijg je een winst van ($42.000 – $39>000) * 100 BTC / $42.000 = 6,89 BTC. Dit terwijl je slechts 1 BTC gebruikt van je eigen geld. Zo profiteer je van een ROI van 689%.  
Ga naar Bexplus en krijg een 100% BTC bonus en verdien geld met andere top crypto traders.
Bexplus is de marktleider in de crypto derivaten platformen en biedt een hefboom van 100x in coins als: BTC, ETH, ADA, DOGE, en XRP future contracten. Ze hebben hun hoofdkantoor in Hong Kong zitten en het platform wordt gebruikt door miljoenen traders van over de hele wereld, waaronder uit Amerika, Japan, Korea en Iran.
Rentedragende bitcoin-wallet

met een rentepercentage op jaarbasis van maximaal 21%.

Demo account

met 10 BTC om mee te oefenen.

Geen KYC proces, slechts een e-mailverificatie die je binnen een minuut kunt voltooien. 

24/7 1-op-1 klantenservice.

Snel je geld opnemen zonder limieten en stortingskosten. 
Een bonus tot wel 10 gratis BTC 
Als je BTC stort in je Bexplus account krijg je een bonus van 100% je stortbedrag. Deze bonus kan je gebruiken om futures mee te traden. Des te meer je stort des te meer bonus je krijgt. Je kan maximaal 10 BTC bonus krijgen!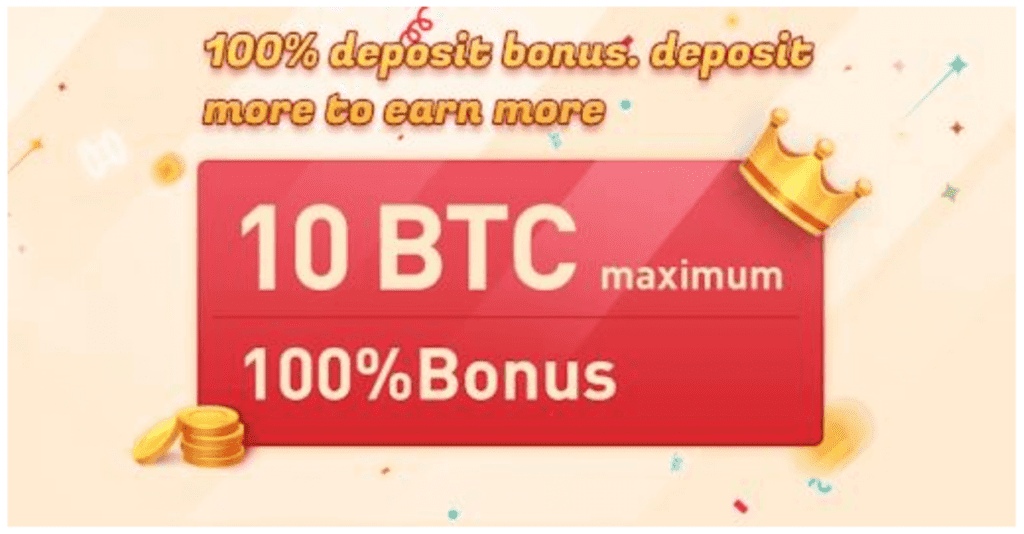 Meer winst met Copy Trading
Bexplus biedt ook nog de mogelijkheid om te copy traden, dit wil zeggen dat je andere traders kan volgen en precies dezelfde trades kan plaatsen als dat zij doen. Terwijl je dit doet heb je zelf nog volle controle over je eigen portfolio. Je kan stoppen met volgen, het volgen pauzeren en bijstorten wanneer je dat zelf wilt. Het copy traden op Bexplus is gratis en kost niks extra.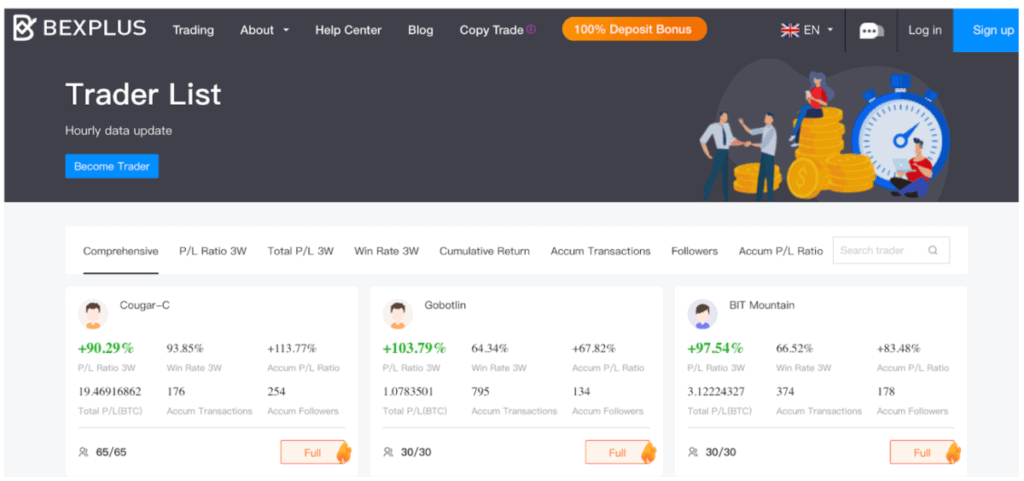 Klik hier om een account te maken en krijg een bonus van 100% over je eerste storting.
Mocht je vragen hebben kun je deze altijd stellen in het officiële Discord of Telegram kanaal. Admins zijn hier 24 uur per dag beschikbaar om je vragen te beantwoorden.
Discord: discord.gg/Bexplusofficial
(↑↑↑ Hier kan je ook in contact komen met andere ervaren traders of trading signals krijgen van andere traders om optimaal gebruik te maken van de cryptomarkt)
Telegram: t.me/Bexplusofficial
---
Bovenstaand artikel is een ingezonden stuk en valt buiten de verantwoordelijkheid van Crypto Insiders. Dit is geen financieel advies.