Ethereum en andere altcoins hebben de afgelopen 24 uur beter gepresteerd dan Bitcoin in de afgelopen twee weken. De waardering van de markt voor cryptocurrency is gestegen tot $346 miljard en is weer een stapje dichter bij de $400 miljard-regio.
In perioden van extreme volatiliteit en onzekerheid neigen beleggers naar een activa of cryptocurrency met de grootste liquiditeit en stabiliteit. De twee belangrijke correcties in januari en februari, die de waardering van de cryptocurrency markt van $816 miljard naar $240 miljard lieten kelderen, hebben veel grote beleggers naar Bitcoin gedreven. Bitcoin blijft doorgaans de meeste waarde behouden tijdens een correctie in de volledige breedte.
Onlangs begonnen altcoins sterke winsten te boeken ten opzichte van Bitcoin en begon de markt onafhankelijke prijsbewegingen aan te tonen. In plaats van de algemene prijsontwikkeling van Bitcoin te volgen, begon de prijs van veel cryptocurrencies zich anders te ontwikkelen dan Bitcoin.

Deze week presteerden ERC20-tokens, zoals Tron (TRX), 0x en ICON (ICX) goed tegen zowel bitcoin als Ethereum. De toenemende waarde van ERC20-tokens en de stijgende vraag van beleggers in de wereldwijde cryptocurrency-markt voor kleinere cryptocurrencies tonen aan dat beleggers meer risico's gaan nemen en weer meer vertrouwen hebben gekregen in de markt.

Saxo Bank, een Deense investeringsbank die zich richt op online handel en investeringen, verklaarde in een recent rapport dat het verwacht dat de instroom van institutioneel kapitaal in de cryptocurrency markt zal leiden tot een stijging van de prijs van de overgrote meerderheid van cryptocurrencies. Saxo bank liet weten dat:
De instroom van institutioneel kapitaal in de cryptocurrency-markt als gevolg van de toename van regelgeving en beleggersbescherming zou cryptocurrencies naar een positief kwartaal kunnen leiden
Bitcoin
In de afgelopen 24 uur heeft de Bitcoin-prijs een kleine stijging van 3% opgetekend van ongeveer $8.000 naar $8.250. Op 18 april zakte de prijs van Bitcoin onder de $ 7.900 tot $ 7.810. Echter schoot het vrijwel onmiddellijk terug met een relatief grote piek in koopvolumes op alle belangrijke exchanges.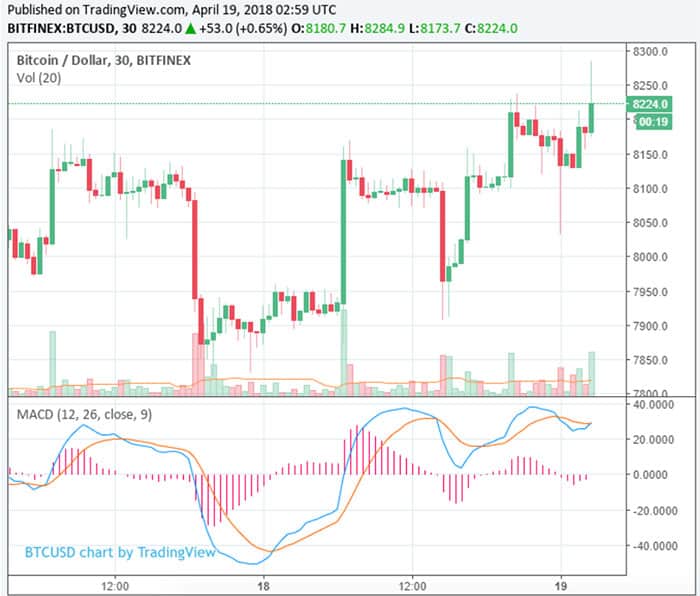 Momenteel blijft de Relative Strength Index (RSI) in het 56-teken staan, wat een neutrale zone betekent. Bitcoin is niet oververkocht of overgekocht, wat meestal een optimistische indicator is voor groei op korte termijn. Zowel exponentiële als eenvoudige gemiddelden demonstreren koopsignalen en suggereren dat de Bitcoin prijs waarschijnlijk een rally zal gaan maken gedurende 19 april.

Zoals opgemerkt door Saxo Bank, kan de plotselinge toename van de vraag naar bitcoin van institutionele beleggers en detailhandelaren niet worden verworpen, omdat grote banken zoals Barclays hun plannen hebben onthuld om in de toekomst cryptocurrency trading desks op te zetten. De entree van grote financiële instellingen laat zien dat de vraag van institutionele beleggers reëel is en in snel tempo toeneemt.