De koers van cryptocurrency EOS is vandaag met maar liefst 20% gestegen. Dit lijkt te maken te hebben met een op handen zijnde hard fork, deze staat gepland op 21 september. Eerst een korte uitleg over de hard fork en dan tijd om de grafieken in te duiken.
Hard fork EOS op 21 september
Jack Gall van de EOS Network Foundation heeft bevestigd dat EOS een grote update kan verwachten op 21 september. Er gaan geruchten in de community dat er een rebranding plaats zal vinden, denk aan een nieuw logo en een nieuwe naam. Dit soort oppervlakkigheid kan in de nog jonge cryptomarkt vaak zorgen voor veel hype en een stijgende koers.
Cynisme daargelaten, EOS kan wel een frisse start gebruiken. Het cryptoproject belooft al jaren veel, maar levert vrijwel niets. Althans, niet genoeg om de community tevreden te houden.
Op 21 september verhuist Antelope van het testnet naar het echte netwerk van EOS. Antelope is een open framework blockchain en een community-run codebase. Het maakt gebruik van een gedelegeerd Proof-of-stake consensusmodel, dat is voortgekomen uit proof-of-stake, waarbij gebruikers van het netwerk stemmen en afgevaardigden kiezen om het volgende blok te valideren.
Voor zo ver het fundamentele nieuws, tijd voor een technische analyse.
Koers EOS stijgt 20%
EOS wordt op dit moment voor 1,89 euro verhandeld op cryptobeurs Bitvavo. Door de stijging is EOS uit een lang opwaarts kanaal gebroken.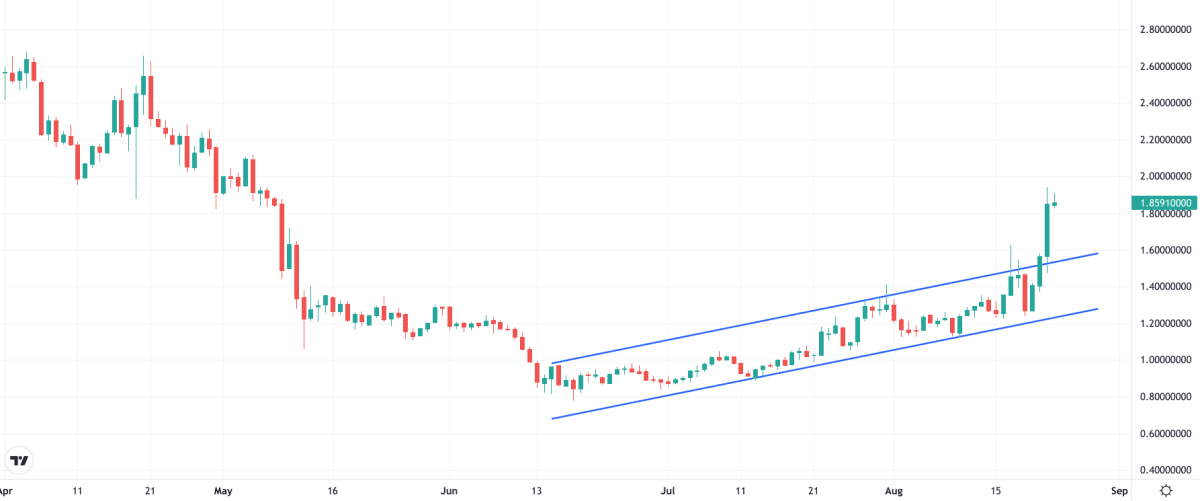 Hierboven staat elke candle voor 1 dag, sinds het dieptepunt halverwege juni is EOS gevangen in een opwaarts kanaal en had een katalysator nodig om hieruit te breken. De hard fork van volgende maand bleek de cryptocurrency een zet te geven.
Wat verwacht Fibonacci van EOS koers?
Wat zijn de volgende resistanceniveau's die EOS moet beslechten? Hiervoor gebruiken we de ratio's van Fibonacci, een Italiaanse wiskundige.
De Fibonacci-ratio's worden in de technische analyse gebruikt om potentiële support en resistance zones weer te geven. Alle niveau's (ratio's) worden hieronder weergegeven door de lijnen die de kleuren scheiden.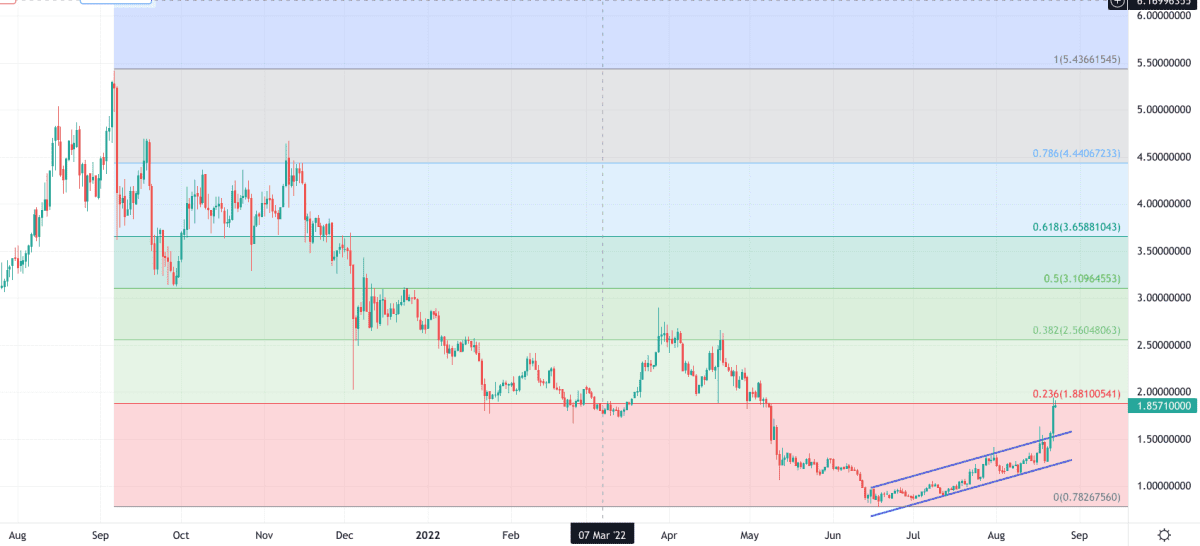 In bovenstaande grafiek is elke candle nog steeds één dag en op dit moment heeft de koers net de bovenkant van het onderste niveau overschreden. Het volgende koersdoel volgens Fibonacci ligt op 2,56 euro. Dit is geen onrealistisch doel gezien de hype die kan vormen rond een hard fork.
Mocht dat niveau binnen een paar weken behaald worden, dan kan de EOS koers zich opmaken voor 3,11 euro.
Waaruit bestaat de Fibonacci-reeks?
Wellicht ken je de Fibonacci-reeks uit de bestseller van Dan Brown, The Da Vinci Code. In de reeks van getallen is het volgende getal steeds de optelsom van de vorige twee getallen:
0, 1, 1, 2, 3, 5, 8, 13, 21, 34, 55, 89, 144, 233 etc.
Uit deze reeks ontstaan ratio's door een getal te delen door een opvolgend getal in de reeks. Een getal delen door het volgende getal levert 0,618 op, of 61,8%. Deel een getal door het tweede getal rechts ervan en het resultaat is 0,382 of 38,2%, het getal daarna levert 0,236 ofwel 23,6% op. Laatstgenoemde ratio is net gebroken door EOS.