Netflix is schijnbaar bezig met de productie van een documentaire over de altcoins op de markt. Een opmerkelijke ontwikkeling, hoewel het logischerwijs hun bestaande Bitcoin-documentaire zou kunnen aanvullen.
Het wereldwijde streaming-platform heeft zich de afgelopen jaren druk bezig gehouden met de productie van films, stand-up comedy shows, tv-shows, documentaires en zelfs anime-series. Toen de eerste Bitcoin-documentaire op Netflix werd aangekondigd, verbleef de meerderheid van de crypto-community nogal sceptisch.
Dat is ook niet geheel verrassend; als het gaat om documentaires of tv-shows wordt bitcoin (BTC) vaak in een kwaad daglicht gesteld. Zo focussen de meeste producties zich op de negatieve kant van de crypto-industrie. De Netflix-documentaire, die Banking on Bitcoin heet, heeft ondertussen al enkele positieve recensies ontvangen. Naar verluidt probeerde Netflix tenminste het hele verhaal te vertellen in plaats van slechts een deel ervan.


Hoewel er niet veel bekend is over de altcoin-documentaire, zijn er al enkele afbeeldingen opgedoken op Reddit. Een van die afbeeldingen geeft de set van de documentaire weer, waaruit blijkt dat het onder andere PACCoin, Global Boost en een paar anderen zal bespreken. Het is echter nog af te wachten welke altcoins allemaal zijn geselecteerd of wat de selectieprocedure precies inhield.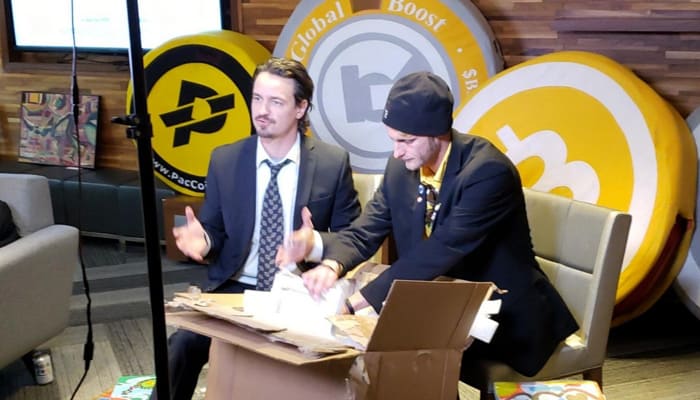 Afbeelding 1: Filmset van de vermeende altcoin-documentaire (bron: Reddit)
Toch roept het project ook enkele vragen op. Zo is de altcoin-markt erg volatiel; projecten die vandaag relevant zijn kunnen binnen enkele maanden al weer zijn verdwenen. Het zal dus een uitdaging zijn voor Netflix om een realistische altcoin-documentaire neer te zetten die de markt goed weerspiegelt.
Het zal tevens interessant zijn om te zien wat voor effect de documentaire zal uitoefenen op de altcoin-markt. Netflix is het meest populaire streaming-platform ter wereld. Er bestaat dus een mogelijkheid dat, afhankelijk van de toon van de productie, het een grote bearish druk binnen de markt kan veroorzaken.
Wil je op de hoogte blijven van het laatste nieuws? Abonneer je dan op onze push-berichten, 
Facebook
– of Twitter.
[ci-widget-v2]