Google probeert kennelijk mede-oprichter van Ethereum (ETH) Vitalik Buterin te strikken voor hun team, volgens een, sindsdien verwijderde, tweet die Buterin naar verluidt postte op 20 mei.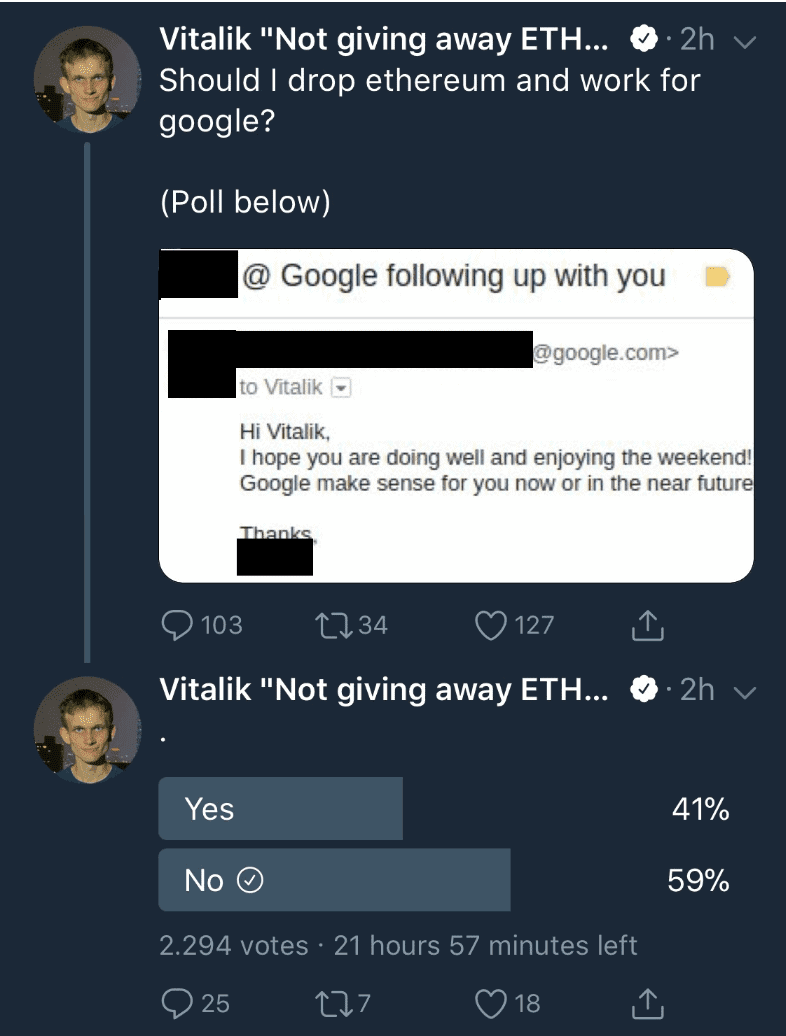 Buterin postte een tweet met een screenshot van een ogenschijnlijke Google-recruiter die hem vroeg of "Google iets voor hem zou zijn, nu of in de toekomst". Daarbij plaatste hij een poll met de vraag aan de Twitter-community over het al dan niet aannemen van de baan.
In zijn originele tweet had Buterin de naam, het e-mailadres en de profielfoto van de recruiter onzichtbaar gemaakt. De poll had meer dan 2000 reacties voordat de tweets werden verwijderd, waarbij de meerderheid "nee" stemde op de vraag of Buterin Ethereum voor Google achter zou moeten laten.
Eind maart onthulde Google dat het werkt aan twee afzonderlijke blockchain-projecten: een "fraudebestendig" auditsysteem en een cloud operations platform, Eerder diezelfde maand had Google plannen aangekondigd om alle crypto-gerelateerde advertenties te verbieden.
Reddit-gebruiker Fuyuki_Wataru heeft gereageerd op het plaatsen en verwijderen van Buterin's Google-tweet door het volgende te schrijven:
Buterin is vrij om te doen wat hij wil, eerlijk gezegd is zijn talent te groot om in te sluiten, zelfs bij een bedrijf als Google. Als je zoveel bereikt hebt op zo'n jonge leeftijd, denk ik dat het leven meer plannen voor je heeft. Misschien is een vakantie van een goede 1 of 2 maanden een beter idee.
Momenteel staat Ethereum op $695, een klein verlies van 2,53% in de afgelopen 24 uur.