De bulls houden stand, de koers van bitcoin maakt hogere lows, maar de kracht neemt af. Dit is in een notendop het eerste wat ik zie als ik naar de huidige grafieken kijk. De 'long–play' van de afgelopen weken blijkt tot op heden de juiste en ook al werd de koers deze week afgewezen op een top van $7.292 op cryptocurrency exchange Coinbase en viel deze wederom terug. Toch vond de koers haar support weer niet ver daaronder op $6.606 en hangt de koers op moment van schrijven opnieuw tegen de $7.000 aan op een niveau van $6.960. Zoals ik in mijn vorige column beschreef en in onze omgeving voor members aangaf, verwachtte ik een re-test van de $7.000. In dit soort situaties zie je namelijk vaak dat de koers het terrein boven een bepaalde weerstand wil verkennen (in dit geval de $6.800-7.000). De afwijzing rond de $7.200 was gezien de totale situatie niet geheel verrassend nadat een toename van het volume uitbleef, maar het feit dat de koers haar support vindt op de $6.606 is toch vrij sterk. Desalniettemin gaan we nu richting een zone waarin ik een deel (of mogelijk alles) van mijn longs zal 'unloaden'. Ik zie namelijk te veel signalen dat de bulls zich op glad ijs begeven en om dat risico uit de boeken te halen zal ik een deel (of alles) van mijn longs afsluiten of stops nog wat verder opschuiven. Het is allemaal zeer afhankelijk van de actie die we gaan zien in de $7.000 en de volgende weerstand rond de $7.600-7.800m maar ik neem liever winst op dit niveau dan dat ik mogelijk kom vast te zitten in een flinke bull trap, want mochten de bulls toch stand houden in de $7K, dan kan ik later altijd nog nieuwe longs openen. Maar laten we de grafieken er maar weer bijpakken om te kijken waar ik zoal naar kijk en wat voor mij signalen zijn om wat gas terug te nemen. 

Afbeelding 1: dagelijkse grafiek van bitcoin op cryptocurrency exchange Coinbase.
De dagelijkse grafiek geeft in mijn optiek het huidige plaatje het beste weer. Wat ik daar voornamelijk op zie is de vorming van een ascending wedge (bearish patroon) in combinatie met aflopend volume en een overbought Stoch-RSI terwijl de Relative Strength Indicator (RSI) en de Commodity Channel Index (CCI) achterblijven. Het is een plaatje waar ik niet graag met een te grote long-positie in wil zitten (zeker niet met die lange rode candle die we daarvoor zien!) en als ik niet al goede long-posities had, dan was dit nu niet het moment geweest waarop ik posities had willen kopen. Dit inzicht (dat ik niet zou willen kopen op dit niveau) is al een indirecte waarschuwing om gas terug te nemen.
Aan de andere kant is de markt in mijn optiek te grillig en wisselvallig om een perfect patroon te vormen en daarom is het belangrijk om progressief te werk te gaan in deze markt en voortijdig posities te sluiten of te verkleinen en daarmee exposure te reduceren. Aan de andere kant wil je ook niet een scherpe move naar boven missen dus het dilemma van risicomanagement en een winning–trade gaande houden kan lastig zijn. Als gevolg van dit dilemma ben ik, op basis van de huidige gegevens, van plan het volgende te doen. 
Als we nu op opnieuw de $7.000 in gaan, dan wil ik zien dat de koers daar in blijft. De koers van bitcoin heeft nu twee keer een korte test en verkenning gedaan van deze zone en een derde keer moet het lukken of anders wil ik niet deel uitmaken van een volgende test. Hierdoor is het in mijn optiek verstandig de stops te verhogen tot een niveau net onder de $7.000; bijvoorbeeld de $6.800 of 6.900.
Daarnaast zal ik bij de weerstanden in de $7.000 delen van posities afsluiten en dan met name rond de $7.200, $7.500 en $7.700 (mochten we daar komen). Mocht de koers bij het testen van een van deze weerstandsniveaus scherp terugvallen en zelfs weer onder de $7.000 komen, dan zou ik alles afsluiten en vooral observeren. Een short openen zou in een dergelijk scenario uiteraard ook tot een mogelijkheid behoren maar dat is nog niet iets waar ik nu naar kijk.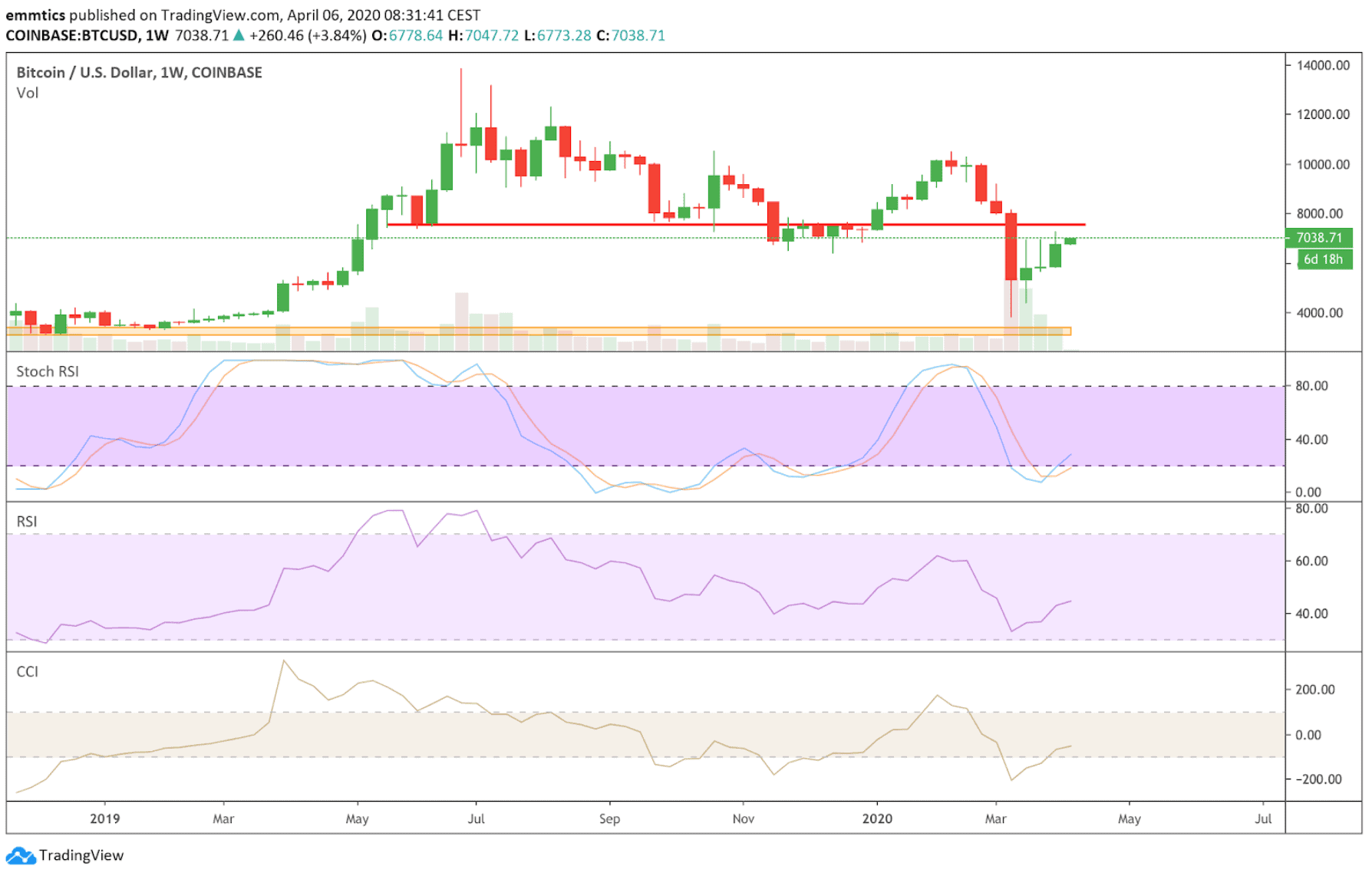 Afbeelding 2: wekelijkse grafiek van bitcoin op cryptocurrency exchange Coinbase 
De wekelijkse grafiek laat wat betreft de momentum-indicatoren nog voldoende ruimte naar boven zien, maar de weerstand rond de $7.600-7.800 (rode lijn) is een weerstand die vrij goed te zien is op de grafieken en naar verwachting ook tot een aanzienlijk gevecht zal leiden. Het afnemende volume is echter de grootste zorg op het moment en dit is dan ook iets wat ik sterk wil terug zien op de dagelijkse of wekelijkse grafiek alvorens wat meer bullish te worden, want op basis van het volumeprofiel ziet het geheel er toch nog vrij bearish uit en zou deze kleine rally snel kunnen omslaan tot een bull trap. We zien wederop gemengde signalen en daarom is, zoals ik al meerder malen heb beschreven en benoemd, van belang om je risicomanagement goed op orde te hebben en progressief te werk te gaan.
Terwijl ik dit schrijf is de koers van bitcoin de $7.000 in geklommen. The game is on! Tot volgende week!