Bitcoin (BTC) is in de afgelopen 24 uur met 0,2% gestegen en sinds middennacht met 2,9% gestegen. De actuele prijs is op het moment van schrijven $23.200 op crypto exchange Coinbase en €22.675 op de Nederlandse exchange Bitvavo. Het handelsvolume daalde in de afgelopen 24 uur met 0,7%. De totale marktkapitalisatie van bitcoin bedraagt op het moment van schrijven $443 miljard en de bitcoin dominantie komt uit op 40,8%.
Bitcoin nieuws van gisteren
Ook is er gister weer genoeg gebeurd in bitcoin-land. Hieronder sommen we een aantal nieuwsberichten op:
Bitcoin koers gaat moeite hebben met $28.500
Dave the Wave, een bekende cryptocurrency analist op Twitter, heeft onlangs een grafiek gedeeld waar hij naar de bitcoin koers van de afgelopen jaren kijkt. Op deze grafiek heeft de analist een steunzone getekend (de witte zone op de grafiek), waaruit bitcoin al meerdere malen is hersteld. De koers kan echter moeite hebben om om deze keer uit deze zone te klimmen.
A significant level for price over the course of the rest of this year [support come resistance]… also coinciding with a significant downward diag of resistance on the medium-term.

A break of these, and it could be all on. pic.twitter.com/anrTPVRdgI

— dave the wave🌊🐫 (@davthewave) August 4, 2022
Rond de $28.500 ligt namelijk een sterke weerstandzone. Dit niveau fungeerde voorheen in de zijwaartse markt tussen januari 2021 en mei 2022 meerder keren als steunzone. Hierdoor zouden we oude steun mogelijk als nieuwe weerstand kunnen zien. De $28.500 gaat dus een enorm belangrijk niveau worden. De analist geeft aan dat als de koers hier doorheen breekt, bitcoin hard zou kunnen stijgen.
Premium crypto analyse van de dag: ApeCoin (APE)
De analisten in de Discord community van Crypto Insiders hebben onlangs een analyse van ApeCoin (APE) gedeeld. Het lijkt erop dat de koers nu een 12345 Elliott Wave patroon maakt en bezig is aan de inner 3 wave. Op de grafiek hieronder is de zien dat de eerste en tweede wave al gevormd zijn. De derde wave zal al een stukje hoger uitkomen. Daarna maakte de koers een kleine daling met de vierde wave om vervolgens met de vijfde wave een nog hogere piek te maken. We houden in de premium groep deze koers strak in de gaten.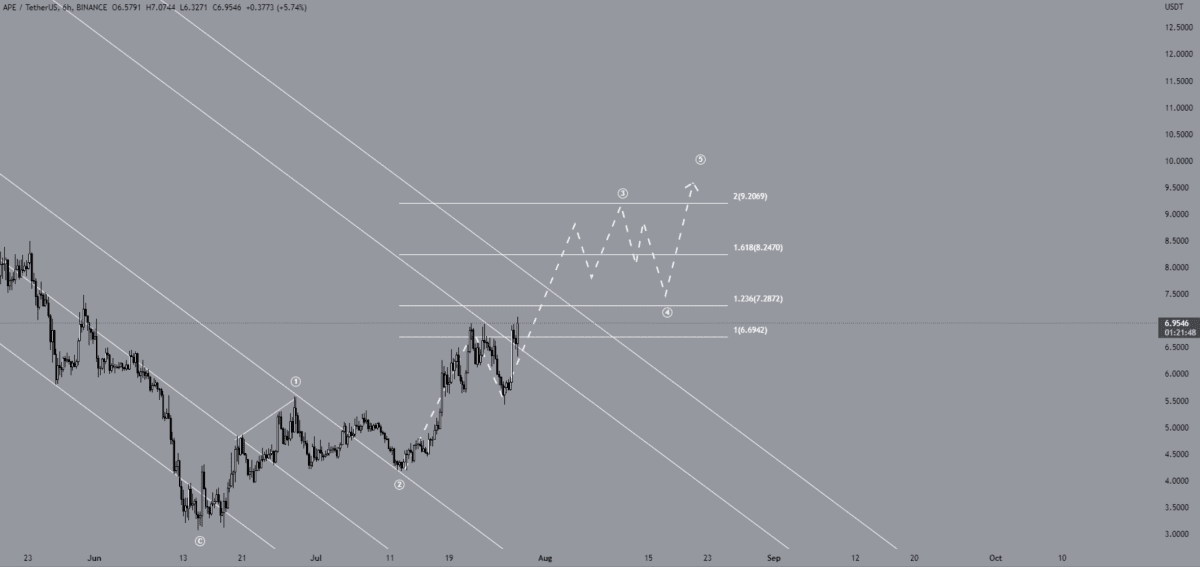 Handel samen met Crypto Insiders op Discord
Zoek jij hulp met handelen in crypto? Dan verwijzen we je graag door naar onze Discord groep voor leden. Hier bediscussiëren ervaren analisten en handelaren dagelijks hun analyses en handelsplannen. Ook delen we hier als eerst onze technische en fundamentele analyses. In onze Discord community kunnen we 24/7 kennis met elkaar delen en proberen we onze premium leden op de hoogte te houden.
Disclaimer: Beleggen brengt risico's met zich mee. Onze analisten zijn geen financieel adviseurs. Raadpleeg altijd een adviseur bij het maken van financiële beslissingen. De informatie en tips die op deze website zijn verstrekt is gebaseerd op eigen inzichten en ervaringen van onze analisten en dienen alleen voor educatieve doeleinden.