Het Bitcoin (BTC) Lightning Netwerk is de meest veelbelovende technologie om Bitcoin op te schalen naar een wereldwijd betaalnetwerk. Met 7 transacties per seconde en een bloktijd van 10 minuten is het onrealistisch of beter gezegd onmogelijk om dagelijkse betalingen met bitcoin te doen. Bij de Albert Heijn wachten totdat je transactie is opgenomen in een nieuw blok is niet praktisch. Voor online betalingen zou Bitcoin nog kunnen werken en voor grotere betalingen is het ook prima. Maar om een wereldwijd betaalnetwerk te worden moet Bitcoin op andere manieren schalen.
Het Lightning Netwerk maakt het mogelijk om directe betalingen te doen met bitcoin en in theorie kan het netwerk miljoenen transacties per seconde verwerken. Gisteren heeft het miljardenbedrijf Block (het voormalige Square) aangekondigd dat het Lightning Netwerk onderdeel is geworden van de Cash App. Een betaalapplicatie met 70 miljoen gebruikers die momenteel te gebruiken is in Amerika en Engeland. Het bedrijf van CEO en bitcoin maximalist Jack Dorsey zet hiermee in mijn ogen een grote stap voor de adoptie van bitcoin.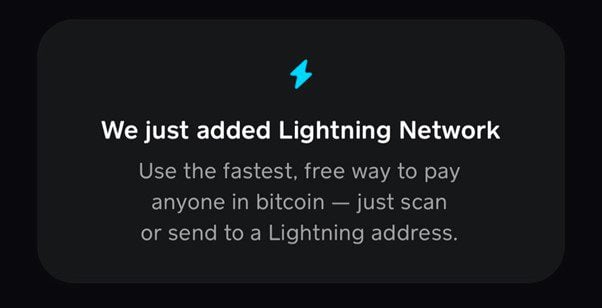 Waarom dit groots is voor Bitcoin
De Cash App is op dit moment de populairste financiële applicatie in de App Store van de Verenigde Staten en heeft meer dan 70 miljoen gebruikers. Al die gebruikers kunnen nu via het Lightning Netwerk bitcoin kopen en verkopen, maar ook mensen betalen met bitcoin. Hiermee is het grote Block in één klap verbonden met het Lightning Netwerk en kan je in theorie overal waar ze Lightning accepteren betalen met bitcoin. De volgende stap is in mijn ogen dat Block een verbinding maakt tussen Amerikaanse dollars en bitcoin.
Wat betekent het om een verbinding te maken tussen Amerikaanse dollars en bitcoin? Heel simpel: een gebruiker kan straks met de Cash App gewoon met bitcoin betalen en winkeliers ontvangen Amerikaanse dollars op hun rekening. Als jij bijvoorbeeld koffie koopt met je bitcoin bij de Starbucks in de Verenigde Staten, dan wisselt Cash App op de achtergrond automatisch jouw bitcoin om voor Amerikaanse dollars en maakt die vervolgens over naar de Starbucks. Op die manier hoeft de Starbucks niet eens te weten dat jij met bitcoin hebt betaald. Zo kun je leven op een bitcoin standaard, zonder dat de rest van de wereld daarin mee hoeft te gaan.
Daarnaast kan de integratie van het Lightning Netwerk in de Cash App het een stuk eenvoudiger maken voor mensen om bitcoin te kopen. Transacties op het Lightning Netwerk zijn praktisch gratis en dat maakt het in theorie heel eenvoudig om bijvoorbeeld maandelijks een deel van je salaris in bitcoin om te zetten. Iets wat Block de laatste tijd flink promoot via atleten die er middels de Cash App voor kiezen om zichzelf gedeeltelijk in bitcoin uit te laten betalen.
Met één druk op de knop bitcoin accepteren en adopteren
Een ander interessant aspect aan de integratie van het Lightning Netwerk in de Cash App is dat het voor winkeliers in theorie heel eenvoudig wordt om bitcoin te accepteren. Block heeft binnen de Cash App de zogenaamde "point-and-scan to pay" optie, waarmee je nu heel snel en eenvoudig met dollars kunt afrekenen. Het is niet moeilijk om je voor te stellen dat dit op korte termijn waarschijnlijk naast dollars ook met bitcoin kan.
Op dit moment moet een winkelier om bitcoin te accepteren nog een los betaalsysteem opzetten naast de reeds bestaande betaalsystemen. Met de integratie van het Lightning Netwerk in de Cash App kan een winkelier straks met één druk op de knop bitcoin accepteren op dezelfde manier zoals hij of zij dollars accepteert.
Je kunt je voorstellen dat het voor een winkelier die niet technisch aangelegd is niet praktisch is om bitcoin te accepteren. Je moet daarvoor toch even de materie induiken en ook qua administratie is het niet handig als je met twee losse betaalsystemen werkt. De integratie van het Lightning Netwerk in de Cash App kan daar grootse veranderingen in brengen, waardoor 2022 weleens het jaar van de adoptie van het Lightning Netwerk kan worden.