Een onderzoeksanalist van de Union Bank of Switzerland (UBS) zegt dat de koers van bitcoin (BTC) eindelijk een nieuwe bodem heeft bereikt, maar dat een nieuw hoogterecord nog 22 jaar op zich kan laten wachten. Dat meldt Business Insider op 17 april.
Volgens de analist van UBS, Kevin Dennean, is bitcoin door zijn bubbelfase heen. Hij vergelijkt de koers van bitcoin met andere financiële bubbels uit het verleden als die van de Dow Jones, Nasdaq, Nikkei, Shanghai A-shares en olie. Dennean zegt:
Het argument hier is dat bitcoin de bubbelfase heeft doorgemaakt en klaar is om als een Phoenix uit het as te rijzen, net als andere activa en indices in het verleden.
De prijs van bitcoin is dit jaar met ongeveer 40% gestegen, nadat deze met zo'n 85% in 2018 was gedaald. Het lijkt er de afgelopen weken steeds meer op dat bitcoin de $5.000 weet vast te houden, wat duidt op een nieuwe bodem voor de allergrootste cryptocurrency op de markt.
Echter kan het volgens de analist nog 22 jaar duren voordat bitcoin weer zijn all-time high (ATH, recordhoogte) van $20.000 uit eind 2017 zal bereiken. Hij trekt deze conclusie door de bubbel van bitcoin te vergelijken met de voorgenoemde bubbels uit de aandelenmarkt.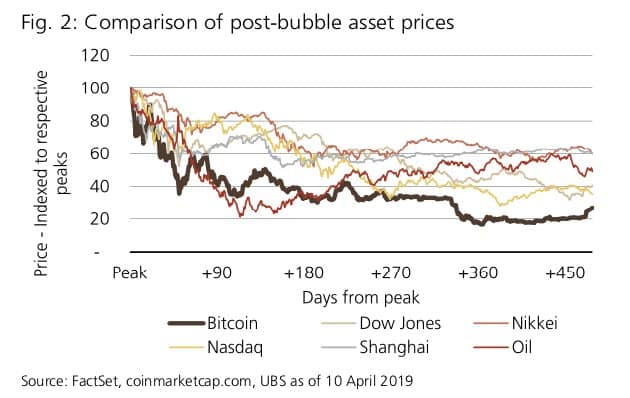 We zijn verrast hoe lang het duurde voordat andere bubbels hun piekniveaus herstelden (wel 22 jaar voor de Dow Jones) en hoe laag de jaarlijkse opbrengsten van het dieptepunt naar herstel vaak zijn.

Misschien moeten cryptocurrency-bulls overwegen wat er na de bubbel gebeurt – niet elke bubbel die barst herstelt de oude hoogtepunten.
Aldus Kevin Denean. Men kan zich wel afvragen of de vergelijking terecht is. Bitcoin heeft namelijk al vijf bubbels achter de rug en de prijs steeg elke keer het oude hoogtepunt voorbij. We zullen zien of en wanneer dit ook deze keer het geval zal zijn.
Een uitgebreide wekelijkse bitcoin (BTC) koersanalyse van Crypto Insider David kan je hier vinden!
Wil je op de hoogte blijven van het laatste nieuws? Abonneer je dan op onze push-berichten, Facebook– of Twitter. Meediscussiëren? Meld je dan aan voor ons Telegram kanaal.