De bitcoin koers is vandaag met 3% gedaald en op de Nederlandse cryptobeurs Bitvavo wordt BTC verhandeld voor 22.590 euro. Investeerder en influencer CryptoWhale verwacht een grote crash van de bitcoin koers.
Bitcoin koers steeg 6.000 euro
Toen de cryptomarkt in mei en juni in elkaar zakte, kon ook bitcoin niet overeind blijven. De bitcoin koers daalde tot 18.100 euro, het laagste punt in 2022. Maar vanaf dat moment begon bitcoin aan een mooie opwaartse run, met als hoogtepunt 24.300 euro.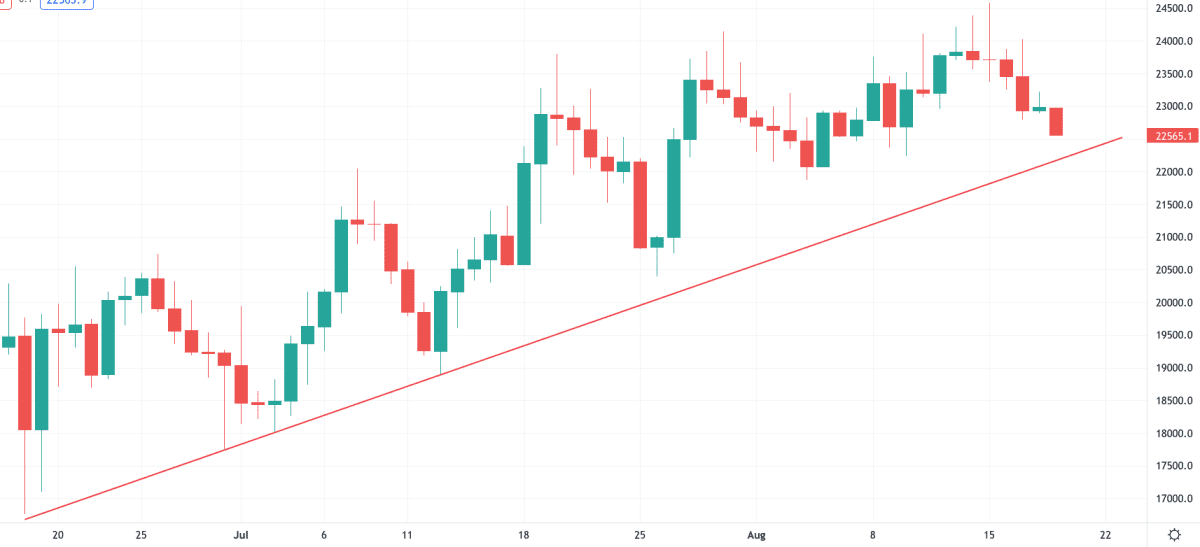 Zo'n stijging gaf hoop op een bullrun, maar het lijkt of we daar nog iets langer op moeten wachten, aldus CryptoWhale.
Crash van de bitcoin koers
De Amerikaanse pseudonieme investeerder CryptoWhale heeft meer dan een half miljoen volgers op Twitter, en alleen op basis van dit getalletje zou je kunnen stellen dat hij veel invloed heeft. Als hij tweet, dan luisteren mensen aandachtig (of ze maken hem belachelijk, dit is en blijft social media).
Volgens zijn laatste tweet verwacht hij een crash van de bitcoin koers.
#Bitcoin Crash Incoming 🐳 pic.twitter.com/W4eiAnLtkT

— CryptoWhale (@CryptoWhale) August 17, 2022
Volgens het Twitter-bericht vormt zich een bearish divergentie op de grafiek van bitcoin. Dit geeft vaak aan dat een koersdaling nabij is.
Bearish divergentie op bitcoin
Een bearish divergentie duidt op een potentiële neerwaartse trend en herken je aan twee lijnen die naar elkaar toegroeien. De koers maakt steeds hogere hoogtepunten, maar de oscillator (golfbewegingen) wordt steeds kleiner.
Als de oscillator kleiner of groter wordt, dan geeft dit niet alleen aan waar de koers naar toe kan gaan, maar ook met welke snelheid de markt kan bewegen.
In de huidige situatie verliezen de kopers hun grip op de markt, stijgen de prijzen alleen als gevolg van inactiviteit van verkopers, maar de  verkopers staan aan de zijlijn klaar om de controle weer over te nemen.
Hoewel velen verschillende meningen hadden, leken de meeste Twitter-gebruikers het eens te zijn met CryptoWhale.