Jesse Powell, de grote man bij cryptobeurs Kraken, hoopt dat de bitcoin koers aan het eind van het jaar hoog genoeg staat om van 1 bitcoin een Bugatti te kopen. De goedkoopste Bugatti is 1,3 miljoen dollar, volgens een niet-representatieve Google zoektocht van 30 seconden door de schrijver van het artikel wat je nu leest.
Bitcoin koers moet hard stijgen in 2022
Tijdens een sessie met het Amerikaanse Bloomberg zei Powell dat hij nog steeds ontzettend bullish is over de bitcoin koers. Bugatti's worden normaal gesproken verkocht voor meerdere miljoenen, dus zijn verwachting dat 1 bitcoin genoeg is aan het einde van 2022, getuigt van veel vertrouwen.
"I would never bet against Bitcoin," says Kraken CEO Jesse Powell after his 2021 Bitcoin forecast fell short.

Cryptocurrencies were mostly little changed as the recent rally in market bellwethers Bitcoin and Ether cooled https://t.co/IyDuXQEi6L pic.twitter.com/RmeNEvXfyU

— Bloomberg TV (@BloombergTV) August 16, 2022
Bitcoin voor een Lambo in 2021 en Bugatti in 2022
Powell nam deel aan Bloomberg Exclusive, waar hij werd herinnerd aan zijn voorspellingen van vorig jaar. Hij zei een jaar geleden:
"Waarschijnlijk tegen het einde van het jaar 2021 zal het één bitcoin per Lambo zijn, en waarschijnlijk tegen het einde van volgend jaar (2022) zal het één bitcoin per Bugatti zijn."
Bitcoin is 15 duizend euro minder waard
Op dat moment was de bitcoin koers ongeveer 38 duizend euro, dat is bijna 15 duizend euro meer dan nu. Maar ondanks dat de bitcoin koers flink gedaald is, blijft Powell bij zijn voorspelling. Hij zei dat hij niet had verwacht dat de daling zo intens zou zijn, blijft hij erbij dat het mogelijk is om eind 2022 één Bugatti te kopen voor één bitcoin.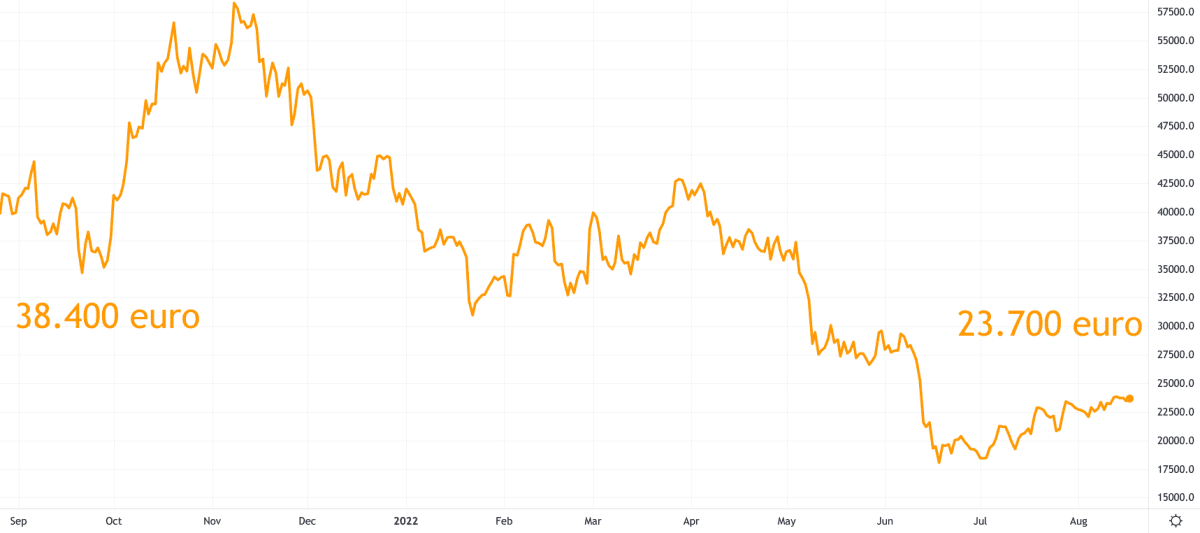 Bitcoin wordt verhandeld voor bijna 24.000 euro op cryptobeurs Binance, en de modellen van het luxe automerk Bugatti variëren tussen 1,9 miljoen en 3,3 miljoen euro. In Nederland zijn nieuwe Bugatti's niet aan te slepen en overal uitverkocht.
Powell kocht bitcoin op 18.000 dollar
Powell legt uit waarom hij nog steeds erg optimistisch is over bitcoin:
"Ik heb weer bitcoin gekocht toen de koers op 18.000 dollar, ik ben blij om het weer omhoog mee te maken. Op de lange termijn ben ik nog steeds optimistisch, de fundamenten worden steeds beter. Ik zou nooit tegen bitcoin wedden."