Thomas Farley zei tijdens een interview dat bitcoin onderdeel moet uitmaken van ieders portfolio. De voormalig voorzitter van de New York Stock Exchange zegt dat bitcoin "vertrouwd en censuurbestendig is, er zullen er maar 21 miljoen zijn".
Bitcoin koers stijgt
Op dit moment is de bitcoin koers 24.262 euro op Bitvavo. Dat markeert een stijging van 1,28% ten opzichte van gisteren. Is dit een goed moment om bitcoin aan je portfolio toe te voegen?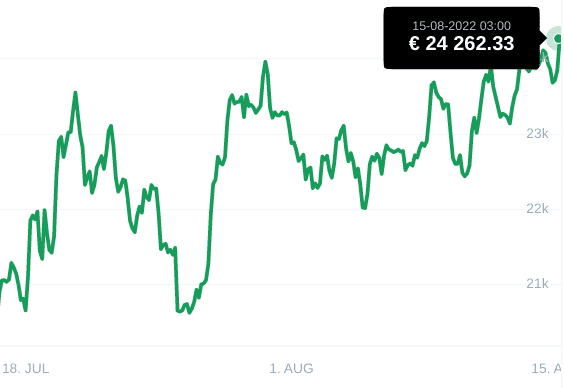 Na zijn carrière bij de grootste aandelenbeurs van New York, bekleedt de Amerikaanse bankier de positie van CEO bij Far Point Acquisition Corp. In onderstaande video wordt hij geïnterviewd over bitcoin, en hij is lovend over de grootste cryptocurrency.
Former President of the New York Stock Exchange, @ThomasFarley explains that #bitcoin is "trusted, censorship-resistant, there will only ever be 21 million, and it will have to be part of a portfolio" pic.twitter.com/U8EdZQT885

— Documenting Bitcoin 📄 (@DocumentingBTC) August 14, 2022
Wachten op de bitcoin dip
Volgens Farley waren veel bedrijven in financiële instellingen aan het wachten op het juiste moment om bitcoin te kopen:
"Toen bitcoin 60.000 dollar was, had je veel instellingen die vanaf de zijlijn keken en zeiden: 'jongen, we willen graag investeren. We zouden graag 1% tot 3% van onze portefeuilles toewijzen, bijvoorbeeld pensioenfondsen, maar het is 60.000 USD. Het voelt toppy, er is wat manie."'
Vervolgens daalde de bitcoin koers en zag Farley ander gedrag:
"Ze hebben een ontmoeting gehad met hun investeringscomités. En dus, toen het daalde tot 17.000 dollar, was het geen schok voor mij dat je zag dat sommige van die instellingen voor de allereerste keer Bitcoin kochten voor hun portefeuille."
Bitcoin koers is volatiel
De interviewer vroeg Farley wat hij dacht van de volatiliteit van bitcoin. De koers kan immers snel op en neer bewegen, en dat is voor veel investeerders net iets te riskant.
"Bitcoin is een waardeopslag, maar de prijsschommelingen zijn veel, veel hoger dan bij andere waardeopslag. Ja, het opwaartse potentieel van bitcoin vasthouden is hoog. Maar dat is ook de keerzijde. De weg naar de maan is gevaarlijk."
Farley verwacht niet dat fondsen denken dat bitcoin snel weer een snelle stijging van 40% zal meemaken.
"Ik denk dat het een combinatie is van een aantal echt slimme bitcoin-whales die er al 10 jaar in zitten, en dan vrij snel, sommige van die instellingen die erin stappen, is precies wat er is gebeurd. Bitcoin is met 40% gestegen. Dat betekent niet dat het nog eens 40% gaat stijgen."
Bitcoin is anders dan altcoins
Hij ziet ook dat bitcoin zich anders gedraagt dan altcoins, althans op fundamenteel vlak.
"Maar in crypto is er bitcoin. En dan is er letterlijk al het andere. Bitcoin is vertrouwd. het is grotendeels censuurbestendig. Er zullen slechts en altijd 21 miljoen bitcoin zijn. Het zal een onderdeel moeten zijn van brede portefeuilles, zoals een pensioenfonds. Misschien in geringe mate, maar het zal er moeten zijn."