De prijs van Bitcoin (BTC) heeft een corrigerende rally op de korte termijn laten zien, die in de afgelopen 24 uur opliep tot $6.500 en steeg met 6,5%. Kleine cryptocurrencies en tokens volgden de positieve prijsbeweging van BTC.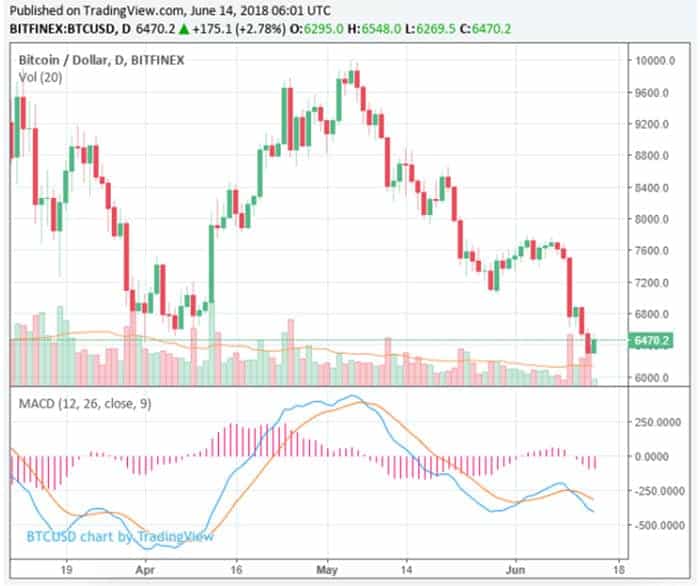 Sterk oververkochte toestand
De laatste corrigerende rally van BTC en het snelle herstel van $6.100 naar $6.500 kan voornamelijk worden toegeschreven aan de extreem lage Relative Strength Index (RSI) van BTC, die op 13 juni 28 was. Een asset wordt als oververkocht beschouwd als de RSI daalt naar 30. Gisteren daalde de RSI van BTC onder de 28, wat een intens oververkochte toestand betekent.
De lage RSI en de weerzin van bears om de uitverkoop van BTC voort te zetten bij $6.100 zorgde ervoor dat BTC zich kon herstellen. De neerwaartse trend van BTC is echter nog steeds overweldigend en het is waarschijnlijk dat de rebound van vannacht slechts een kortstondige corrigerende rally is voorafgaand aan een andere corrigerende rally die de BTC-prijs terug doet zakken in de regio van $5.000.
Analisten zien de prijs van BTC nog steeds dalen tot het laagste punt van $5.000 voordat er opnieuw een bull run op de middellange termijn kan beginnen. Veel grootschalige particuliere belegger en cryptocurrency-hedgefondsen, waaronder Pantera Capital van $1 miljard, hebben zich optimistisch uitgelaten over de middellange tot lange termijn trend van BTC, en verwachten de komst van een grote bull run in de komende maanden, met name het vierde kwartaal van 2018.
Maar gezien de sterke neerwaartse trend van BTC en het lage volume van de markt voor cryptocurrency, is het waarschijnlijk dat BTC eerst een andere grote correctie gaat registreren en daalt tot het laagste punt van $5.000, voordat er een bodem vastgesteld wordt en het volume kan stijgen.
In april verklaarde het team van Pantera Capital, dat meer dan $1 miljard aan crypto beheert, dat BTC binnen de komende 12 maanden een recordprijs zal bereiken, waarschijnlijk tegen het einde van 2018. Dan Morehead, CEO van Pantera Capital, sprak het vertrouwen uit dat BTC tegen het eind van het jaar de grens van $20.000 zal overtreffen:
Dat zou makkelijk kunnen. Het zou volgende week 50% kunnen dalen, dat is waar het een maand geleden was. Dus in elke markt die snel stijgt, kunnen we een grote daling hebben. Over een jaar zal het veel hoger zijn dan vandaag.
Brandstof voor de volgende rally
In 2014 zag de markt een retail bubbel en binnen 12 maanden herstelde de markt zich vanzelf, omdat de vraag naar Bitcoin en andere assets van particuliere beleggers of individuele handelaren steeg. In 2018 heeft de markt voor cryptocurrency opnieuw een retail bubbel meegemaakt, aangezien institutionele beleggers tot nu toe nog ontbreken op de markt.
De volgende rally zou aangewakkerd kunnen worden door ofwel particuliere beleggers, wat aanzienlijk langer zou duren, of door institutionele beleggers die de cryptocurrency-sector betreden na custodian solutions. Hoe dan ook blijven cryptocurrency-hedgefondsen en beleggers erop vertrouwen dat BTC zich op de middellange termijn zal herstellen. Maar op de korte termijn zijn de meeste beleggers het erover eens dat de toekomst van BTC en de rest van de markt onzeker blijft.