Bitcoin (BTC) maakte gisterenavond een flinke stijging na de Federal Open Market Committee (FOMC), ondanks dat de markt zich juist klaarmaakte voor een daling. Daardoor wordt het marktsentiment een stuk positiever en zien we zelfs wat fear of missing out (FOMO) plaatsvinden. Toch waarschuwen meerdere analisten dat bitcoin mogelijk nog niet zijn bodem heeft gezien.
Bitcoin koers staat 7,5% in de plus
De bitcoin koers was al een week lang aan het dalen en vond dinsdag support rond $21.000. Alhoewel de koers even daaronder dipte, hield bitcoin hier gisteren stand en begon in aanloop naar FOMC al voorzichtig te stijgen.
Kort voordat de Federal Reserve de renteverhoging aankondigde, doorbrak bitcoin al door $21.500. Toen de Fed de aankondiging maakte, schoot bitcoin van $21.700 naar $23.000. Dat was een stijging van 6% in anderhalf uur en daarmee doorbrak bitcoin weer de 200-weken moving average.
Echter is rond $23.000 nog de weerstand te groot. Toch hield bitcoin gedurende nacht stand boven $22.750 en maakte vroeg vanochtend nog een sprongetje naar $23.435.
Momenteel is bitcoin echter iets aan het dalen en komt de prijs uit op het moment van schrijven uit op $22.900 op Binance en €22.450 op Bitvavo. Daarmee staat de BTC koers alsnog vandaag 7,5% in de plus.
Fed verhoogt rente met 75bps, bitcoin stijgt
De Amerikaanse centrale bank verhoogde gisterenavond de rentetarieven met 75bps om de inflatie te drukken. Zoals we de afgelopen dagen in deze marktupdates beschreven, werd de angst voor een zwaardere verhoging van 100bps wellicht al ingeprijsd. Toch verwachtte veel marktparticipanten alsnog een koersdaling met een renteverhoging van 75bps. We vroegen voor FOMC ook onze leden wat zij verwachten: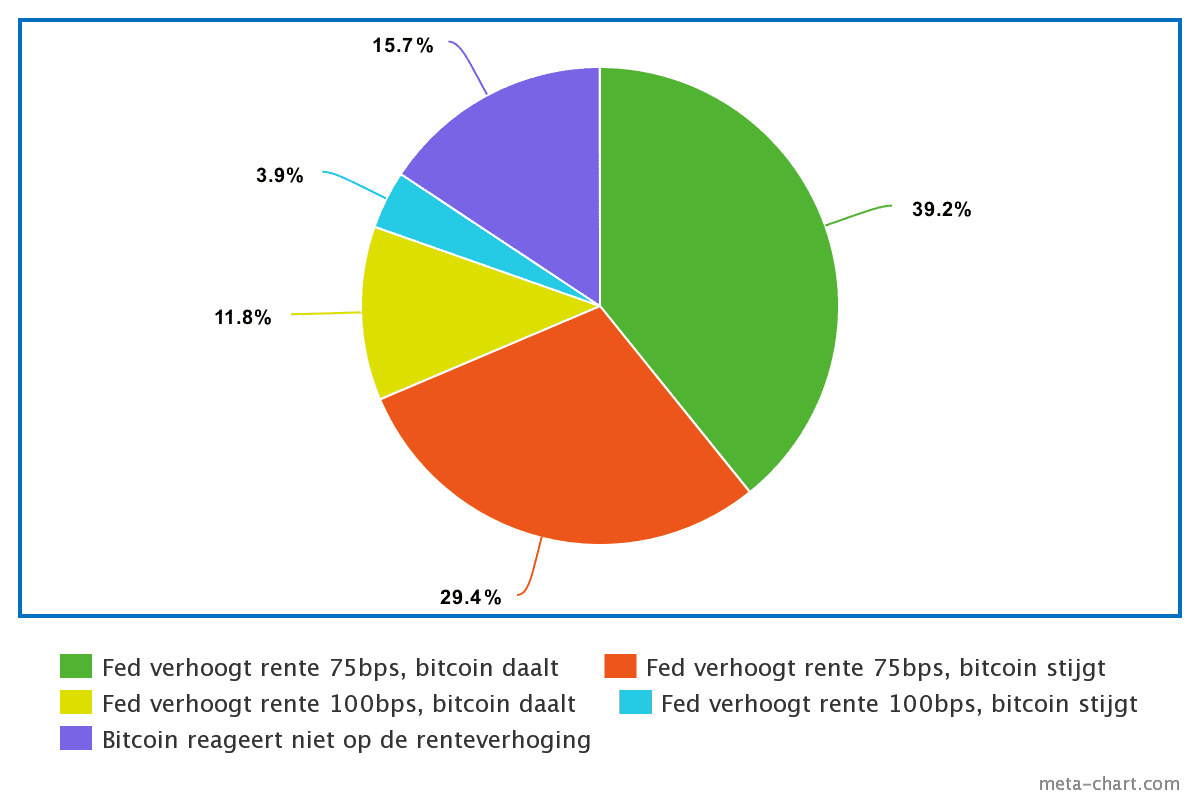 Na FOMC konden de meer risicovolle financiële markten, zoals de S&P 500 en Nasdaq, waar bitcoin een hoge correlatie mee heeft, hard stijgen. De Amerikaanse dollar index (DXY), die dit jaar een zeer hoge negatieve correlatie met BTC heeft, daalde juist.
$DXY ⬇️$SPX ⬆️$BTC ⬆️ 👀 pic.twitter.com/cnPriQMtpE

— IT Tech (@IT_Tech_PL) July 27, 2022
Meer belangrijke data vandaag
Toch ziet het er macro-economisch niet bepaald sterk uit. Om 14:30 Nederlandse tijd krijgen we te horen hoe hoog de groei van het Amerikaanse bruto binnenlands product uitpakt. De Atlanta Fed voorspelt al een krimp van 1,2%, zoals analist Caleb Franzen aangeeft.
The Atlanta Fed's GDPNow model is forecasting -1.2% real GDP growth for Q2 2022.

This is an upward revision from their last estimate of -1.6%. pic.twitter.com/mK2tnxmLXj

— Caleb Franzen (@CalebFranzen) July 27, 2022
Later vandaag zullen ook grote technologiebedrijven als Apple en Amazon hun kwartaalcijfers publiceren. Als deze lager dan verwacht uitpakken, kan dat een klap veroorzaken op de aandelenmarkten en wellicht kan deze paniek overslaan naar crypto.
Gaat bitcoin nu omlaag of omhoog?
Ondertussen zien we dat analisten een stuk meer bullish worden. Er wordt zelfs gesproken van een "mid-term rally" naar $30.000, zoals IncomeSharks hieronder. Hij verwacht daarna echter wel een flinke correctie terug omlaag.
#Bitcoin – The six month plan hasn't changed. Holders can just sit back and wait. Swing traders like my self still enjoying trading these ranges to accumulate as much $BTC as possible. pic.twitter.com/LcMdfJnm80

— IncomeSharks (@IncomeSharks) July 28, 2022
Analist Ali Martinez verwacht echter al veel weerstand rond $27.000, maar meldt dat ondertussen veel support wordt opgebouwd tussen $21.700 en $22.380:
#Bitcoin formed a vital support floor between $21,700 and $22,380, where 691K addresses purchased ~500K $BTC.

As long as this demand zone holds, #BTC has a good chance of surging to $27,000 as the only considerable resistance sits at $23,380, where 285K addresses hold 237K $BTC. pic.twitter.com/qHzMzSJD3F

— Ali Martinez (@ali_charts) July 28, 2022
Analist Il Crypto Capo blijft echter zeer bearish. Hij waarschuwt dat de koers nog altijd vastzit in hetzelfde bereik en er geen tekenen zijn van echte accumulatie. Hij verwacht dan ook dat de koers snel nieuwe lows zal opzoeken. Ook deze analist verwacht nog een flinke correctie.
Don't you see that price is just ranging between 19k and 23k during a downtrend and with no signs of accumulation?

If you want to buy here, go ahead. Then don't regret it and cry if the market makes new lows, which is likely.

I'm not buying.

— il Capo Of Crypto (@CryptoCapo_) July 27, 2022
Crypto Insiders Premium voor bitcoin analyses
Wil jij diepgaandere bitcoin analyses ontvangen? Dan verwijzen wij je graag door naar onze Discord community voor leden. Stel vragen aan analisten, klets met onze fanatieke community en ontvang dagelijks technische en fundamentele analyses van bitcoin, maar ook andere crypto. Via Discord Premium kunnen we 24/7 kennis met elkaar delen en proberen we samen met onze leden de markt voor te blijven.
Disclaimer: Beleggen brengt risico's met zich mee. Onze analisten zijn geen financieel adviseurs. Raadpleeg altijd een adviseur bij het maken van financiële beslissingen. De informatie en tips die op deze website worden verstrekt zijn gebaseerd op eigen inzichten en ervaringen van onze analisten en dienen alleen voor educatieve doeleinden.