Het aantal transacties in cryptocurrencies in Turkije is weer gestegen tot boven de miljoen per dag. Dat volgt nadat de valuta van het land naar een reeks dieptepunten kelderde. Dit niveau is niet meer is bereikt sinds de eerste grote daling van de Turkse lira in maart dit jaar. Het toenmalige hoofd van de centrale bank van het land werd destijds vervangen.
Handel in crypto stijgt te midden van significante lira inflatie
Zorgen over het economische beleid van Turkije hebben de lira sinds september met bijna 40% doen kelderen. Hierdoor gaan Turkse inwoners op zoek naar plaatsen om hun spaargeld te parkeren om de gevolgen van de inflatie te vermijden.
Volgens gegevens van blockchain analysebedrijven Chainalysis en Kaiko, werd de drempel van een miljoen transacties per dag eerder dit jaar voor het eerst overschreden. Dat gebeurde na de plotselinge vervanging van het hoofd van de centrale bank in maart. Het aantal transacties was sindsdien echter teruggevallen tot onder de 500.000. Dit was voordat de laatste vlaag aan volatiliteit van de lira de belangstelling voor cryptocurrencies als hedge weer aanwakkerde.
Het omzetten van de lira naar Amerikaanse dollars of goud is gebruikelijk voor Turken. De munt heeft sinds 2008 ongeveer 90% van zijn waarde verloren waardoor het fenomeen hedgen al vrij bekend stond binnen de Turkse grenzen. Nu Ankara die praktijken moeilijker wil maken en de prijzen van cryptocurrencies dit jaar sterk zijn gestegen, heeft de handel in crypto aan populariteit gewonnen.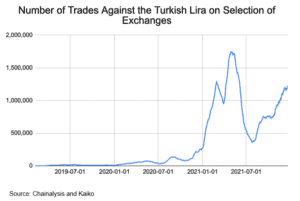 Bitcoin en Tether populair, maar autoriteiten hijgen in de nek
Uit de gegevens bleek ook dat bitcoin (BTC) en tether (USDT), een USD stablecoin die als doel heeft een stabiele waarde te behouden en veel wordt gebruikt in crypto handel, sinds 2019 het populairst zijn voor lira transacties.
Bitcoin bereikte een recordhoogte van ongeveer $69.000 USD in november. Het verhaal achter de onafgebroken stijging vanaf het ontstaan van de digitale munt in 2009, wordt vaak toegekend aan het beperkte aanbod. Dit maakt bitcoin ongevoelig voor inflatie waardoor de munt wordt beschouwd als een opslagplaats van waarde ondanks zijn hoge volatiliteit.
Echter trekt de opkomst van de Turkse crypto handel de aandacht van de autoriteiten. De Turkse onderminister van Financiën zei in september dat er regelgeving zou worden ingevoerd voor de opkomende activaklasse. De Turkse centrale bank verbood crypto's in april voor traditionele aankopen, zoals bij Binance, onder verwijzing naar "onherstelbare" schade en transactie risico's. Het valt nog te bezien of Ankara werkelijk strengere regelgeving gaat doorvoeren om de toestroom naar cryptocurrencies tegen te gaan.