De bitcoin (BTC) koers begon afgelopen zondag weer flink te dalen. De vrees bij handelaren is dat BTC door de $40.000 zakt en het neerwaartse momentum vervolgens versnelt. Bij de grote bitcoin whales gaan de door paniekverkopers verkochte bitcoins er echter als warme broodjes in.
Bitcoin whales kopen BTC tijdens dip
Bitcoin whales zijn wallets die grote hoeveelheden bitcoins in bezit hebben. Door de transparantie van de blockchain kunnen we nagaan hoe deze wallets zich gedragen, waar en wanneer ze bitcoin kopen, verkopen of juist helemaal niets doen. Aan de hand van deze on-chain gegevens kunnen analisten en handelaren enig idee krijgen hoe het grote geld over bepaalde koersbewegingen denkt.
Uit een analyse van Minkyu Woo van blockchain-analyseplatform CryptoQuant blijkt dat er een piek te zien is in het aantal bitcoins in de top 10 grootste transacties die bij crypto exchanges wegstroomden. Deze indicator houdt het totaal aantal BTC bij van de 10 grootste transacties op een bepaald moment. Dit geeft een indicatie of grote investeerders hun bitcoins bij exchanges weghalen.
"Er is onlangs opnieuw een merkbaar BTC-volume gedetecteerd dat wegstroomt bij spot exchanges. Dit soort enorme bewegingen kan alleen door grote investeerders worden gemaakt […] Ik neem aan dat deze accumulatiefase sinds maart 2022 tot heden aan de gang is in een prijsbereik van BTC tussen 37K ~ 40K."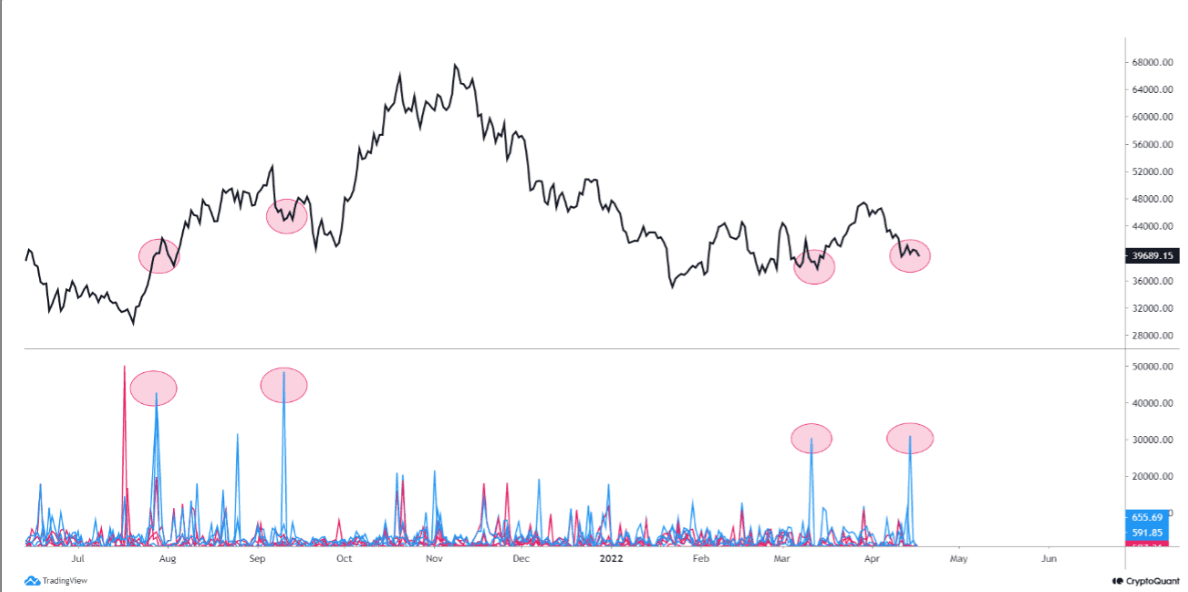 Verder herstel bitcoin voor de boeg?
Zoals op de bovenstaande grafiek te zien volgde na dergelijke pieken vaak een prijsstijging. Toch biedt dit, zoals altijd, geen garantie voor toekomstige koersontwikkelingen. Dat de bitcoin whales vooral in het gebied tussen $37.000 en $40.000 BTC lijken in te slaan is uiteraard interessant om te weten.
Wil jij meer leren over het traden, analyseren en gebruiken van cryptocurrencies? Word lid van Crypto Insiders Premium en kom de eerste 30 dagen helemaal gratis een kijkje nemen. Stel vragen aan analisten, klets met onze fanatieke community en ontvang dagelijks technische en fundamentele analyses!