Bitcoin (BTC) zakte afgelopen nacht weer een stukje dieper. Er werd al gewaarschuwd dat een zogeheten pullback mogelijk volgt na de groene markt van vorige week. Een volatiele week werd ook al voorspeld en die volatiliteit kan wellicht nog verder toenemen. Ondertussen zien we dat ook de angst langzamerhand weer toeneemt volgens de Fear & Greed Index:
Bitcoin Fear and Greed Index is 26 – Fear
Current price: $21,086 pic.twitter.com/C0aKXl1gH7

— Bitcoin Fear and Greed Index (@BitcoinFear) July 26, 2022
Bitcoin koers zakt met 4%
De bitcoin koers is sinds de piek van $24.200 van afgelopen woensdag aan het dalen. Zondagnacht werd bitcoin vlak onder $23.000 afgewezen en viel toen naar ongeveer $22.000 waar de koers gisteren consolideerde.
Gisterenavond maakte bitcoin eerst een klein sprongetje naar $22.200, maar begon toen hard te dalen. Heel even vond de koers support rond $21.700, maar zakte daar snel doorheen. Afgelopen nacht kwam bitcoin bij $21.000 aan en hangt vooralsnog rond deze prijs.
Op het moment van schrijven komt de BTC prijs uit op $21.065 op FTX en €20.630 op Bitvavo. Daarmee staat de BTC koers vandaag 4% in de min.
Bitcoin koers valt terug in bereik
Bitcoin kon onlangs helaas nog niet met overtuiging de 200-weken moving average heroveren. Dat had wellicht wat vertrouwen teruggebracht in de markt. De 200-WMA ligt momenteel rond $22.780. Nu de koers weer richting $21.000 is gedaald, betekent dit dat bitcoin terug in het bereik is gevallen waar de koers al sinds 13 juni in vastzit.
Ugly daily close back inside range. pic.twitter.com/qCD91lF6OW

— Will Clemente (@WClementeIII) July 26, 2022
Bitcoin daalt in anticipatie op FOMC
De dalende koers en stijgende angst is hoogstwaarschijnlijk in aanleiding naar de Federal Open Market Committee (FOMC) die later vandaag begint. Morgen krijgen we te horen hoe de Federal Reserve om wil gaan met de stijgende inflatie.
De vorige keer reageerde de markt vooral op de publicatie van de Amerikaanse inflatiecijfers, maar dat was ditmaal niet het geval. Men speculeert dat de markt ditmaal afwacht op FOMC, maar als de koersen nu al dalen, zou dat kunnen betekenen dat de klap wellicht meevalt.
Dan wordt mogelijk de angst al in anticipatie ingeprijsd. Dat hangt er echter vanaf of de Fed ervoor kiest om morgen de rente met 75bps of 100bps te verhogen. Het zal overigens ook niet de laatste verhoging van dit jaar zijn, zoals Jim Bianco aangeeft:
Starting FOMC week shows the probability of a 75 bps hike holds at 100%, the 2nd in a row (blue).

How about a third 75 bps hike at the next FOMC meeting on Sept 21 (orange)? The week starts at 47%, essentially 50/50.

(The probability of a 50 bps hike on Sept 21 is 100%). pic.twitter.com/bPHT2HeMZT

— Jim Bianco biancoresearch.eth (@biancoresearch) July 25, 2022
Correlatie bitcoin en Nasdaq hoogst in 3 maanden
Tegelijkertijd ligt de correlatie tussen bitcoin en Nasdaq weer het hoogst in drie maanden, meldt IntoTheBlock. Het toont aan dat de angst omtrent de macro-economie vooralsnog de richting van de markten bepaalt. Ondertussen begint ook de angst over een economische recessie weer toe te nemen.
The correlation between #Bitcoin and Nasdaq is at its highest in 3 months

Markets globally have been moving in tandem in anticipation of this week's interest rates decision, GDP numbers and corporate earnings pic.twitter.com/zu7hXmoBlQ

— IntoTheBlock (@intotheblock) July 25, 2022
Meer volatiliteit buiten FOMC
Niet alleen FOMC kan deze week voor volatiliteit zorgen. Deze week publiceren ook grote tech-bedrijven hun inkomstrapporten. Houd vooral een oog op die van Apple, meldt Alex Krüger:
Of all the risk events this week (FOMC, GDP, PCE, earnings) Apple's earnings likely the most important one, and the hardest to predict: markets could easily react strongly either way up or down. Thinking Apple crashing would cause a trend change in crypto.

— Alex Krüger (@krugermacro) July 25, 2022
Whales verkopen nog hun BTC
Alhoewel we gisteren data deelde in de marktupdate die suggereerde dat whales BTC accumuleren, toont deze analist juist een tegengesteld beeld. Het lijkt erop dat de whales neutraal zijn rond de bodem en pas agressief beginnen te accumuleren wanneer de koers weer begint te stijgen.
Volgens de data ziet het er naar uit dat deze whales momenteel niet accumuleren, maar eerder distribueren. Dat kan voor nog meer verkoopdruk zorgen op de korte termijn.
#BTC Whales are still selling❗️

1. #Bitcoin 's richest investors, AKA whales, are one of the most influential cohorts in the market and their actions have significant effect on the price. So, it would be helpful to try and track their behavior👇🏼 pic.twitter.com/bdvXlH34pa

— Edris 💀 (@TradingRage) July 25, 2022
Bitcoin, altcoins of beide?
Vorige week vroegen wij onze leden of zij vooral in bitcoin, vooral altcoins, of een combinatie investeren. Dit zijn de resultaten: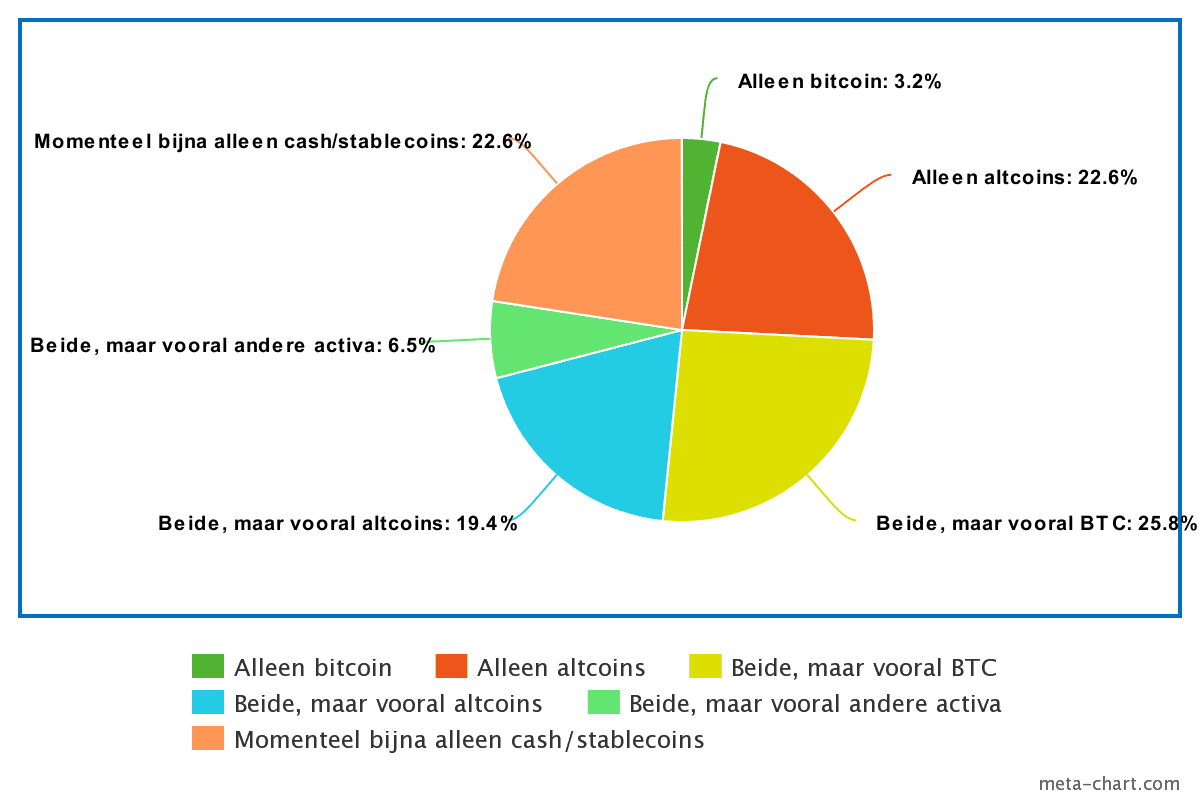 Crypto Insiders Premium voor bitcoin analyses
Wil jij diepgaandere bitcoin analyses ontvangen? Dan verwijzen wij je graag door naar onze Discord community voor leden. Stel vragen aan analisten, klets met onze fanatieke community en ontvang dagelijks technische en fundamentele analyses van bitcoin, maar ook andere crypto. Via Discord Premium kunnen we 24/7 kennis met elkaar delen en proberen we samen met onze leden de markt voor te blijven.
The #Bitcoin investors/ hodlers buying in the lower half of the LGC range have historically been fine… pic.twitter.com/YENvJizhUn

— dave the wave🌊🐫 (@davthewave) July 25, 2022
Disclaimer: Beleggen brengt risico's met zich mee. Onze analisten zijn geen financieel adviseurs. Raadpleeg altijd een adviseur bij het maken van financiële beslissingen. De informatie en tips die op deze website worden verstrekt zijn gebaseerd op eigen inzichten en ervaringen van onze analisten en dienen alleen voor educatieve doeleinden.