De Bitcoin-prijs is gedaald tot $9.300, wat een verdere daling van 3%in de afgelopen 24 uur betekende. De markt voor cryptocurrency volgde de korte termijn prijs trend van Bitcoin en is 's nachts meer dan $20 miljard gedaald.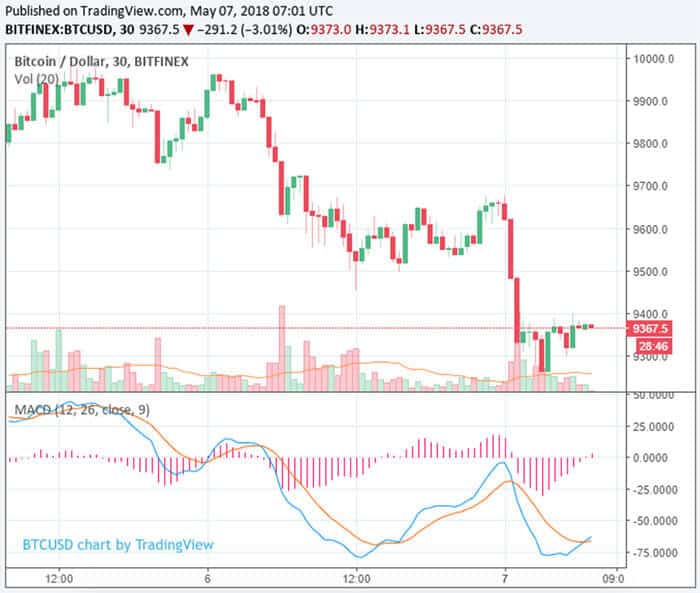 Op 5 mei was de wereldwijde gemiddelde Bitcoin-prijs minder dan $100 verwijderd van de $10.000, terwijl regio's zoals Hong Kong, Japan en Zuid-Korea met premium-tarieven al meer dan $10.000 bereikten. Bitcoin kon het ondersteuningsniveau van $ 10.000 echter niet veiligstellen en daalde onmiddellijk met ongeveer 3% tot $ 9.600.

Sindsdien is de Bitcoin-prijs nog eens 3%gedaald tot $9.300 en het handelsvolume van de gehele markt is met ongeveer $3 miljard gedaald, van $26 miljard naar $22,9 miljard.

Technische indicatoren van Bitcoin, waaronder de Relative Strength Index (RSI) en de Williams Percent Range (WPR), tonen een neutrale zone aan, waaruit blijkt dat Bitcoin in de afgelopen 48 uur niet te veel gekocht en verkocht is. Maar eenvoudige en exponentiële voortschrijdende gemiddelden tonen een negatieve korte termijn trend voor Bitcoin en als de dominante cryptocurrency er niet in slaagt zijn volume en momentum in de $9.300 te behouden, kan het zijn dat de Bitcoin-prijs nog eens 2% tot 4% achteruitgang noteert in de komende paar dagen.

Handelaren blijven nog steeds optimistisch met betrekking tot de hoorzitting van 7 mei in de VS van de Securities and Exchange Commission (SEC) over Ethereum. De oprichters van Ethereum, waaronder blockchain-ontwikkelstudio ConsenSys-oprichter Joseph Lubin, hebben verklaard voldoende onderzoek te hebben gedaan voorafgaand aan de lancering van Ether, dat het niet als een security wordt geclassificeerd en dat het gewoon voldoet aan de bestaande regelgeving.

Als de SEC verklaart dat Ethereum geen security is, zoals bij Bitcoin, kan de hele markt herstellen en de vraag van beleggers naar cryptocurrencies zoals Bitcoin en Ether toenemen.

Eerder zei SEC-voorzitter Jay Clayton dat een token of een cryptocurrency als een 'security' kan worden beschouwd als deze door een enkel bedrijf wordt uitgegeven en als het uitgegeven digitale activum de organisatie rechtstreeks op een positieve manier beïnvloedt.

Ethereum is niet gemaakt door een commercieel bedrijf, maar door een open source-ontwikkelteam en de code wordt geschreven door een groep ontwikkelaars zonder de aanwezigheid van een gecentraliseerd team of commercieel bedrijf.
Zoals CCN eerder meldde, zei Lubin:
We hebben ontzettend veel tijd doorgebracht met advocaten in de Verenigde Staten en in andere landen, en hebben er alle vertrouwen in dat het geen security is; het was nooit een security. We zijn absoluut niet betrokken bij de huidige discussies. Ik denk dat we al een regelgevend plan hebben; effectenwetgeving in dit land is van toepassing op effecten. Als je de Howey-test niet haalt, ben je geen security.
Afhankelijk van de verklaring van de SEC op 7 mei, zou de korte termijn prijs trend van Ether en andere tokens drastisch kunnen veranderen. Als de SEC verklaart dat Bitcoin geen security is die is gebaseerd op bestaande regelgeving, zoals de meerderheid van de ontwikkelaars, analisten en investeerders verwacht, zal de waarde van zowel Ether als andere token komende weken waarschijnlijk flink toenemen.