De cryptocurrency-ranglijst voor februari van het Chinese Center for Information and Industry Development (CCID) is gepubliceerd. Dat EOS alweer de aanvoerder van deze lijst is, is bijna geen verrassing meer. Op de nieuwste editie van de ranglijst zien we echter wel een verrassend project op de tweede plek.
Al sinds juni 2018 voert EOS de door de Chinese overheid gefinancierde crypto-ranglijst aan. Het CCID beoordeelt crypto-projecten op basis van de onderliggende technologie (basic-tech), toepasbaarheid (applicability) en creativiteit (creativity). De behaalde scores binnen deze subcategorieën worden bij elkaar opgeteld en op basis van de totale score worden de crypto-projecten gerangschikt.
De ranglijst wordt elke maand opgesteld en voor het eerst werd ook TRON beoordeeld. Het project van Justin Sun kwam meteen hoog binnen, het stootte Ethereum van de tweede plek af met een totale index van 145,6.
EOS voert met een score van 150,5 nog steeds de lijst aan. Bitcoin stijgt van de 15e plek naar de 13e plek en heeft een totale index van 104,5. Binnen de subcategorie "creativiteit" staat Bitcoin echter op de eerste plek. Dit houdt in dat het CCID vindt dat Bitcoin onder andere voldoende innoveert en updates doorvoert.
Binnen de subcategorie "toepasbaarheid" zien we Ethereum op de eerste plek staan. Dit houdt in het kort in dat het CCID vindt dat Ethereum de meest toepasbare crypto-technologie heeft. Binnen deze subcategorie zien we NEO op de tweede plek met daarachter Nebulas, TRON en Ontology.
Binnen de categorie "onderliggende technologie" beoordeelt het CCID onder andere de veiligheid, prestaties en mate van decentralisatie van een project. Op dit vlak voert EOS ook de lijst aan met daarachter TRON, Bitshares en Gxchain.
Zie hier de volledige lijst van het CCID: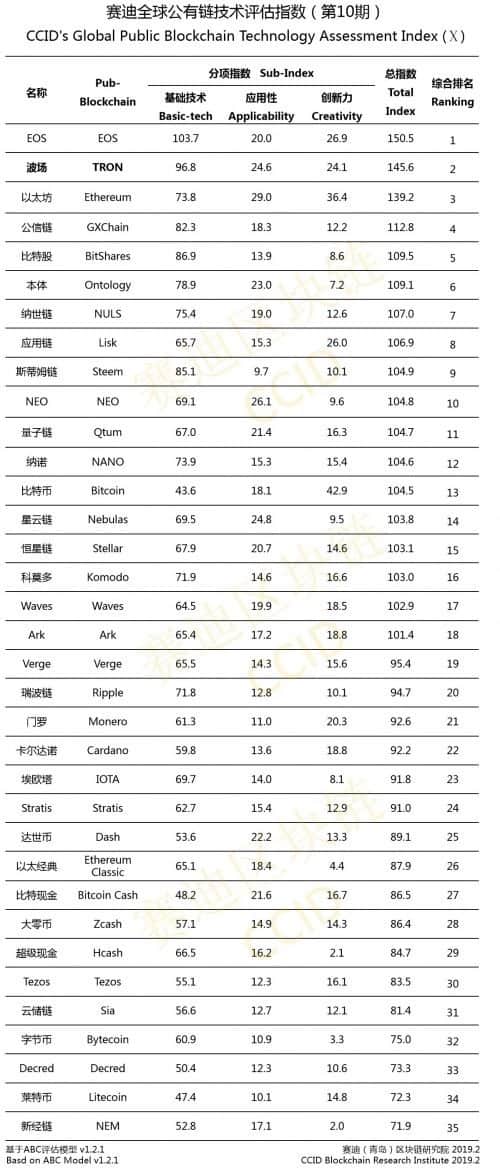 Wil je op de hoogte blijven van het laatste nieuws? Abonneer je dan op onze push-berichten, 
Facebook
– of 
Twitter
 pagina.
[ci-widget-v2]