De crypto-markt heeft de afgelopen 24 uur $5 miljard van haar marktwaarde verloren. Cryptocurrencies als Bitcoin, Bitcoin Cash, Ethereum en Ripple tonen allen kleine verliezen.
Zowel Bitcoin als Ether (Ethereum) tonen een daling van 1,5% ten opzichte van gisteren. Voor Bitcoin Cash is dat 2,5% en voor Ripple zelfs 5%.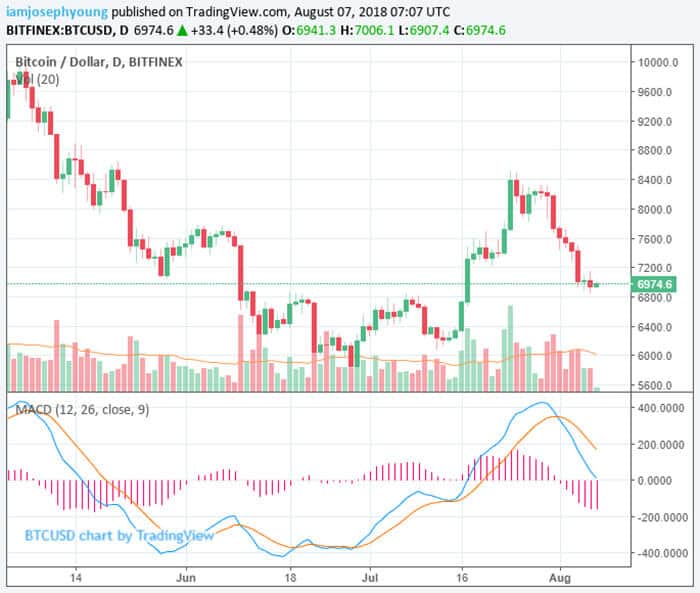 Tevens zijn cryptocurrencies als Stellar, NEO en IOTA, die vorige week nog stegen, ook gedaald in waarde. Stellar met 5%, NEO met 7% en IOTA zelfs met 14%.
Deze dalingen in de koers komen waarschijnlijk doordat er geen stijging van het volume heeft plaatsgevonden. In de afgelopen 24 uur is het volume van Bitcoin en Ether blijven hangen op $3,8 miljard en $1,3 miljard respectievelijk. Tevens Tether (UDST) is stabiel gebleven op de $2,3 miljard. Dit zou kunnen verklaren dat er geen toename is geweest in de vraag naar cryptocurrencies in de afgelopen dagen.
Vorige maand voorspelde Arthur Hayes, CEO van BitMEX, dat als het volume niet stijgt van $4 naar $5 miljard, een daling van de Bitcoin koers naar midden $6.000 onvermijdelijk is. Daaraan voegde hij toe dat het mogelijk is dat Bitcoin zelfs naar $5.000 kan zakken voordat er een nieuwe rally zal ontstaan:
Ik denk dat we het ergste nog niet hebben gezien. Ik zou Bitcoin graag de $5.000 zien testen om er een bodem aan te geven. Kom terug in het derde of vierde kwartaal dit jaar, ik denk dat het feest dan weer van start zal gaan.
CoinMarketCap vertelt dat Bitcoin nog steeds de markt domineert met een 47,6% aandeel en aangezien tokens en kleinere cryptocurrencies het slecht gedaan hebben in de afgelopen week, zou men kunnen speculeren dat investeerders hoog risico handel momenteel vermijden door de instabiliteit van de markt.
Wil je op de hoogte blijven van het laatste nieuws? Abonneer je dan op onze push-berichten, Facebook– of Twitter pagina.