De financiële wereld zit vol met 'redenen' waarom activa naar bepaalde koersdoelen gaan. Sommige redenen houden meer steek dan anderen, maar het vullen van 'gaten' op grafieken is wel één van de meest vage oorzaken. Toch is dit een mogelijke reden waarom bitcoin (BTC) nog veel verder zou kunnen dalen dan je zou verwachten.
V
reemde gaten in de BTC koers
Deze 'gaps' in de grafiek zie je niet op de gewone grafiek van bitcoin (en andere cryptocurrencies), maar op die van de bijbehorende futurescontracten. Die worden namelijk niet in het weekend verhandeld. Dat betekent dat de koers voor het opengaan van de beurs al hard was gestegen of gedaald, waardoor er een gat ontstaat.
Als er een gat ontstaat betekent dat dus dat mensen niet hadden verwacht dat de slotkoers ook ergens anders had kunnen liggen. Dan zijn ze verkeerd gepositioneerd en maken ze verlies. Als de prijs later dichterbij het gat komt, dan komt het dichter in de buurt van het punt waarop deze partijen hebben gekocht. De regel leert dat hoe recenter een gap is, hoe groter de kans is dat deze gevuld wordt. Toch wijst de geschiedenis uit dat ze vaak snel gevuld worden.
Veel gaps op bitcoin CME-futures
De bitcoin-futures die Chicago Mercantile Exchange (CME) aanbiedt hebben op het moment vier gaps onder de prijs. Dan hebben we het over de grafiek met de dagelijkse candlesticks. De eerste is op dit moment nog maar een krappe 10% van de prijs verwijderd. De vierde ligt zo'n 70% lager, vlak onder de 10.000 USD.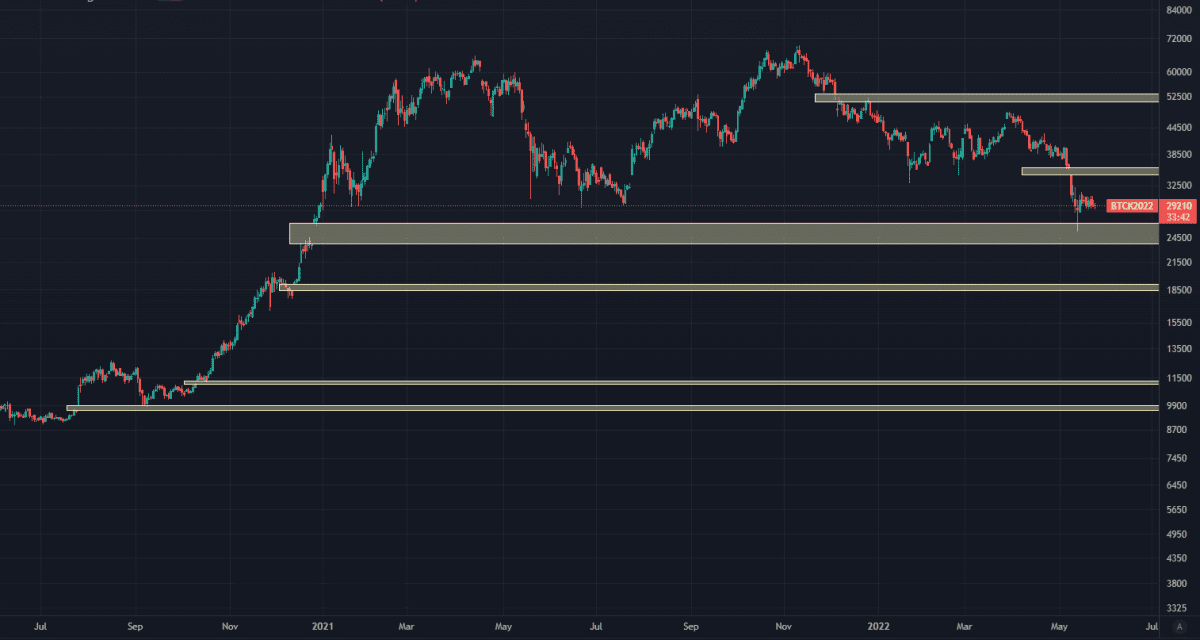 Bitcoin-futures van CME, data afkomstig van TradingView.
Naast vier gap downs zijn er ook twee gap ups die zich boven de huidige prijs bevinden en ook nog gevuld moeten worden. Het kan dus vriezen en dooien, maar de prijs komt op het moment akelig dicht in de buurt van naar beneden uitbreken. Dat betekent misschien niet veel goeds voor Bitcoin en ook niet voor andere cryptovaluta.
Of het een OCD-trekje van instituten is of dat het vullen van deze gaten (waar mogelijk) gewoon een soort ongeschreven regel is, zal vermoedelijk een mysterie blijven.