Sinds 25 juni is de markt voor cryptocurrency gedurende drie opeenvolgende dagen relatief stabiel gebleven rond de $250 miljard, en heeft het moeite om enige beweging te maken aan zowel de onder- als bovenkant. Het volume van Bitcoin (BTC) blijft laag bij $3,2 miljard en als zodanig zal de markt waarschijnlijk niet in staat zijn om haar huidige waardering op de korte termijn te ondersteunen.
Corrigerende rally vereist flink volume
Zoals eerdere corrigerende rallies in mei en juni lieten zien, is er een sterke opmars en momentum nodig voor zowel kleine als grote cryptocurrencies. Hoewel de crypto-markt redelijk stabiel is gebleven rond de $250 miljard, heeft het lage volume de kans verkleind dat grote cryptocurrencies de komende dagen zullen stijgen.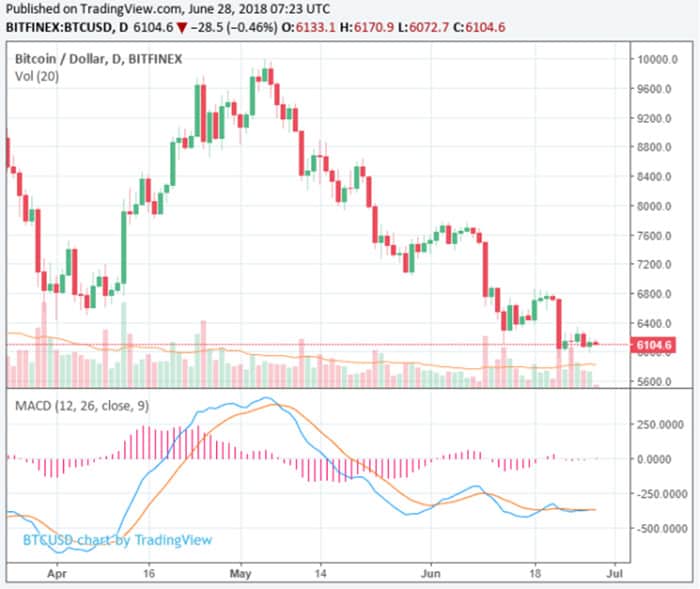 Op 25 juni bedroeg het dagelijkse handelsvolume van Ether, de cryptocurrency van het Ethereum blockchain-protocol, meer dan $3 miljard. Vanaf 28 juni blijft het dagelijkse volume van Ether onder de $1,3 miljard, bijna een miljard dollar lager dan dat van Tether (USDT), een stablecoin waarvan de waarde is afgedekt door de waarde van de Amerikaanse dollar (USD).
Binnen drie dagen is het volume van de tweede meest waardevolle cryptocurrency gedaald met ruim 56% van meer dan $3 miljard naar $1,3 miljard. Op dezelfde tijd is het volume van Tether gestegen, wat de volatiliteit en de onzekerheid in de cryptocurrency-sector maar weer eens duidelijk maakt.
Momenteel, zelfs als de markt voor cryptocurrency een piek in vraag en interesse ervaart met optimistische momentum-indicatoren, heeft de markt simpelweg niet voldoende volume om een corrigerende rally te initiëren en als zodanig is de kans groter dat de markt met een kleine marge daalt op de korte termijn, dan dat het een lichte beweging aan de bovenzijde laat zien.
In dit tempo zou de BTC-prijs op korte termijn tot zo laag als $5.800 kunnen dalen, vooral als het dagelijkse volume van BTC de volgende 24 tot 48 niet veel groter wordt. Bitcoin heeft sinds 25 juni een lage prijs en volume en een daling naar een nieuw jaarlijks dieptepunt is een mogelijkheid.
Moet er nieuw geld binnenstromen?
Verscheidene vooraanstaande analisten en beleggers hebben deze week opgemerkt dat er nieuw geld en vormen van kapitaal in de markt voor cryptocurrency moeten komen om ervoor te zorgen dat grote cryptocurrencies zoals Bitcoin, Ethereum en kleine digitale assets een aanzienlijke stijging in zowel prijs als volume meemaken.
Eerder deze maand zei John Hyland, Bitwise Asset Management global head of exchange-traded products, dat de Amerikaanse Securities and Exchange Commission (SEC) binnenkort een Bitcoin exchange-traded funds (ETF) zou kunnen goedkeuren.
Hyland zette vier belangrijke redenen uiteen waarom de markt voor cryptocurrency dichter bij een Bitcoin-ETF staat, waarbij hij beweert dat de meest waarschijnlijke drijfveer de opkomst van vertrouwde custodian solutions zal zijn. Hyland zei:
De eerste heeft te maken met de opslag/bewaring. Op dit moment bewaren we onze crypto-assets bij een kleine gereguleerde beheerder. De vijf grote ETF-beheerders kijken naar, maar duiken nog niet in het aanbieden van de service. Ik heb vorige week echter een half uur gesproken met een van de drie grootste ETF-beheerders, en ik denk dat de beste stap vooruit voor hen is om bestaande gereguleerde beheerders, zoals de onze, als "onder-beheerders" aan te nemen, terwijl ze hun eigen expertise opbouwen. Dat lost een belangrijk probleem voor de SEC op.
Nieuw kapitaal van ETF's, custodian solutions en andere openbaar verhandelbare instrumenten zullen in de cryptocurrency-markt moeten belanden om exponentiële beweging te ervaren aan de bovenkant en om ervoor te zorgen dat BTC een nieuw hoogterecord kan vestigen boven de $20.000.