Nadat Bitcoin (BTC) maandag 15 oktober enkele honderden dollars omhoog schoot nadat beleggers massaal hun Tether-tokens (USDT) van de hand deden, lijkt het er nu op dat BTC enige mate van stabiliteit vertoont rond de $6.600.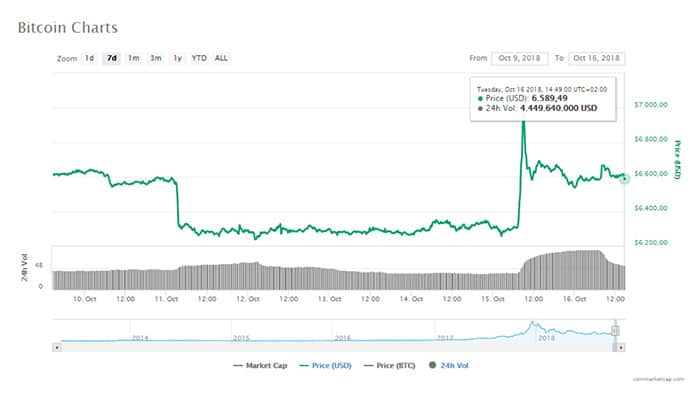 Om het huidige niveau te handhaven zal het handelsvolume van Bitcoin wel stand moeten houden maar dat lijkt sinds dinsdagochtend, niet geheel onverwacht, geleidelijk af te nemen. In de vroege morgen bedroeg het volume nog $7,4 miljard maar daar is nog maar $4,4 miljard van over momenteel en het is nog maar de vraag of het aan het eind van de dag nog boven de $4 miljard uitkomt.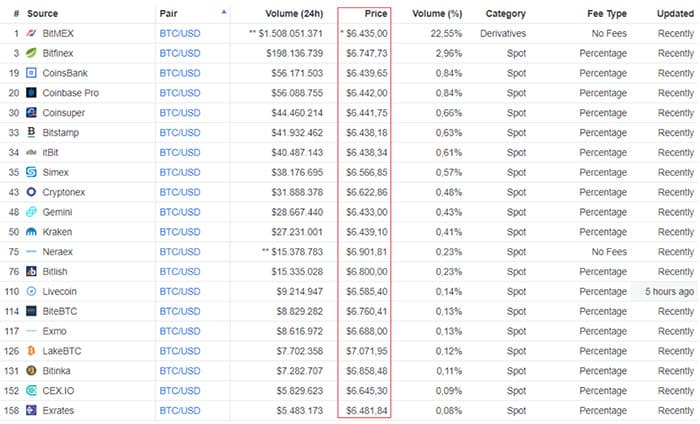 De BTC-prijs fluctueert met vrij grote marges (van $6.440 tot meer dan $7.000) tussen verschillende cryptocurrency–exchanges, als gevolg van de ontwikkelingen rondom Tether, dat aangaf "nogmaals te willen herhalen dat, hoewel markten tijdelijke prijsschommelingen hebben vertoond, alle USDT in omloop voldoende wordt ondersteund door Amerikaanse dollars (USD)". Ook al is USDT wel iets opgekrabbeld sinds gisteren (net geen $0,98 op het moment van schrijven) is het niet het equivalent van 1 USD, wat het bedrijf altijd beweert dat het is.
's Werelds grootste cryptocurrency-exchange Binance (op basis van dagelijks handelsvolume) schortte de opnames van USDT maandagochtend op, tijdens wat het een "periode van verhoogde activiteit" noemde. Eerder ontkende Binance al de geruchten dat het van plan was om USDT niet meer te listen op haar exchange en noemde oprichter en CEO Changpeng Zhao dat gerucht "een enkele gephotoshopte nep-aankondiging" op Twitter.

Learned today, short term, launching a fiat exchange that required months of work had less positive impact than FUD about USDT (a single photoshopped fake announcement) on BTC price. But I also know for a fact, long term, hard work wins. Keep building!

— CZ 🔶 Binance (@cz_binance) October 15, 2018
Wil je op de hoogte blijven van het laatste nieuws? Abonneer je dan op onze push-berichten, 
Facebook
– of 
Twitter
 pagina.
[ci-widget-v2]