Er hangt veel angst op de markt, zo blijkt uit de fear and greed index die vandaag op 7 staat, een van de laagst gemeten standen ooit.
Dat traders bang voor zijn voor een verdere daling blijkt daarnaast uit het aantal investeerders die hun bitcoin (BTC) naar een exchange sturen. De exchange inflows stijgt naar een niveau dat we in 3,5 jaar niet meer hebben gezien.
De paniek werd het grootst toen bitcoin naar een bodem van $20.800 daalde, hoewel bitcoin vrij snel weer naar de $23.000 steeg was die paniek niet weg. Het aantal bitcoins dat exchanges binnen stroomde was 59.376 BTC in slechts 24 uur.
Data van CryptoQuant, een on-chain analyse platform, laat zien dat gebruikers van 21 grote exchanges hun coins naar de exchange wallet stuurde op 14 juni.
83.000 BTC verstuurd naar een exchange in een dag
Data van CryptoQuant geeft aan dat dit de hoogste hoeveelheid toestroom naar exchanges is sinds november 2018, waar er toen 83.481 BTC naar exchanges verstuurd werden.
Dat investeerders bang zijn is dus niet zo gek. Deze toestroom aan BTC zou dus mogelijk nog voor extra druk op de verkoopkant kunnen zorgen. Ongeveer een maand na de toestroom aan BTC uit november 2018 zagen we dat de koers de bodem had bereikt op $3.100.
Dagelijk worden er in de Premium omgeving van Crypto Insiders interessante polls geplaatst waarmee het sentiment op de markt gemeten wordt. In deze poll vroegen we onze leden of bitcoin nog verder zal dalen en uiteindelijk onder de $18.000 zal komen.
Uit deze poll is gebleken dat 50% van de leden er toch wel van overtuigd is dat we de bodem nog niet gezien hebben. Bijna 40% van de respondenten gaf aan dat $18.000 toch net iets te laag is. Ongeveer 10% heeft wijselijk aangegeven het toch niet zeker te weten.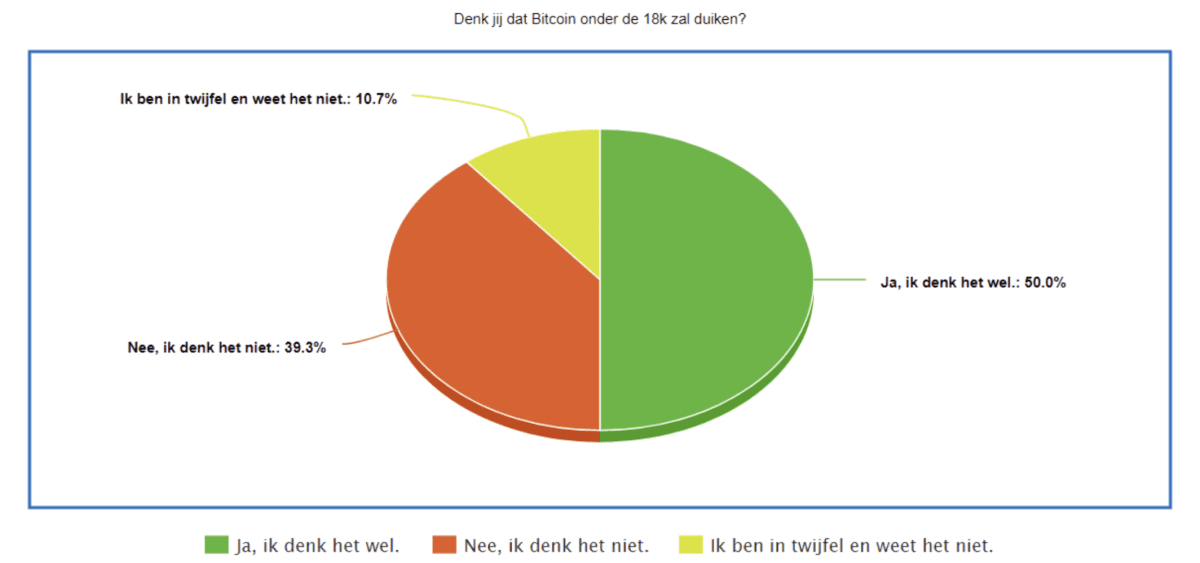 Dit is wel interessant aangezien deze mening toch wel overeenkomt met de angst die op het moment op de markt heerst.
Echter is angst niet nodig, om deze angst leren te beheersten is het erg handig om een community te hebben met gelijkgestemde. Ook biedt een community met andere crypto handelaren een perfecte omgeving om je verder te verdiepen in wat crypto nu eigenlijk is, en hoe je er het beste mee kan handelen. Word lid van Crypto Insiders Premium en krijg toegang tot onze leerzame Discord. Daar kan je vragen stellen aan analisten, deskundigen en onze fanatieke community!