Thailand heeft een nieuwe manier bedacht om toerisme weer te stimuleren in het land. De toerismesector heeft natuurlijk een aardige klap gehad. Het land keert zich tot de bitcoin (BTC) miljonairs.
Thailand werkt samen met lokale crypto exchange
De gouverneur Yuthasak Supasorn heeft aangegeven dat de Tourism Authority of Thailand en de regelgevers van het land een samenwerking zijn aangegeven met een lokale crypto exchange. Met deze samenwerking wordt er gewerkt aan de acceptatie voor digitale valuta voor reizen. Hij gaf aan dat dit mogelijk een oplossing was om een deel van de $80 miljard aan verloren inkomsten terug te verdienen.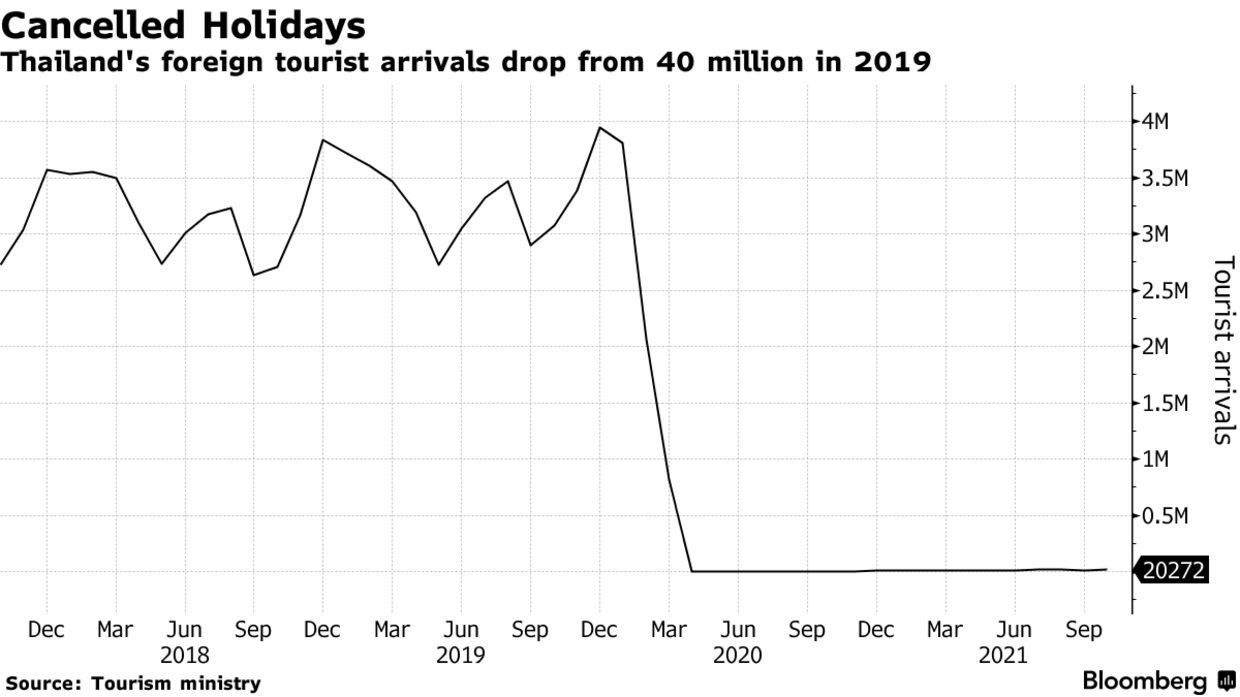 "Er zijn mensen die rijk zijn geworden door het bezit van digitale valuta en ze willen misschien de rijkdom die ze hebben opgebouwd gebruiken", zei Yuthasak donderdag in een interview. "Als ze hier hun valuta kunnen gebruiken zonder deze te hoeven inwisselen, of te maken krijgen met overheidsbelastingen, dan zou dat voor hen gemak scheppen."
Het zal waarschijnlijk nog wel even duren
Vooralsnog kan het een tijd duren voordat toeristen daadwerkelijk bitcoin, ethereum (ETH) en andere digitale valuta kunnen gebruiken op hun reis. Dit komt doordat Thailand, en vele andere landen, cryptocurrencies nog niet als wettig betaalmiddel zien. De staatsautoriteit voor toerisme wil in ieder geval de basis leggen voor meer adoptie en toepasbaarheid van digitale valuta tegen de tijd dat we weer wereldwijd mogen reizen, zei Yuthasak.
De staatsautoriteit voor toerisme zal in het komende jaar een nieuw team opzetten om de uitgifte van een eigen coin realiseren, een wallet te ontwikkelen en een nieuw toeristisch ecosysteem op te zetten, zei Yuthasak. Daarnaast zijn ze al in gesprek met de Securities and Exchange Commission, de Bank of Thailand en Bitkub Online Co., de grootste crypto exchange van Thailand, over het plan gaf hij aan. 
Thailand mist toeristen
Thailand is een erg populair vakantieland vanwege haar nachtleven en de geweldige stranden. Het is daarom ook niet gek dat het land in 2019 bijna 40 miljoen reizigers trok. Deze reizigers waren goed voor zo'n $60 miljard aan inkomsten. De pandemie gooide echter roet in het eten. Het land is pas sinds vorige maand weer open voor gevaccineerde reizigers
"Als Thailand in 2023 ongeveer 80% van zijn pre-pandemische toeristeninkomsten wil terugkrijgen, maar met de helft van het aantal buitenlandse toeristen dat we in 2019 zagen, kunnen we dat bereiken door iemand als Russell Crowe of een crypto-houder als Tim Cook hierheen te laten reizen." zei Yuthasak.
Ondanks reizigers uit meer dan 60 landen niet meer in quarantaine hoeven na hun reis, zal het toerisme waarschijnlijk pas weer in 2024 terugkeren naar het niveau dat we zagen voor corona, zei Yuthasak. Het land wil zich in Q1 van 2022 richten op ongeveer 1 miljoen toeristen die veel geld uitgeven. Yuthasak voegde daaraan toe dat de autoriteit vermoedde dat 10% van de crypto bezitters naar Thailand gaan reizen.
"Crypto is de toekomst, dus we moeten van Thailand een crypto-positieve samenleving maken om deze groep kwaliteitstoeristen te verwelkomen", zei Yuthasak.