Het is inmiddels een jaar geleden dat Bitcoin (BTC) haar hoogtepunt wist te bereiken; vorig jaar rond deze tijd was de prijs van BTC zo'n $19.500. Toch waren er ook toen al investeerders die de val van de cryptocurrency zagen aankomen; zo nam voormalig economist bij het Internationaal Monetair Fonds (IMF) en Pharo Senior Risk Trader Mark Dow kort na de piek een short positie in.
Volgens Dow zou BTC haar groei niet ondersteunen waardoor de prijs zou dalen. Zijn intuïtie werd voornamelijk geprikkeld door de lancering van de handel in Bitcoin-futures. Vandaag sloot Dow zijn short positie af.
Vandaag zeg ik gedag tegen de bitcoin short. Sad! #bitcoin $BTC $XBT.
Today I say goodbye to the bitcoin short. Sad! #bitcoin $BTC $XBT.

— Dow (@mark_dow) December 18, 2018

Ongeveer een week nadat BTC haar piek had bereikt gaf de trader een uitleg over het shorten van BTC; net rond de tijd dat hij zijn positie had geopend:
Ten eerste is Bitcoin zeer volatiel. De volatiliteit op jaarbasis is meer dan 100%, wat betekent dat het dagelijks met meer dan 6% omhoog of omlaag kan bewegen. Ten tweede zijn Bitcoin-uitwisselingen 24/7 open, maar Bitcoin-futures volgen de normale Globex-uren. Ten derde hebben de beurzen een integriteitsrisico (bijvoorbeeld Mt. Gox) en hebben de futures 20% collars. Deze laatste twee factoren vergroten het gat / discontinue prijsrisico voor degenen die de futures verhandelen, hoewel ik vermoed dat deze factoren meer risico voor longposities in Bitcoin-futures vertegenwoordigen dan voor shorts.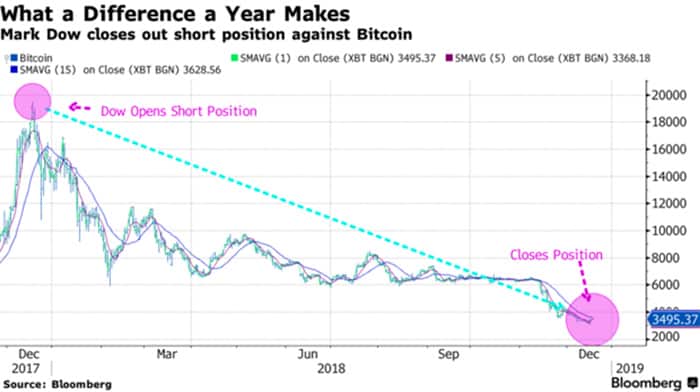 Dow liet Bloomberg weten dat hij al twee keer dit jaar op de positie winst maakte, maar nu heeft de trader eindelijk besloten om de positie helemaal te sluiten. Dow gaf niet aan of dit komt omdat hij een opleving ziet aankomen:
Ik ben klaar. Ik wil niet proberen om dit ding richting nul te vast te houden. Ik wil niet proberen er meer uit te persen. Ik wil er niet over nadenken. Het leek het juiste moment.
Dow verwijst vaak naar Bitcoin als 'op geloof gebaseerd'. Zo beweert de trader tegen Bloomberg dat de bubbel van vorig jaar grotendeels kwam doordat mensen 'geloofden' in het verhaal, wat gepaard ging met een mislukking van veel handelaren om de onderliggende technologie daadwerkelijk te begrijpen.
Ondertussen laat Mike Novogratz, CEO van Galaxy Digital, weten dat er een sterke vraag aan het opbouwen is in de crypto-markt. Volgens hem is de 'monsterlijke correctie' inmiddels dus voorbij.
Tevens vergeleek Novogratz de Bitcoin met de dot-com bubbel; volgens de CEO waren beide bubbels wel degelijk gebaseerd op een "écht iets". Zo heeft het internet de wereld aanzienlijk weten te veranderen.
Wil je op de hoogte blijven van het laatste nieuws? Abonneer je dan op onze push-berichten, 
Facebook
– of Twitter.
[ci-widget-v2]