Dat de cryptocurrency markt verdeeld is in groepen van verschillende fans is natuurlijk niets nieuws. Maar uit een nieuw onderzoek blijkt dat gebruikers niet de meeste verbondenheid hebben met Bitcoin, maar met Cardano.
Crypto nu in top 10 industrieën
Onderzoeksbedrijf MBLM kijkt niet naar de loyaliteit, maar naar de intimiteit, of de emotionele connectie, die gebruikers hebben met een bepaald merk.
In een nieuw rapport meldt MBLM dat de crypto-industrie qua verbondenheid boven gemiddeld scoort en nu op de achtste plek uitkomt onder 19 verschillende sectoren: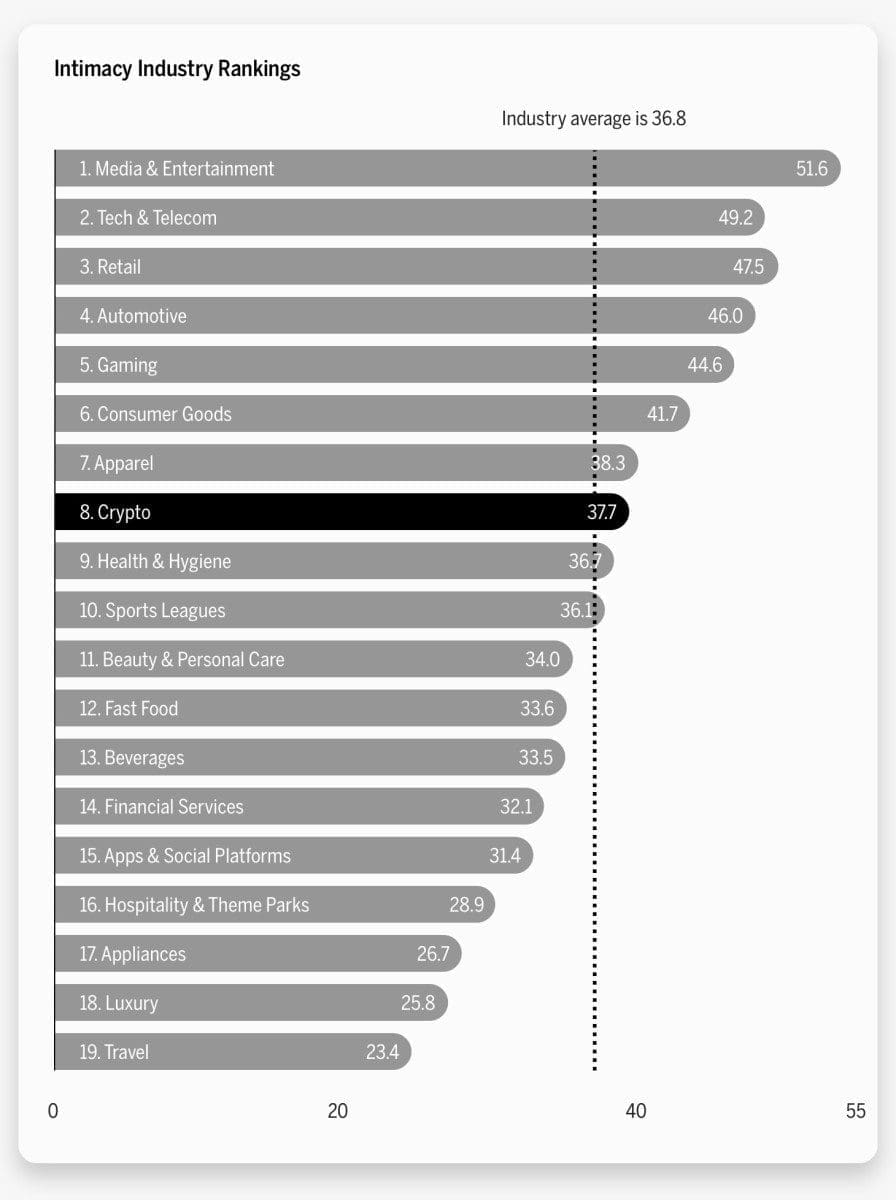 Cardano haalt Bitcoin in
Opvallender is dat Cardano dit jaar Bitcoin inhaalt op de lijst van merken waar gebruikers en klanten de meeste verbondenheid mee hebben. De absolute top van deze lijst bestaat uit merken als Disney, Tesla, Apple en Sony. Op de 30ste plek volgt Bitcoin, maar Cardano is al op de 26ste plek te vinden. Cardano staat pas voor het eerst dit jaar op deze lijst.
MBLM vergelijkt de verschillende merken aan de hand van verschillende 'archetypen' die berekend zijn met kunstmatige intelligentie en big data. Cardano scoort vooral goed op "indulgence" of verwennerij terwijl Bitcoin vooral scoort op "ritual." Dat laatste suggereert volgens het bedrijf dat Bitcoin al onderdeel wordt van de dagelijkse levens van gebruikers.
De bitcoin koers heeft het echter moeilijk in 2022. De prijs ligt momenteel weer onder $20.000 en dat is meer dan 71% onder de all-time high (ATH) uit november 2021 van $69.000. Cardano heeft het echter nog zwaarder en ADA ligt momenteel met een prijs van $0,43 zelfs 86% onder zijn ATH uit september 2021.
Ondertussen lijkt de langverwachte Vasil update voor Cardano steeds dichterbij te komen. Deze hard fork werd van de zomer meerdere malen uitgesteld en staat nu gepland voor september.
De top crypto top 10
MBLM heeft ook nog een lijst opgesteld voor alleen crypto. Opvallend is dat Polkadot op de derde positie volgt na Cardano en Bitcoin. Dan volgt Ethereum op de vierde plek en Tether op de vijfde. Daarna volgen Uniswap, Solana, Binance, Ripple en USDC: