Het Ethereum (ETH) netwerk staat nog altijd sterk in zijn schoenen. Op fundamenteel vlak is er een hoop gebeurd, met natuurlijk de Merge naar het Proof-of-Stake (PoS) protocol als kers op de taart. Het netwerk ziet daarnaast ook een behoorlijke groei in nieuwe wallets!
Bijna 3 miljoen nieuwe ETH wallets sinds Merge
Alhoewel het op dit misschien voelt alsof we geen kant op gaan in crypto, zijn er alsnog signalen te zien dat we toch echt aan het groeien zijn. Het Ethereum-netwerk groeit eigenlijk al sinds zijn lancering constant en de Merge heeft daar niets aan veranderd.
Op de dag van de Merge waren er 205.410.380 unieke wallet adressen in het netwerk te vinden. Op het moment van schrijven, bijna een maand later, staat de teller op 208.159.550. Kortom, in die periode zijn er 2,7 miljoen nieuwe wallets bij gekomen.
Daarmee zijn er de afgelopen maand dagelijks gemiddeld ruim 90.000 nieuwe wallets bij gekomen op het Ethereum-netwerk. Het netwerk laat hiermee zien nog steeds in staat te zijn een behoorlijke groei vast te houden. Wel is te zien dat de groei iets is afgenomen ten opzichte van vorig jaar, maar om een significante afname gaat het niet.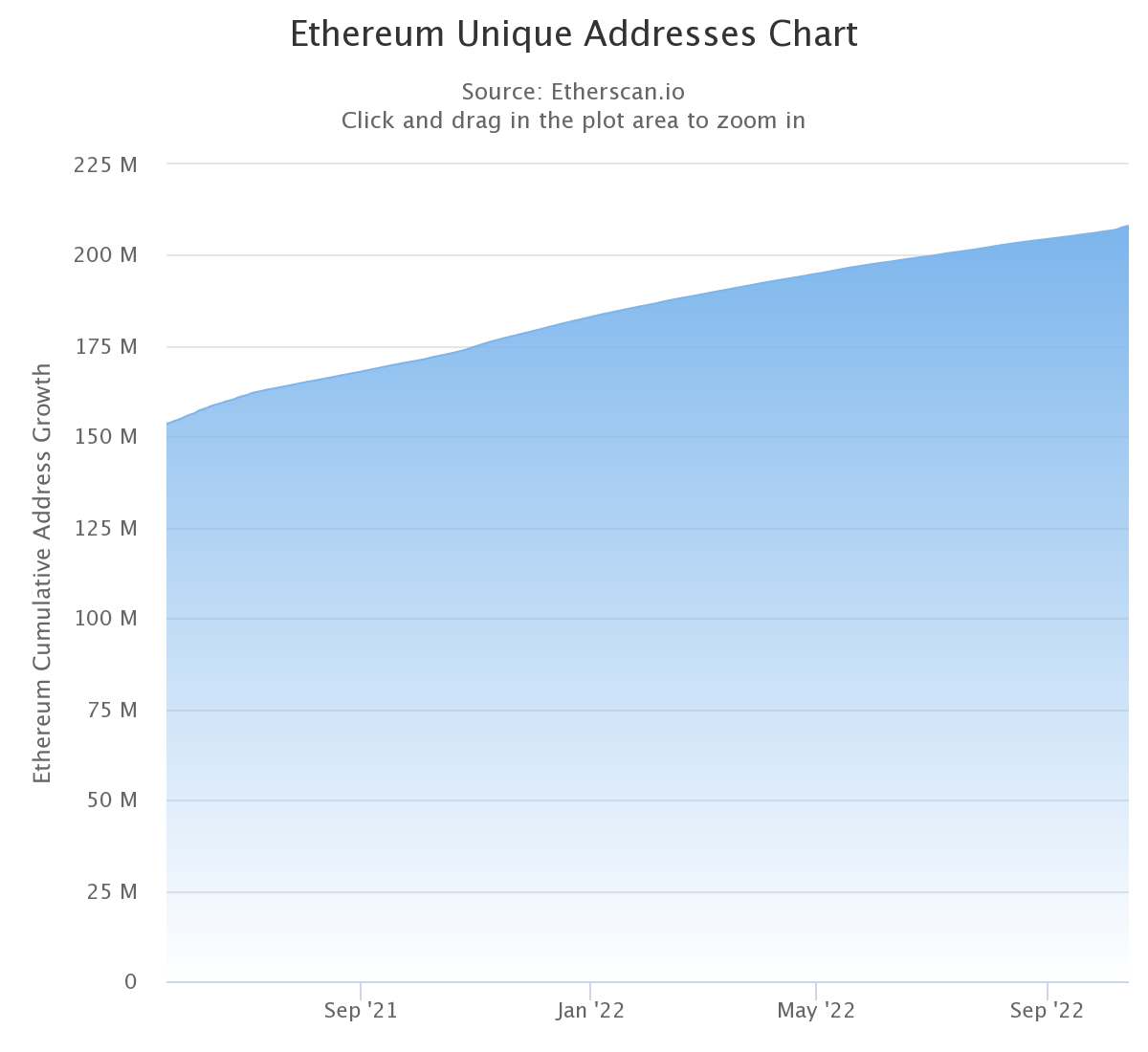 Dit kan erop duiden dat meer mensen zich bij het netwerk voegen. 1 unieke wallet staat echter niet gelijk aan 1 nieuw persoon. Mensen en bedrijven kunnen natuurlijk meerdere wallets aanmaken.
Ethereum koers blijft achter
Die groei is helaas niet terug te zien in de ETH prijs. Die staat sinds de Merge namelijk ruim 20% in de min zoals je vast en zeker al in het ethereum nieuws hebt gelezen. Hierbij moet natuurlijk wel gezegd worden dat de algehele crypto-markt er niet best voor staat. Vrijwel alle koersen staan in dezelfde periode flink in het rood.
Maar het buy the rumour, sell the news effect kan hier zeker een impact hebben gehad. Investeerders verwachtten misschien grote verbeteringen meteen na de Merge, echter bleek er in werkelijkheid niet heel veel te veranderen voor de gemiddelde gebruiker. In de toekomst staan wel updates gepland die de snelheid en schaalbaarheid van Ethereum moeten verbeteren.