Het opblazen van FTX is niet voor iedereen een dramatische ontwikkeling geweest. De zogeheten validators van de Ethereum (ETH) blockchain hadden best een aardige dag. Het omvallen van FTX zorgde voor een hoge mate van activiteit op de blockchain, waardoor de winsten van Ethereum validators door het dak gingen. Dat schrijft Coindesk op 22 november.
Wat is Ethereum MEV-Boost?
MEV staat voor maximum extractable value en is een manier voor Ethereum validators om zoveel mogelijk winst te halen uit de blokken die ze mogen produceren. De MEV-software van verschillende ontwikkelaars helpt hierbij door de blokken voor de validators op de best mogelijke manier te vullen.
"Volatiliteit is de brandstof voor MEV", aldus Chris Piatt van Eden Network. "Groot nieuws als het omvallen van FTX waarbij de markt flink beweegt levert validators grote winsten op", zo gaat hij verder. Tijdens de geruchten over het omvallen van FTX schoten mensen grote hoeveelheden transacties in.
Allemaal met het doel om hun fondsen weg te halen bij FTX en ergens anders onder te brengen. Dat zorgt voor een hoop extra transacties op de blockchain en dat is het brood en boter van de validators. "Hoe meer actie er is op de markt, omhoog of omlaag, hoe meer waarde er beschikbaar is voor validators", aldus Toni Wahrstatter.
Niet alleen maar positief voor Ethereum
De introductie van MEV is niet alleen maar positief. De software voor deze praktijk wordt namelijk ontwikkeld door gecentraliseerde spelers. Dit maakt dat zij moeten voldoen aan de regels van bijvoorbeeld de Office of Foreign Assets Control (OFAC), de Amerikaanse instantie die eerder dit jaar Tornado Cash verbood.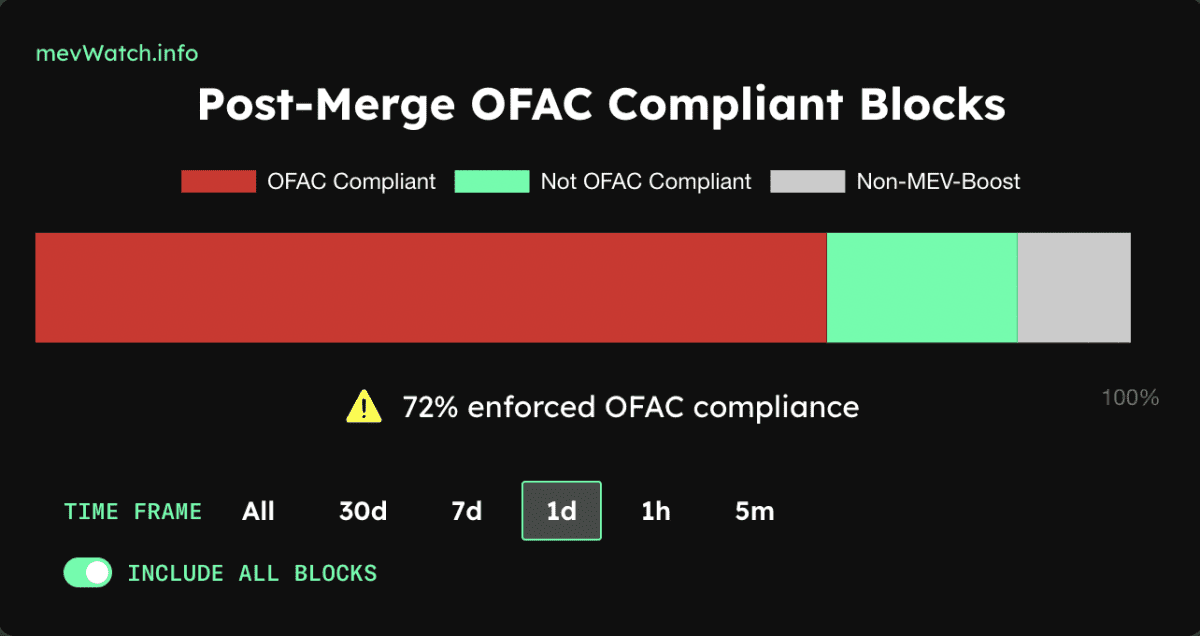 Het probleem van de bovenstaande afbeelding is dat 72 procent van de blokken in de afgelopen 24 uur voldoen aan de eisen van de Amerikaanse wetgever. Doordat deze partijen voldoen aan de OFAC eisen, zijn ze mogelijk onderhevig aan censuur. Veel Ethereum gebruikers raden daarom aan juist niet je ETH bij deze partijen vast te zetten.