Er zit aardig wat verschil tussen het handelen in aandelen en het handelen in cryptocurrency. Wat de beide markten gemeen hebben zijn de speculatieve en spannende verhalen die een aandeel of coin flink kunnen laten stijgen in waarde. Dit verhaal gaat niet over Adam en Eva, maar over de Apple en de auto.
Het lijkt niet nodig om het bedrijf Apple te introduceren. Iedereen kent het bedrijf van de smartphones en andere diensten en producten die ze verkopen. Tesla is een ietwat nieuwer bedrijf, maar ook zeker niet onbekend. Maar wat als jou verteld wordt dat de technologie-gigant Apple misschien de concurrentie aan wilt gaan met Tesla..?
The king of de EV-markt
Tesla heeft de auto-industrie volledig op zijn kop gegooid met de introductie van de betaalbare Model S. Nog niet zo lang geleden werd elektrisch rijden gezien als utopie. Elektrisch rijden werd gezien als en (te) dure optie, saai en niet realistisch op de korte termijn. Autobedrijven als Ford en General Motors zagen nog geen toekomst in het verkopen van elektrische auto's en bleven geloven in de verkoop van ICE (Internal Combustion Engine) voertuigen. Over de afgelopen jaren blijkt pas wat voor enorme impact Elon Musk met zijn autobedrijf heeft gehad en nog steeds heeft op de auto-industrie. Hij heeft eigenhandig de hele automarkt op z'n kop gegooid en blijft tot op de dag vandaag een pionier op het gebied van innovatie en duurzaamheid.
De 'Apple Car'
Al vele maanden doen geruchten de ronde over het bedrijf Apple. Niet om een nieuwe MacBook, een nieuwe iPhone of een nieuw snufje. Dit heeft alles te maken met de Apple Car. Het megabedrijf Apple wil zich mengen in de wereld van elektrische auto's. Je zou wellicht willen dat we konden zeggen dat de afbeelding hierboven een officieel – door Apple goedgekeurd – model is, maar helaas. Het is niet anders dan Fanart. Maar stel je eens voor!
Een aantal dagen geleden is in het Bloomberg-rapport een interessant stuk verschenen. In dit rapport stond de Apple auto waarschijnlijk realiteit gaat worden (Bloomberg, 2021). Natuurlijk hebben we dit vaker gehoord en waar rook is, is meestal vuur, maar de Apple auto laat nu al een tijdje de rookmelder van beleggers afgaan. 
Hoe reageert de markt?
Het aandeel Apple lijkt niet echt te reageren op dit nieuws, dat sinds de publicatie met iets meer dan 2% is gestegen. Niet vreemd als je bedenkt dat dit gerucht al maanden, dan niet jaren de ronde doet. Desondanks presteert het aandeel Apple over het afgelopen jaar uitermate goed, met een flinke stijging van bijna 39% ten opzichte van de S&P 500 die het afgelopen jaar met bijna 29% is gestegen.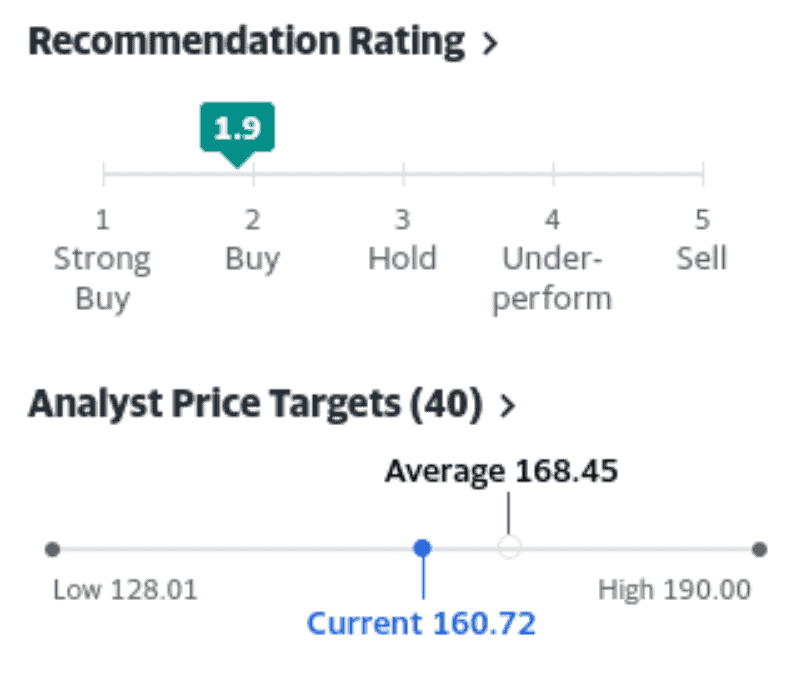 Analisten zijn dan ook erg te spreken over het bedrijf en geven Apple, ondanks de flinke stijging, nog steeds een koopadvies. Het gemiddelde koersdoel voor Apple is $168, met een laag koersdoel van $128 en een hoog koersdoel van $190. Volgens het analisten-gemiddelde wordt Apple op dit moment dus redelijk rond intrinsieke waarde verhandeld.
AlphaStocks is van mening dat de huidige waardering weinig ruimte overlaat voor misstappen. Het bedrijf is gewaardeerd op een flink groeipercentage dat ze de afgelopen jaren hebben kunnen waarmaken, maar hoe lang kunnen ze deze groei vasthouden? Het bedrijf heeft de afgelopen twaalf maanden $365 miljard omgezet. Dit zijn gigantische bedragen, maar mocht het Apple lukken om de komende tien jaar met 10% per jaar te groeien, dan genereert het bedrijf een monster omzet van $946 miljard. Alles is mogelijk, maar de vraag is of dit ook aannemelijk is.
Maar kan Apple een succesvolle, volledig geautomatiseerde elektrische auto maken? 
Dat is de grote vraag. Geen enkel bedrijf is onoverwinnelijk, maar de recente staat van dienst van Apple met productlancering is behoorlijk fenomenaal. Apple is niet het enige technologiebedrijf dat zelf-rijdende auto's wil gaan maken. De nummer twee van de wereld op het gebied van telefoonverkoop (Xiaomi) wil zich ook gaan mengen in de EV-markt. Hier verschijnt in afzienbare tijd een vervolgartikel over.
Er is veel kans dat Apple ook succes kan hebben in de elektrische auto-industrie. En de zogenaamde 'Tesla-bulls', vrees niet, er is genoeg marktaandeel over. De elektrische auto-industrie zit in de lift nu tal van wereldregeringen plannen uitwerken om de koolstofuitstoot drastisch te verlagen en sommige landen stellen zelfs ronduit data vast voor de afschaffing van de verkoop van auto's die op benzine of diesel lopen. Analisten voorspellen dat de wereldwijde EV-markt in 2027 wel $2,5 biljoen (een getal met 12 nullen) waard kan zijn.
Oké, je begrijpt natuurlijk wel dat er veel speculatie in dit verhaal zit. Maar als er één bedrijf is dat de EV-markt kan ontwrichten, dan kan dat goed Apple zijn.
Waar is Apple beschikbaar?
Apple is beschikbaar bij verschillende brokers in Nederland. Zo kun je het aandeel Apple, dat verhandeld wordt onder ticker symbool 'AAPL', onder andere aanschaffen bij: DEGIRO, Etoro, BuxZero, Trading 212, Bitpanda en vele andere banken en/of brokers.
Dit artikel is geschreven door AlphaStocks. Ben jij benieuwd hoe je jouw beleggingen (crypto, aandelen en edelmetalen) beter kunt tracken? Neem dan een kijkje op AlphaStocks. Naast het feit dat je jouw investeringen gratis kunt tracken, lees je er ook uitgebreide aandelen analyses en diverse blogs!
Bronnen
Bloomberg. (2021, 18 november). Bloomberg – are you a robot? Geraadpleegd op 22 november 2021, van

https://www.bloomberg.com/tosv2.html?vid=&uuid=e5f8e24d-4bae-11ec-b85a-516d78414d78&url=L25ld3MvYXJ0aWNsZXMvMjAyMS0xMS0xOC9hcHBsZS1hY2NlbGVyYXRlcy13b3JrLW9uLWNhci1haW1zLWZvci1mdWxseS1hdXRvbm9tb3VzLXZlaGljbGU=