Ondanks de neerwaartse, volatiele crypto-markt van de afgelopen maanden blijven institutionele investeerders geïnteresseerd in cryptocurrencies. Dit blijkt uit een onderzoeksrapport van de crypto-analyse unit van Diar, gepubliceerd op 3 december.
Volgens het rapport heeft Grayscale Investments, een "vertrouwde autoriteit op het gebied van crypto investeringen", duizenden Bitcoin (BTC) opgekocht voor haar in-house beleggingsfonds "Bitcoin Investment Trust" (GBTC).
Zo heeft Grayscale, wat onderdeel is van de Digital Currency Group (DCG), over heel 2018 zo'n 30.600 BTC aan haar vermogen toegevoegd. Hiermee bezit het bedrijf nu in totaal zo'n 203.000 BTC; inmiddels meer dan 1% van de totale voorraad aan BTC.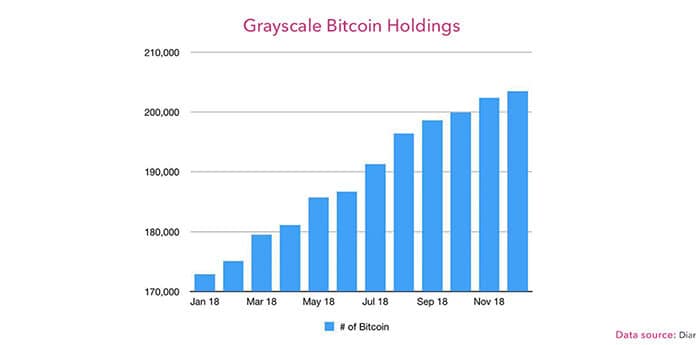 GBTC is een investeringsfonds dat investeerders ertoe in staat stelt BTC vanuit voorraad te kopen via de Amerikaanse over-the-counter (OTC) markt. De hoeveelheid BTC in GBTC is elke maand toegenomen, aldus Diar;
Een record aan toenemende instromen heeft ook gezorgd voor een recordhoeveelheid BTC-equivalent bezittingen, waarbij december een klein stukje hoger staat dan de start van de vorige maand.
Hoewel retail investeerders ook in GBTC kunnen investeren blijkt dat er veel kapitaal binnenstoomt via vertrouwde externe partijen; een positief teken voor de crypto-markt.
Genesis trading, ook onderdeel van DCG, blijft eveneens veel aandacht krijgen van institutionele partijen. Zo liet Genesis Trading CEO Michael Moro in een interview met Bloomberg weten dat de firma zo'n $553 miljoen aan crypto-leningen heeft uitgegeven. Veel van de leningen zijn afkomstig van zo'n 60+ institutionele tegenpartijen.
Moro liet hiernaast ook weten dat zo'n $130 miljoen van deze leningen vooralsnog op actief staan; een waarde die is blijven groeien sinds de start van het zeven maanden oude programma.
De interesse vanuit de institutionele kant is dusdanig groot dat veel grote partijen nieuwe producten, diensten, of platforms blijven lanceren. Zo liet Nasdaq onlangs weten dat het begin 2019 BTC futures willen lanceren.
Echter zal BTC zelfs zonder de toestroom van institutionele investeerders intrinsieke waarde blijven behouden. Zo liet Tom Lee, hoofd research bij Fundstrat Global Advisors, tijdens de Blockshow Asia 2018 weten dat Bitcoin "bent, but not broken" is. Lee verwees hierbij naar het feit dat er alsnog $1,3 biljoen aan transacties werden geregistreerd op de BTC blockchain; meer dan 2,5 keer zoveel als transacties van PayPal. Dit laat volgens Lee duidelijk zien dat de innovatie uithoudingsvermogen blijft hebben.


Ook blijft de crypto-sector volgens Lee zeer lucratief. Zo genereerde BitMEX zo'n $1,2 miljard in 2018; meer dan de Hong Kong Stock Exchange of Nasdaq. De hoge opbrengst binnen de sector is volgens Lee genoeg reden om te investeren in crypto-gerelateerde projecten.
Wil je op de hoogte blijven van het laatste nieuws? Abonneer je dan op onze push-berichten, 
Facebook
– of Twitter.
[ci-widget-v2]