Wereldwijd is blockchain een snel ontwikkelende industrie. Vele bedrijven komen met allerlei blockchain-oplossingen om de wereld echt een stukje beter te maken. Ook in ons eigen land is blockchain een hot topic. Daarom wordt in december weer de Dutch Blockchain Week georganiseerd, een week met allerlei interessante events omtrent blockchain in Nederland en wereldwijd!
Van crypto tot NFT's
Nederland kent een bruisende crypto-industrie. Van crypto exchange Bitvavo tot crypto-project LTO Network. Ook in Nederland ontwikkelt deze industrie zich in rap tempo. Genoeg materie dus voor een evenement gevuld met de laatste crypto- en blockchain-ontwikkelingen!
Van 6 tot en met 10 december wordt de Dutch Blockchain Week 2021 gehouden, alweer de derde editie. Het evenement is een samenwerking tussen onder andere Dutch Blockchain Coalition (DBC), Blockchain Netherlands Foundation (BCNL) en Deloitte. Iedereen die interesse heeft in alles omtrent blockchain kan hier naar verschillende sprekers luisteren.
Het programma van de Dutch Blockchain Week is gebaseerd op een aantal thema's, namelijk Dutch Proud, To the moon & back, Decentralize Everything, Change Makers, Global Change en Long Road Ahead. De zes sessies zijn verdeeld over drie dagen met sprekers als Molly Jane van CoinMarketCap, Reinier Bredenoord van het Openbaar Ministerie en Teunis Brosens van ING.
Tijdens de Dutch Blockchain Week komen een verscheidenheid aan onderwerpen aan bod. Denk aan cryptocurrency, decentralized finance (DeFi), de gloeiend hete wereld van non-fungible tokens (NFT's) en veel meer! Als crypto-fanaat in Nederland mag je het evenement dus eigenlijk niet missen.
Dutch Blockchain Awards
Ook dit jaar kunnen we natuurlijk weer stemmen! Verschillende Nederlandse bedrijven en personen zijn genomineerd waarop gestemd kan worden. Zo komen ook Nederlands grootste cryptocurrency exchange Bitvavo en bekend technisch analist en YouTuber Madelon Vos voor op de lijst van genomineerden. Laatst genoemde publiceerde gisteren nog een interessante aflevering van Madelon Praat over Bitcoin die terrein verliest en mogelijk permanente inflatie.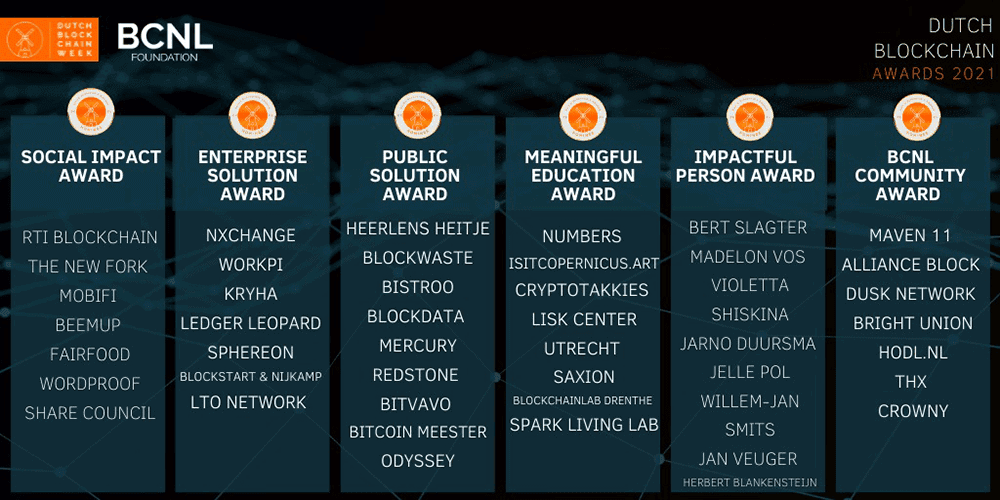 Laat weten wie volgens jou een prijs verdient voor de ontwikkeling van blockchain in Nederland. Stemmen kan hier!
Gratis tickets Dutch Blockchain Week
Wil jij van 6 tot en met 10 december de Dutch Blockchain Week online bijwonen? Via deze link ontvang je gratis tickets en luister en kijk jij gedurende zes sessies naar de laatste ontwikkelingen omtrent blockchain, crypto, DeFi en meer in Nederland.