Nadat de koers van Bitcoin (BTC) op 14 november een flinke duik maakte en de gehele cryptomarkt vanaf dat moment een dalende lijn voort bleef zetten, kleurt de markt op woensdag 28, na twee weken van rode cijfers, weer eens groen. In de afgelopen 24 uur steeg BTC met meer dan 13% van $3.725 tot een $4.240 op het moment van schrijven.
De totale marktwaarde voor cryptocurrency, dat sinds 14 november zo'n $90 miljard heeft zien verdampen, steeg in de afgelopen 24 uur met zo'n 12% van ongeveer $122 miljard tot rond de $137 miljard.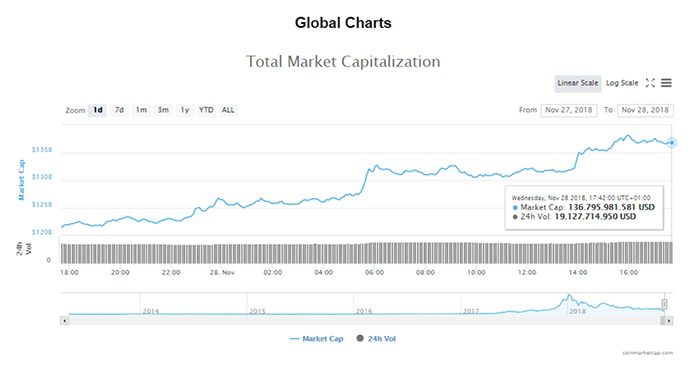 Nadat BTC sinds afgelopen weekend de grootste moeite had om weer boven de $4.000 uit te komen, oversteeg het dat support level in de vroege morgen van woensdag 28 november en is het daar sindsdien niet meer onder gekomen. Persbureau Reuters stelt dat Bitcoin met de bounce van de afgelopen 24 uur goed op weg is om een grootste dagelijkse winst te noteren sinds afgelopen juli.
Ripple (XRP) dat met een totale marktwaarde van ongeveer $15,6 miljard nog altijd Ethereum (ETH: totale marktwaarde $12,3 miljard) overstijgt als de op één na grootste cryptocurrency, heeft in de afgelopen 24 uur een winst geboekt van 11% en stijgt van minder dan $0,35 tot meer dan $0,38 op het moment van schrijven. Ook ETH, dat zich in de gevarenzone bevindt om een tweecijferige coin te worden, heeft dit vooralsnog weten te voorkomen door met meer dan 12% te stijgen tot een waarde van net onder $120.
Bitcoin SV (BSV: de beruchte hard fork van Bitcoin Cash) dat in de voorgaande dagen sterker presteerde ten opzichte van de andere coins, kleurt als enige van de top 10-cryptocurrencies rood met een verlies van 1,9%. Andere altcoins zoals Bitcoin (BCH), Stellar (XLM), EOS (EOS), Litecoin (LTC), en Cardano (ADA) boekten winsten van respectievelijk 9,35%, 14,7%, 9,4%, 17,6% en 16,0%. De hamvraag is natuurlijk alleen of deze winsten behouden kunnen blijven in de komende dagen.
Wil je op de hoogte blijven van het laatste nieuws? Abonneer je dan op onze push-berichten, 
Facebook
– of Twitter.
[ci-widget-v2]