Hoewel dit niet het meest gezellige onderwerp is om te bespreken met je vrienden of familie op een feestje of aan de bar, is het wel degelijk iets om goed over na te denken. Vorig jaar bleek nog dat een bekende crypto whale, Mircea Popescu (41), was overleden tijdens een zwemtocht. Nu heeft waarschijnlijk niemand toegang tot zijn wallets en dat betekent wellicht dat tienduizenden bitcoins zijn verloren.
Je kunt natuurlijk de zogenaamde seed phrase, of pincode, van je wallet verstoppen onder een matras of het bewaren in een bestand op je computer. Maar gaan je nabestaanden dat ook vinden? En ligt dat papiertje er over 30 jaar nog steeds? Het zou niet de eerste keer zijn dat iets verloren raakt tijdens een verhuizing of wordt weggegooid tijdens een iets te enthousiaste schoonmaak. Je bent ook niet verzekerd dat dit losse papiertje of computerbestand bij de juiste persoon überhaupt terechtkomt.
De beste manier om nalatenschap met crypto formeel te regelen is via een notaris en je vermogen op te laten nemen in een testament. In diverse media wordt geadviseerd om dit te doen door de seed phrase direct in het testament op te laten nemen of in een gesloten envelop achter te laten bij de notaris. Dat is echter absoluut af te raden! Men zegt niet voor niets: "not your keys, not your coins." Lees meer over het veilig bewaren van je bitcoins.
Hoewel notarissen een bewaarplicht hebben, zijn ze niet per se ingericht op het goed en veilig bewaken van grote vermogens. Ze maken regelmatig gebruik van externe archieven waardoor het zeer onzeker wordt waar de seed phrase terecht komt en wie hier allemaal (ongezien) toegang tot heeft. Het opslaan van de seed phrase bij de notaris brengt dan ook grote risico's met zich mee.
Om dit probleem te omzeilen, is het veel veiliger om de seed phrase op een indirecte manier in het testament op te nemen. Dit kun je doen door een instructie of locatie op te laten nemen in het testament waar de seed phrase veilig is opgeslagen. Op deze manier bevat het testament zelf geen directe waarde, maar is het wel waardevol op het moment wanneer het daadwerkelijk nodig is.
Met deze methode in gedachten is CRYPTOSAVER® op de markt gebracht. Dit is een zeer veilige en complete backup oplossing voor je seed phrase. De CRYPTOSAVER® is voorzien van een uniek ID-nummer die meerdere seed phrases tegelijk kan opslaan. De notaris kan met het unieke ID-nummer van CRYPTOSAVER® aangeven wie recht heeft op welke wallet bij nalatenschap en zo de sleutel daartoe verschaffen.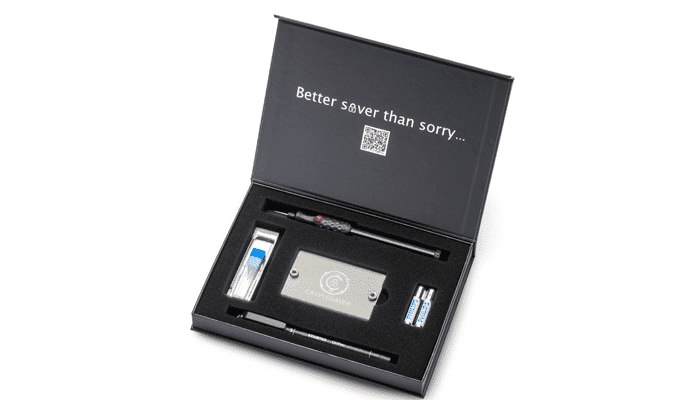 Meld je vóór vrijdag 1 april aan voor de members-omgeving van Crypto Insiders en leer niet alleen slimmer handelen in crypto, maar maak ook kans op een CRYPTOSAVER®! We verloten in de eerste week van april een CRYPTOSAVER®. Members ontvangen sowieso een kortingscode voor CRYPTOSAVER® en een gratis proefperiode van 30 dagen.
Het is hierbij zeer belangrijk dat de CRYPTOSAVER® op een veilige manier wordt opgeslagen, bij voorkeur in een externe, professionele en verzekerde kluis. Dit is sowieso sterk aan te raden om het risico van verlies of diefstal tot een absoluut minimum te beperken. Jaarlijks gaan naar schatting enkele miljoenen euro's verloren alleen door het verliezen van seed phrases. Natuurlijk moeten de nabestaanden dan wel toegang hebben tot die kluis. Aanbieders van externe professionele kluizen hebben hier een speciale procedure voor. Daardoor kan ondanks de hoge beveiliging (zelfs zonder sleutel) toegang worden verkregen.
Het goed regelen van je nalatenschap is dan ook zeer aan te raden, zeker in combinatie met een goede seed phrase backup oplossing.
Hiermee creëer je niet alleen rust en zekerheid dat je seed phrase veilig is gesteld, je weet tevens dat de nalatenschap van je crypto op een veilige en goede manier is vastgelegd. Zo voorkom je onnodig verlies van je crypto vermogen voor je nabestaanden. CRYPTOSAVER® is vanaf heden te bestellen op www.cryptosaver.nl
CRYPTOSAVER® is een nieuwe Nederlandse crypto onderneming die zich richt op het veilig opslaan en nalaten van crypto vermogen. Naast de CRYPTOSAVER® geven zij advies aan particulieren en bedrijven hoe om te gaan met het de opslag van crypto vermogen. Voor vragen neem contact op via: [email protected]