Na de aankondiging van een onderzoek door de Amerikaanse Securities and Exchanges Commission (SEC) naar het handelen in aandelen van de fintech-firma Longfin, is de aandelenwaarde van het bedrijf met 30 procent gedaald, meldde CNBC op 3 april.
Longfin onthulde het onderzoek in een openbare 10-K indiening (financieel jaarboek) bij de SEC op 2 april. Longfin aandelen sloten vandaag 30,89 procent lager, handelend op $9,89 per aandeel. Tot nog toe is de aandelenkoers dit jaar met 82,43 procent gedaald.
Longfin is een NASDAQ-genoteerd fintech bedrijf (LFIN) waarvan de marktkapitalisatie in december vorig jaar binnen twee dagen meer dan 1.000 procent omhoog schoot. Dit gebeurde na de aankondiging van de acquisitie van Ziddu.com, een bedrijf dat is gespecialiseerd in Smart Contracts en microleningen met behulp van blockchaintechnologie.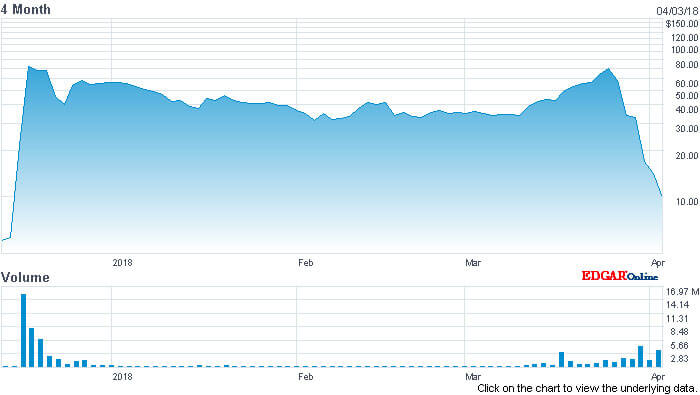 Grafiek aandelen van LFIN Dec. 2017-April 2018 – Bron: nasdaq.com
De afdeling handhaving van de SEC informeerde Longfin op 5 maart dat zij de handel in aandelen van de onderneming onder de loep zouden nemen. Ze verzochten Longfin documenten te verschaffen omtrent haar beursintroductie en de verwerving van Ziddu.com.
Longfin liet middels de 10-K indiening blijken dat zij volledig willen meewerken aan het onderzoek:
"We are in the process of responding to this document request and will cooperate with the SEC in connection with its investigation. While the SEC is trying to determine whether there have been any violations of the federal securities laws, the investigation does not mean that the SEC has concluded that anyone has violated the law."
Zelfs Longfin CEO Venkat Meenavalli erkende de enorme piek in de waarde van het aandeel afgelopen december en verklaarde: "This market cap is not justified. I valued my IPO pricing at $5.", daaraan voegde hij toe: "We are a profitable company… We have nothing to do with this euphoric mania.".
In januari van dit jaar meldde de SEC dat het bedrijven, welke gebruik maken van het publieke enthousiasme (hype) rondom blockchain-technologie om zo hun aandelenkoersen te manipuleren, grondig te bekritiseren.