De crypto markt kleurt aardig groen over de afgelopen 24 uur, maar één altcoin in de top 20 steekt er met kop en schouders bovenuit; shiba inu (SHIB). De meme coin steeg de afgelopen 24 uur met maar liefst 23% in waarde, waar de rest van de top 20 nauwelijks verder dan een stijging van 4% komt.
Shiba inu koers stijgt 23%
Net als bitcoin (BTC) handelde ook SHIB lange tijd onder een belangrijke weerstandszone. Maar in tegenstelling tot BTC kon de altcoin zijn weerstand wel doorbreken. En zoals we gewend zijn als het om meme coins als shiba inu gaat, ging dat gepaard met enorme volatiliteit.
De afgelopen weken steeg en daalde SHIB met maximaal 9% in waarde in een periode waarin de altcoin leek te consolideren onder de weerstand bij $0,000013 op crypto exchange Binance. Afgelopen nacht om 1 uur zetten de SHIB bulls opnieuw een aanval in richting deze weerstand en dit keer lukte het hen wel om hem te breken. Het gevolg was een stijging van maar liefst 23% in ongeveer 12 uur tijd.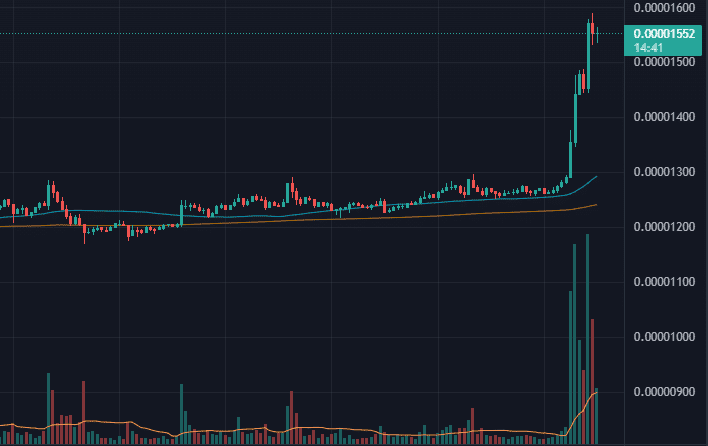 Waar de plotselinge koersstijging en het ontploffende handelsvolume precies vandaan komt is niet helemaal duidelijk. Zo deed het project geen grote aankondigingen over ontwikkelingen of iets dergelijks. Het lijkt dus vooral het gevolg te zijn van het breken van de weerstand bij $0,00013.
Op de 4-uurs en dagelijkse grafiek komt de relative strength index (RSI) door de stijging in het overbought gebied terecht. Dit kan een signaal zijn dat de bulls uitgeput raken met als gevolg een periode van consolidatie of correctie naar beneden. Tijd om goed op te passen dus!
Rivaal dogecoin doet het ook relatief goed
Kijken we naar de rest van de altcoins dan zien we dat de grote rivaal van SHIB, dogecoin (DOGE), het relatief goed doet. DOGE steeg de afgelopen 24 uur met zo'n 7% en staat over de afgelopen week zelfs 14% in de plus.
Binnen de top 10 is cardano (ADA) de hardste stijger. De nummer 6 haalde gisteren ripple (XRP) in en steeg de afgelopen 24 uur met 5% naar een waarde van $0,58. De hardste stijger van de afgelopen 7 dagen binnen de top 10 is echter ethereum (ETH). De grootste altcoin van de markt steeg maar liefst 18,6%, en dat heeft waarschijnlijk vooral te maken met de aankomende Merge!