In de snelle wereld van cryptocurrency voelt 2016 als een leven geleden. Voor veel van de top 10 cryptocurrency-exchanges uit die tijd was dat ook letterlijk zo; verscheidenen hebben 2018 niet eens gehaald en 8 van de 10 zijn op basis van handelsvolume uit de top 10 verstoten. Het zijn niet alleen vintage altcoins die moeilijke tijden hebben gehad; hetzelfde geldt voor de exchanges die ze ooit verhandelden.
8 van de 10 top cryptocurrency-exchanges hebben hun plaats verloren
In de afgelopen twee jaar is de samenstelling van de belangrijkste cryptocurrency-exchanges drastisch veranderd en dat geldt ook voor de volumes die verhandeld zijn. In augustus 2016 registreerde Coinmarketcap Okcoin.cn als de top-exchange, met een 24-uurs handelsvolume van $440 miljoen. Vandaag de dag staat Okcoin.cn op de 188ste plek, met een handelsvolume van krap $17.000. Toen, net als nu, waren Bitcoin (BTC) en Litecoin (LTC) de best verhandelde pairs.
Tweede op de lijst voor handelsvolume in 2016 was Btctrade, met een 24-uurs handelsvolume van $218 miljoen. Momenteel staat het om de 54ste plaats met een volume van slechts $23 miljoen. BTC en Ybcoin waren toen de best verhandelde pairs van Btctrade. Ybcoin was een Chinese altcoin die in 2017 stierf. Tegenwoordig zijn de top-pairs van Btctrade Bitcoin Cash (BCH) en Ethereum (ETH). Van de hele top 10 van 2016, blijven er slechts twee exchanges over; Huobi en Kraken. Huobi bezette destijds de 3e plek en is in twee jaar tijd een plekje gezakt naar de 4e plaats, ondanks het feit dat het 24-uurs handelsvolume van de exchange van $165 miljoen naar $1,3 miljard gegroeid is. Dit is natuurlijk een wel weerspiegeling van de waardevermeerdering die cryptocurrencies als Bitcoin hebben genoten in twee jaar tijd.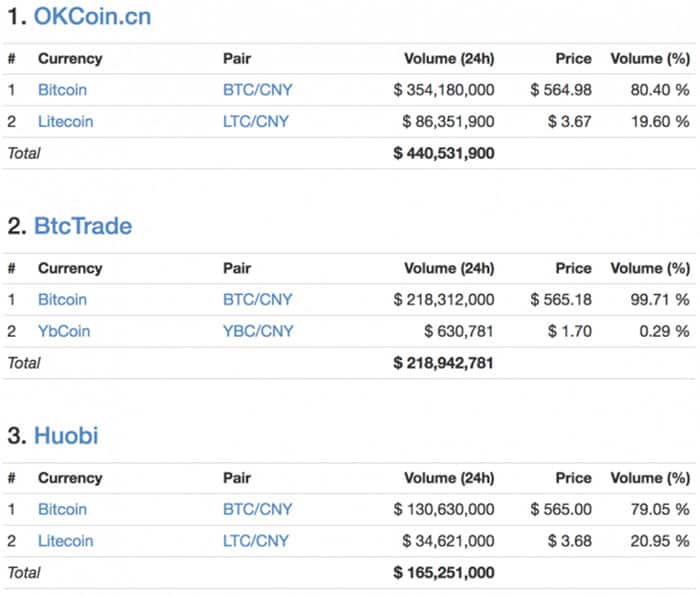 Er kan een hoop gebeuren in twee jaar tijd
Dit is hoe de top 10 cryptocurrency-exchanges er twee jaar geleden uitzag, in vergelijking met nu.
Okcoin.cn (nu 188ste). Vandaag: Bitmex

Btctrade (nu 54ste). Vandaag: Okex

Huobi (nu 4e). Vandaag: Binance

CHBTC (bestaat niet meer). Vandaag: Huobi

BTCC (nu 38ste). Vandaag: Bitfinex

Poloniex (nu 29ste). Vandaag: Upbit

BTC100 (bestaat niet meer). Vandaag: Bithumb

Btcbox (nu 25ste). Vandaag: Hitbtc

Itbit (nu 39ste). Vandaag: GDAX

Kraken. Vandaag: Kraken
Veel mensen beschouwen altcoins als iets niet permanents en voorspellen dat de meerderheid van cryptos een langzame dood zullen sterven. Misschien hebben ze gelijk, maar zoals een blik op de dominante cryptocurrency-exchanges in 2016 ons laat zien, is maar weinig ondernemingen een lang leven gegund. Het aantal opheffingen van exchanges overschrijdt zelfs dat van het aantal coins. Coinmarketcap registreerde 105 exchanges in 2016, tegenover 213 nu, hoewel slechts 60% van de nu geregistreerde exchanges in 2016 ook maar enige waarde van betekenis had van meer dan $10.000 per dag. Zelfs als we rekening houden met de inflatie, heeft 90% van de exchanges van vandaag enige schijn van een fatsoenlijk volume.
Onder de munten die in 2016 het hoogste handelsvolume vertegenwoordigen zijn Maidsafe, Nxt, Dogecoin en zelfs The DAO te vinden. Tegenwoordig zijn de meeste mensen het erover eens dat de top 10 exchanges beter is geworden. Of de top 10 cryptocurrencies, Bitcoin buiten beschouwing gelaten, ook in kwaliteit zijn verbeterd, is een andere kwestie. Een laatste indicator van hoeveel het landschap veranderd is in twee jaar tijd, komt van het totale handelsvolume. In augustus 2016 werd er in de top 10 exchanges niet iets meer dan $1 miljard verhandeld op een dag. Vandaag de dag is dat $10,6 miljard. Het zal interessant zijn om over twee jaar te zien hoeveel van de top-exchanges van 2018 nog overeind staan.