De in Dubai gevestigde exchange BitOasis heeft de handel in de VAE-dirham en BTC opgeschort wegens problemen van de bank die zelf de uitwisseling verzorgde.
Gisteren is het bericht naar de BitOasis-gebruikers verstuurd dat vanaf dinsdag geen dirham kan worden opgenomen bij de exchange, waardoor gebruikers vandaag alleen hun saldo elders kunnen verplaatsen of er desgewenst meer dirham aan toe te voegen.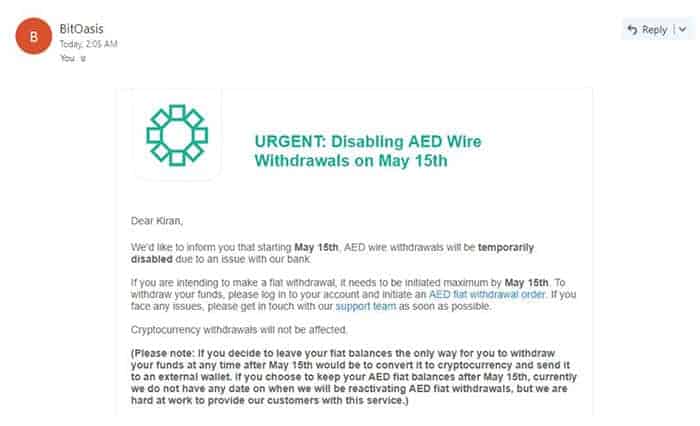 Gebruikers die creditcard-stortingen willen doen kunnen dit doen tegen een gereduceerd tarief van 4% tot 16 juni. Volgens BitOasis is de uitgevende bank van de exchange het enige probleem en zal de normale handel in cryptocurrencies als BTC, BCH, ETH, XRP, LTC, XMR en ZEC gewoon doorgaan, net als cryptocerrency-opnames van de exchange in private wallets. Arabian Business quote de informerende verklaring aan BitOasis-gebruikers als volgend:
Als u besluit om uw fiat-saldo's achter te laten is de enige manier om uw geld op elk gewenst moment na 15 mei op te nemen door het naar een cryptocurrency te converteren en naar een externe wallet te sturen. Als u ervoor kiest om uw VAE-dirham fiat-saldo's na 15 mei te houden, hebben we momenteel geen datum waarop we de VAE-dirham fiat-opnames zullen heractiveren, maar we zijn hard bezig om onze klanten van deze service te voorzien.
Er is ook nog geen datum voor de reactivering van dirham-opnames en aanbetalingen via bankoverschrijving, hoewel BitOasis zei dat dit snel mogelijk zou moeten zijn.De exchange, die actief is in de Verenigde Arabische Emiraten, Saoedi-Arabië en Koeweit, heeft in het verleden ook al eens uitbetalingen opgeschort, waardoor overdrachten van en naar rekeningen van Emirates NBD, Noor Bank en Mashreq tijdelijk onmogelijk waren in 2017. Gulf News meldde dat klanten vertraagde opnames ervaarden terwijl tevens nieuwe verificaties uitgesteld werden en dat probleem te wijten was aan de druk van de overheid van de VAE op dat moment.
De Jordaanse ondernemer Ola Dudin heeft BitOasis in 2014 opgericht als een hybrid wallet/exchange en de exchange is sindsdien actief en list sinds 23 april 2018 Zcash. Volgens de website is BitOasis van plan het eerste geregistreerde digitale asset bedrijf in MENA te worden in een belangrijk technologiecentrum in de regio.
Het bedrijf heeft de blog, met betrekking tot de nieuwe beperkingen op het gebruik van dirham op de exchange, nog niet bijgewerkt. Veel BitOasis-gebruikers houden zich bezig met de recente ontwikkelingen gebruiken Twitter om hun klachten te uiten en antwoorden te zoeken over de duur van de beperkingen en of ze nog tijd hebben om hun geld op te nemen.