De CBOE Futures Exchange (CFE) stopt met het noteren van bitcoin future-contracten. Dit meldt de Amerikaanse effectenbeurs in een officiële aankondiging aan beleggers. Of de beurs er permanent mee stopt is onduidelijk. CFE zegt nu onderzoek te doen naar hoe de beurs het product in de toekomst aan wil gaan pakken.
In het bericht meldt de beurs dat het 't "XBT" bitcoin futures-contract voor maart 2019 niet zal noteren. In de aankondiging meldt CFE:
"CFE zal geen Bitcoin (USD) ("XBT") futures-contracten noteren voor maart 2019. CFE beoordeelt haar aanpak met betrekking tot de manier waarop zij digitale activiederivaten wil blijven aanbieden. […] XBT-futures-contracten die momenteel al zijn genoteerd blijven beschikbaar."
Dit houdt in dat het XBTM19 contract voorlopig het laatste contract zal zijn dat CBOE noteert. Dit contract verloopt komende juni. Waarom CBOE heeft besloten te stoppen met de bitcoin future-contracten is onduidelijk. Wel is duidelijk dat de volumes van de contracten al lange tijd tegenvallen. Hieronder vind je een grafiek met daarop de volumes van de bitcoin future-contracten van CBOE (lichtblauw) en zijn rivaal CME Group (donkerblauw):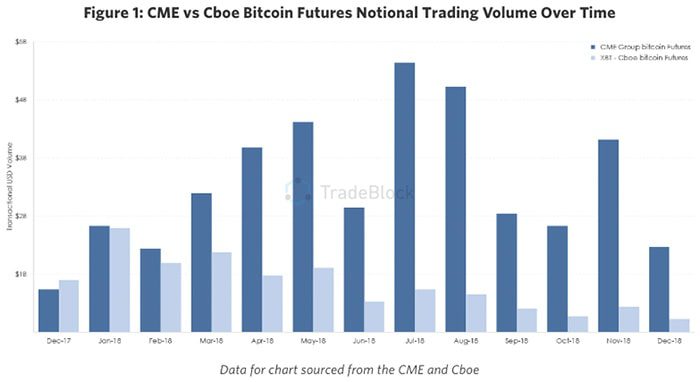 Afbeelding 1: CME vs CBOE
Duidelijk is dat de volumes voor CBOE tegenvallen. De beurs noteert het handelsinstrument al sinds eind 2017, toen bitcoin en andere cryptocurrencyies een enorme hype waren. Die hype is sindsdien grotendeels vervlogen, wat terug te zien is in de volumegegevens.
Het besluit van CBOE had geen effect op de bitcoin-koers. Dit komt waarschijnlijk door het feit dat het aandeel van CBOE in de bitcoin futures-markt klein is, zeker gezien de tegenvallende handelsvolumes. BTC staat op moment van schrijven zelfs licht in de plus en is na een stijging van 0,92% in de afgelopen 24 uur op het moment $3.959,18 waard.
Wil je op de hoogte blijven van het laatste nieuws? Abonneer je dan op onze push-berichten, 
Facebook
– of Twitter.
[ci-widget-v2]