Bitcoin (BTC) begon het nieuwe jaar met flinke stijgingen. Dit positieve sentiment wordt weerspiegeld in de data van handelsplatform Bakkt waarop fysieke bitcoin futurescontracten verhandeld kunnen worden. Het open interest vestigde zelfs een nieuw record, zo meldt Bakkt Volume Bot op Twitter.
Het open interest schommelde eerder deze maand nog rond de $11,7 miljoen. Dit record werd echter gisteren verbroken, het open interest bereikte namelijk de $17,8 miljoen. Dit valt samen met de bitcoin prijs die al sinds begin dit jaar in een opwaartse trend zit. Hierdoor zou een groot aantal nieuwe investeerders de markt hebben betreden.

Thursday's Bakkt Bitcoin Monthly Futures:

📈 Traded contracts: 2297 ($23.95 million, +67%)
🚀 All time high: 6601 (12/18/2019)
💰 Open interest: $17.82 million (+3%)

Trade while you sleep and take your emotion out of the equation: https://t.co/W8ClGY5ToN pic.twitter.com/S1XXNCtPXc

— Bakkt Volume Bot (@BakktBot) February 14, 2020

Gisteren werden er 2.297 bitcoin futurescontracten verhandeld op Bakkt met een totale waarde van $23,9 miljoen. Dit is 67% meer dan eergisteren. Dit ligt echter nog een flink stuk onder het record dat op 18 december 2019 werd gevestigd. Toen werden er namelijk 6.601 contracten verhandeld op Bakkt.
Daarnaast valt nog iets anders op. Steeds meer beleggers die in bitcoin investeren via Bakkt kiezen er namelijk voor om hun contracten fysiek af te laten wikkelen. Dit houdt in dat een belegger zijn futurescontract niet in dollars laat afwikkelen maar in bitcoin. Zo blijkt uit data van Skew: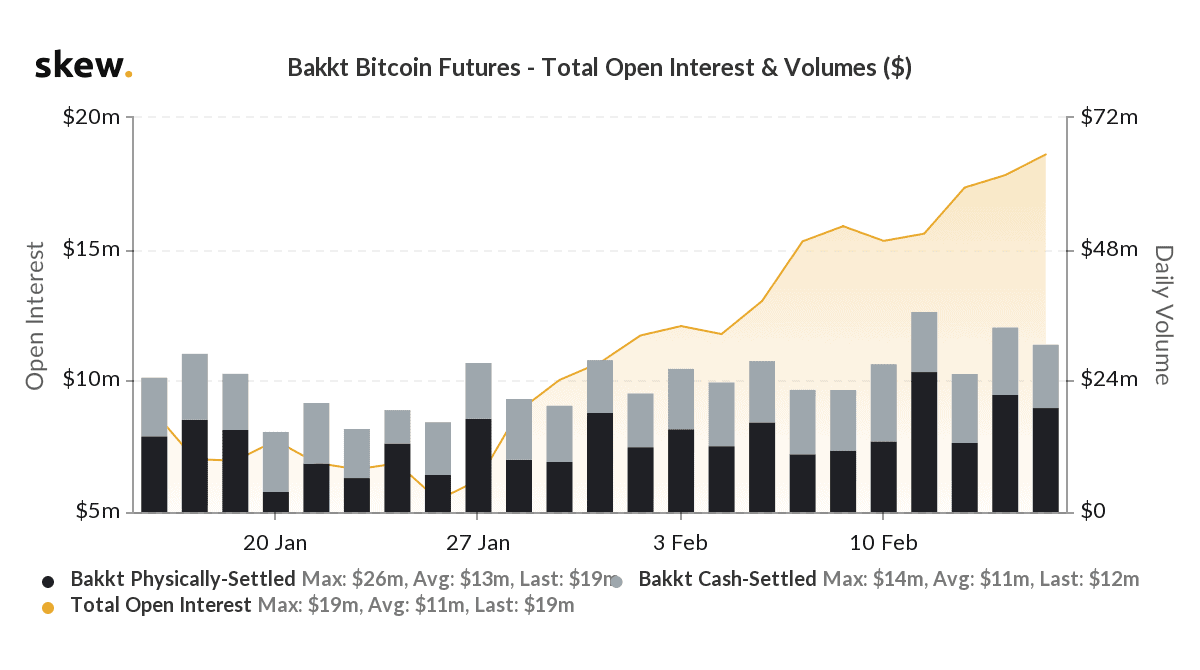 Dat beleggers liever bitcoins ontvangen dan dollars zou een positief teken kunnen zijn. Uit onderzoek van Arcane Research, dat eind januari werd gepubliceerd, is deze positieve trend nog duidelijker te zien. Daaruit blijkt dat de gemiddelde hoeveelheid afgewikkelde bitcoins via Bakkt in januari ruim 1.600% hoger lag dan het gemiddelde van 2019.
Arcane Research stelde eerder ook vast dat bitcoins realized market capitalization een nieuw hoogtepunt heeft bereikt. Uit het onderzoek blijkt dat de marktkapitalisatie van het aantal daadwerkelijk actieve bitcoins de $103,5 miljard heeft bereikt.
Wil je op de hoogte blijven van het laatste nieuws? Abonneer je dan op onze push-berichten, Facebook– of Twitter. Meediscussiëren? Meld je dan aan voor ons Telegram kanaal.