Een mysterieuze "Aziatische whale" heeft meer dan 94.000 BTC opgebouwd in de eerste helft van 2018, en nu zijn ze begonnen het terug te brengen naar een van de cryptocurrency-exchanges waar ze vandaan komen, wat angst voor een nieuwe uitverkoop veroorzaakt.
Blockchain-gegevens tonen aan dat Bitcoin-adres 1KAt6STtisWMMVo5XGdos9P7DBNNsFfjx7 meer dan 93.947 BTC heeft opgebouwd; op een bepaald moment in de periode tussen 25 maart en 27 mei, meer dan $700 miljoen waard.
Sindsdien heeft de wallet-eigenaar het saldo met 8.000 BTC verminderd. Het adres stuurde 4000 BTC rechtstreeks naar Huobi in twee transacties van gelijke grootte. In dezelfde periode werd nog eens 4000 BTC verzonden, waarbij het merendeel van die fondsen ook op Huobi terechtkwam nadat het via andere adressen weggesluisd werd.
Zelfs na deze vermindering is het adres nog steeds het op zes na rijkste in het Bitcoin-ecosysteem, met een huidige waarde van ongeveer $650 miljoen.



De vraag is aan wie dit adres toebehoort; het antwoord is niet meteen duidelijk.
De meeste van de grootste Bitcoin-adressen behoren tot cryptocurrency-exchanges. De vijf adressen met nog meer BTC dan het mysterieuze adres blijken respectievelijk inderdaad die van Bitfinex, Binance, Bittrex, Huobi en Bitstamp te zijn. Private keys voor door de exchange beheerde adressen worden over het algemeen opgeslagen in "cold wallets" die veiliger zijn omdat ze geen verbinding met internet hebben en dus geen risico lopen wanneer een hacker bij de exchange inbreekt.
Veel van deze adressen zijn ook P2SH-adressen, die beginnen met het cijfer 3 en vaak multi signature-adressen, waarvoor meerdere sleutels nodig zijn om een betaling ondertekenen voordat deze verstuurd kan worden.
Het is echter onwaarschijnlijk dat het betreffende adres deel uitmaakt van een cold wallet van een nieuwe exchange, omdat het fondsen bevat die worden verzonden via meerdere niet-verbonden exchanges. Ook is het adres geen multi signature-adres omdat het met het cijfer 1 en niet met 3 begint.
Gegevens van WalletExplorer geven aan dat een aanzienlijk deel van de fondsen afkomstig is van de in Singapore gevestigde crypto-exchange Huobi en het Chinese wallet-platform HaoBTC, wat suggereert dat de eigenaar van de wallet in Azië woont of op zijn minst een in Azië gevestigde tussenpersoon in dienst heeft.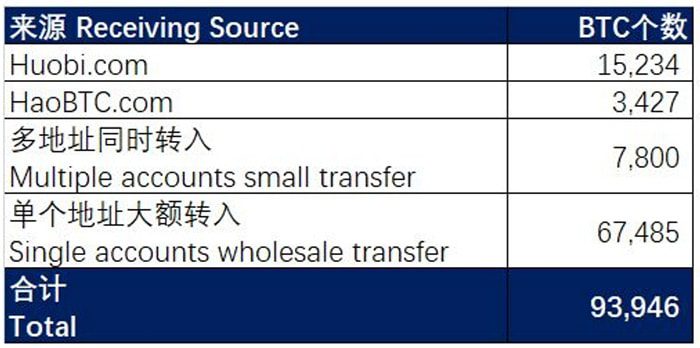 De Chinese nieuwszender BABI Finance heeft echter geconstateerd dat het grootste deel van de fondsen lijkt te zijn verkregen uit groothandel op over-the-counter-platforms (OTC). Grootschalige koper en verkopers gebruiken over het algemeen OTC-platforms om transacties "uit de boeken" te houden en om te voorkomen dat ze te veel invloed hebben op de wereldwijde spotmarkten, die vaak wild fluctueren als reactie op grote koop- of verkooporders.
BABI haalt een anonieme bron aan die betrokken is bij de verkoop van cryptocurrency door OTC, die zei dat de wallet toebehoort aan een makelaar in Dubai die optreedt namens een onbekende, misschien institutionele, koper. Deze bewering kan echter niet geverifieerd worden.
Hoe dan ook, het feit dat de wallet is begonnen fondsen terug te storten naar exchanges doet de vraag rijzen of the whale, wie dat ook mag zijn, zich voorbereidt op een uitverkoop, of misschien is die al begonnen.