De Australische tak van het Wereld Natuur Fonds (WWF-Australia) lanceert in samenwerking met BCG Digital Ventures een blockchain-oplossing. De oplossing heeft als doel de voedselvoorzieningsketen transparanter te maken, en biedt zowel producenten als consumenten de mogelijkheid voedsel te traceren.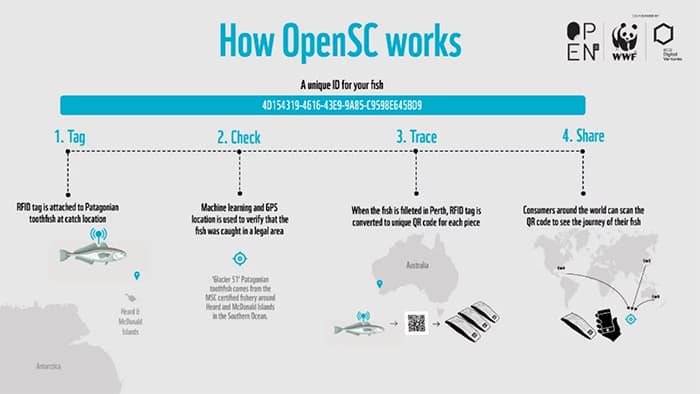 Bron: WWF Australië
Elk product krijgt een eigen unieke code waarmee consumenten en producenten een product van begin tot eind kunnen volgen. Zoals te zien op de afbeelding hierboven wordt beschreven hoe de oplossing werkt met vis.
Al op het moment dat de vis gevangen wordt, krijgt het een RFID-chip (Radio-frequency identification) met een unieke code. Die code wordt direct op een blockchain opgeslagen, en elk productieproces van de vis wordt geregistreerd onder die code. Op die manier kan elke stap worden teruggevonden op de blockchain.
Nog een voordeel van het systeem is dat producenten onethische productiepraktijken niet meer kunnen verbergen met complexe supply chain-processen. Het blockchain-systeem verschaft namelijk op elke laag van het proces meer transparantie.  
In een persverklaring zei de CEO van WWF-Australia, Dermot O'Gorman:
Met OpenSC krijgen we een heel nieuw niveau van transparantie omtrent de vraag of het voedsel dat we eten bijdraagt aan de aantasting van het milieu, evenals aan de sociale onrechtvaardigheid en mensenrechtenkwesties zoals slavernij.
Het nieuws komt vlak na ander nieuws dat IBM een blockchain-systeem gaat lanceren, gericht op de mijnbouwindustrie. Samen met onder andere de ING Bank en MineHub wil het meer transparantie en ethische productiepraktijken stimuleren. 
Wil je op de hoogte blijven van het laatste nieuws? Abonneer je dan op onze push-berichten, 
Facebook
– of Twitter.
[ci-widget-v2]