De gevolgen van Elon Musk's kritische woorden over Bitcoin echoën nog steeds door het brein van menig Bitcoin-fan. De Tesla- en SpaceX-topman benadrukte simpelweg op Twitter dat het stroomverbruik van het netwerk een probleem vormt, terwijl Tesla er juist op is gericht om de wereld van fossiele brandstoffen af te helpen. Het op grote schaal gebruiken van Bitcoin (BTC) zou daarom op dit moment niet verantwoord zijn. Tesla is inmiddels gestopt met het aanschaffen van BTC en het accepteren van de munt als betaling voor zijn auto's, maar het grootste deel van de digitale valuta staat nog steeds op de balans.
Het is dus méér dan belangrijk om je af te vragen hoe groot het stroomverbruik van Bitcoin is, en hoe dit zich verhoudt ten opzichte van de rest van de wereld. Het gaat letterlijk over de toekomst van het netwerk. Dit artikel heeft betrekking op elk Proof-of-Work-netwerk, maar we nemen nu Bitcoin als voorbeeld.
In de oorspronkelijke whitepaper beschrijft Bitcoin-bedenker Satoshi Nakamoto hoe de moeilijkheidsgraad van het delven van BTC wordt aangepast op basis van de miningactiviteit. De moeilijkheidsgraad wordt bepaald door het aantal nullen waar een hash mee begint. Het doel hiervan is om het delven van de daadwerkelijke cryptocurrencies genoeg te beperken, zodat de laatste bitcoin die wordt gedolven pas rond het jaar 2140 is. Er moet immers niet te veel voorraad in één keer op de markt verschijnen, dat zal een negatief effect hebben op de bitcoin koers.
Discussies over blokgrootte
Helaas is de blocksize beperkt en staat deze vast, wat inhoudt dat er maar een beperkt aantal transacties in één blok op de blockchain past. Hier zijn al verscheidene keren heftige discussies over ontstaan, wat de oorzaak was van de verschillende forks in de loop van de jaren. Bitcoin Cash is ontstaan omdat een deel van de gemeenschap van mening was dat de transactiesnelheid veel te laag was. Het netwerk moet immers op grote schaal te gebruiken zijn door iedere geïnteresseerde op de planeet, ook als je bijvoorbeeld een bedrijf hebt en een groot aantal transacties moet kunnen verwerken. Hiervoor zou de blokgrootte vergroot moeten worden.
Als er meer transacties in één blok passen, dan kunnen de transactiekosten omlaag. Dat is goed voor de kleine gebruiker. Als je weinig BTC hebt, dan is het immers niet leuk om een groot deel af te staan aan miners. Als je een grote speler bent maakt dit je vermoedelijk minder uit. De tegenpartij bestond met name uit miners, die profiteren van hoge transactiekosten, en (ironisch genoeg) mensen die vonden dat een grote blokgrootte grote spelers te veel macht bezorgde. Als de blokgrootte groter is, dan kunnen anti-Bitcoiners 'neppe' transacties versturen om andere transacties te vertragen. Dat heeft ook gevolgen voor de gebruiksvriendelijkheid en uiteindelijk de mate van decentralisatie. Je kunt je echter afvragen of we niet de verkeerde vragen stellen. Beide partijen lijken langs elkaar heen te praten, terwijl ze allebei een zo goed mogelijk functionerend netwerk willen.
Zoals we hierboven al bespraken heeft het aantal transacties in theorie weinig invloed op het aantal blokken op de blockchain, en ook niet op de hoeveelheid gedolven Bitcoin. Het enige wat het stroomverbruik daadwerkelijk beïnvloedt, is de moeilijkheidsgraad waarmee blokken met Bitcoin te vinden zijn en de bereidheid van miners om te delven. Weliswaar hebben transactiekosten hiermee te maken, maar de Bitcoin-prijs zal een grotere invloed hebben. Het staat immers vast wanneer de laatste Bitcoin (ongeveer) gedolven zal worden, daar wordt de moeilijkheidsgraad actief voor aangepast. In feite draait het in stand houden van het netwerk dus op hoe hoog de prijs is, het zijn namelijk de miners die ervoor zorgen dat een transactie daadwerkelijk verstuurd wordt.
Dit is een kip-en-het-eiverhaal. Er zijn twee theorieën over hoe de prijs en de hashrate zich tot elkaar verhouden: de prijs volgt de hashrate, of de hashrate volgt de prijs. Omdat beide factoren erg gecorreleerd zijn aan elkaar is het niet met volledige zekerheid te zeggen welke van de twee theorieën correct is, maar er is één ding uit op te maken: als we een hoge BTC-prijs willen, dan zal de hashrate toe moeten nemen. Omdat miners concurreren voor hetzelfde aantal bitcoin, zal het verbruik toenemen als de hashrate toeneemt. Bitcoin delven betekent namelijk dat er steeds meer nullen vóór de eerste één van een transactie in een blok terecht zullen komen. Je zou kunnen beredeneren dat dit het bevestigen van transacties onnodig moeilijk maakt — het duurt immers langer.
Het hogere doel van mining
Dit brengt ons bij het doel van mining: naast het bevestigen van transacties heeft het ook als doel om miners een financiële stimulans te geven om überhaupt te delven. Je zou het kunnen vergelijken met gouddelvers. Als we ervan uitgaan dat Bitcoin over een paar jaar een financieel product is dat op grote schaal gebruikt wordt door niet alleen jij en ik, maar ook door grote instituten, dan zal dat gepaard gaan met een torenhoge prijs. Een hoge prijs moet een hoge hashrate en dus een hoog stroomverbruik hebben.
Dat betekent dat je je af moet vragen wat een 'hoge' prijs is voor bitcoin en of je vindt dat het huidige verbruik gerechtvaardigd is. Volgens het Cambridge Centre for Alternative Finance heeft Bitcoin al een geschat verbruik van 84 terawattuur (TWh) op jaarbasis, met een geschatte bovenste en onderste grens van respectievelijk 316 en 30,6 TWh. Andere leggen het daadwerkelijke verbruik echter op andere niveau's. Zo legt Digiconomist de lat momenteel op 147 TWh, wat vergelijkbaar is met het verbruik van Maleisië. Bovendien is de CO2-voetafdruk al vergelijkbaar met Griekenland en wordt er elektronisch afval geproduceerd. Bitcoin minen gebeurt namelijk met ASIC's, chips die speciaal ontworpen zijn voor het verwerken van hashing-algoritmen. De chips kun je dus niet voor andere toepassingen gebruiken. Dit alles doen we in een tijdperk waarin grote, overkoepelende organisaties zoals het Internationaal Monetair Fonds (IMF), de World Bank en de Europese Centrale Bank (ECB) hameren op een duurzame toekomst en op het efficiënt gebruik van de financiële en praktische middelen van landen.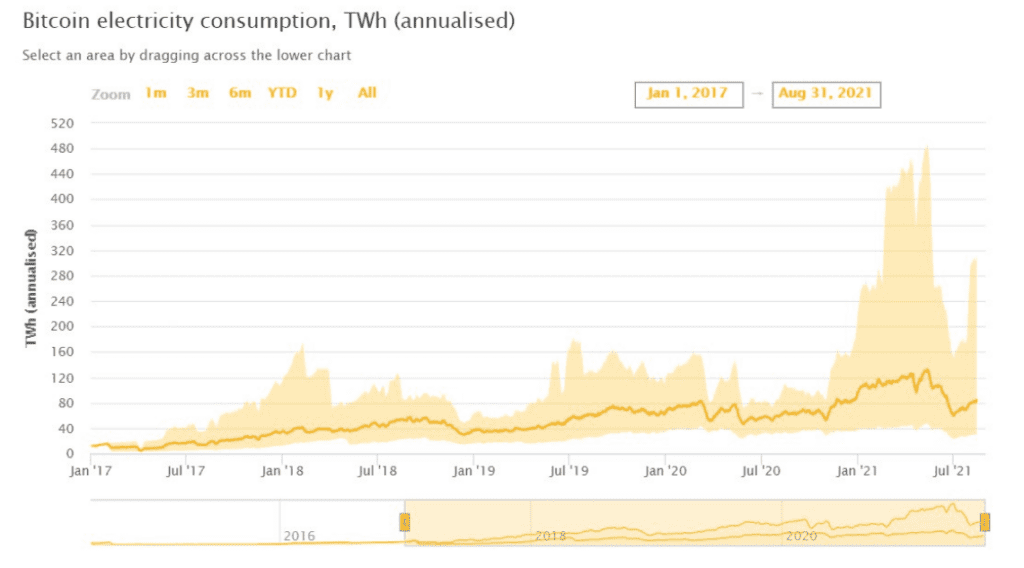 Afbeelding 2: de Cambridge Bitcoin Electricity Consumption Index (CBEBI).
Bitcoin zou je kunnen zien als een soort proeftuin voor de generatie van cryptocurrencies die erna is gekomen — het was immers de eerste. Veel van die crypto's hebben een consensusalgoritme voor het bevestigen van informatie op de blockchain dat veel efficiënter is. Bovendien is Bitcoin niet de enige PoW-cryptovaluta, je hebt ook nog bijvoorbeeld Bitcoin Cash, Dogecoin, Monero, Litecoin, Dash en ga zo maar door. Als we het stroomverbruik beperkt willen houden, dan heeft dat gevolgen voor de robuustheid van het netwerk.
Voorstanders van Bitcoin kunnen natuurlijk zeggen dat het hebben van een decentrale munteenheid genoeg is om het verbruik te verantwoorden. Maar als we willen dat de prijs hard toeneemt zal het verbruik óók hard moeten toenemen. Stel je voor dat het verbruik toeneemt tot het niveau van West-Europa in zijn geheel, is dat nog te rechtvaardigen? Zoals we in de vorige Deep Dive (je vindt hier deel 1)hebben besproken zullen hoge prijzen van cryptocurrencies vermoedelijk gepaard gaan met de nodige problemen in de wereld en stijgende prijzen van financiële producten. Er bestaat een kans dat de prijzen van bijvoorbeeld goedkope energiebronnen door het dak zullen gaan. Hetzelfde geldt voor de prijzen van grondstoffen die benodigd zijn voor de Bitcoin-infrastructuur en duurzame energiebronnen (koper, aluminium, zilver) en de ASIC's (koper, silicium). Of de prijzen een stijgende energiebehoefte van Bitcoin zullen kunnen ondersteunen kun je je dus afvragen — we benadrukken graag nog even de exponentiële functie van het verbruik. Mensen zullen bij stijgende prijzen van dit soort commodities prioriteiten moeten stellen: wil je een beter betaalbare computer en een betaalbaar elektriciteitsnetwerk, of wil je een exponentieel groeiend concensusnetwerk van stroom voorzien? Over het algemeen zoeken mensen graag de weg met de minste weerstand. Dat zullen simpelweg de projecten met het meest efficiënte netwerk zijn. Is het deze keer anders? Dat weten we pas naderhand, maar dit is doorgaans een vrij gevaarlijke vraag.