In de Premium omgeving van Crypto Insiders worden dagelijks actuele technische analyses gedeeld door ervaren analisten. De afgelopen periode kwam cardano (ADA) ter sprake. In deze rubriek blikken we terug op deze technische analyse en brengen we de recente ontwikkelingen en verwachtingen voor de komende periode in kaart. Mocht je na het lezen van dit artikel nog vragen hebben kun je deze eenvoudig stellen in onze Discord community, hier worden onze technische analyses doorgaans 48 uur eerder gedeeld met onze leden.
ADA is over de afgelopen 24 uur met ongeveer 29% gestegen. Over de afgelopen zeven dagen zagen we een iets hogere stijging. In deze periode steeg de koers namelijk met ongeveer 30,5%. ADA staat op het moment van schrijven op de 6e plaats op basis van marktwaarde. Dat ADA ineens populair is zien we ook aan het volume, deze is namelijk met 300% gestegen in 24 uur. ADA presteert ook veel beter dan bitcoin (BTC). De ADA waarde in BTC is namelijk met 23% toegenomen. 
Wat is Cardano (ADA)?
Voordat we verder kunnen met de analyse moet er eerst duidelijk onderscheid gemaakt worden tussen Cardano en ADA, dit zijn namelijk twee verschillende dingen. Als we spreken over Cardano dan gaat het over het project en het blockchain platform. Als we het hebben over ADA dan gaat het over de bijbehorende crypto die leeft op de Cardano blockchain. Je zou eigenlijk kunnen stellen dat Cardano het huis is en ADA de bewoner van dit huis. 
Hoewel Cardano kan worden gebruikt om ADA te ontvangen en te versturen, kan de blockchain nog veel meer. Zo is Cardano ook een platform waar smart contracts en smart contract applicaties op gemaakt kan worden. Als dit bekend klinkt dan kan dat kloppen. Dit is namelijk wat Ethereum (ETH) ook doet. Dit is echter geen toeval. Charles Hoskinson and Jeremy Wood, de oprichters van Cardano, waren al vroeg betrokken bij het oprichten van Ethereum in 2013. 
Laatste nieuws Cardano (ADA)
Een mogelijke reden van de stijging zou het feit kunnen zijn dat Cardano eerdaags met een nieuwe update zal komen. Deze update wordt de Vasil hard fork wordt genoemd en zal verschillende verbeteringen met zich meebrengen aan de manier waarop Cardano presteert, ook wordt de schaalbaarheid van het netwerk verbetert met deze hard fork. Door dit vooruitzicht kan het zijn dat veel investeerders alvast een positie openen of hun bestaande positie vergroten in anticipatie op deze update. De hard fork zal op 29 juni worden doorgevoerd. 
De harde stijging van de afgelopen 24 uur zou verklaard kunnen worden doordat het testnet is aangekondigd en op 2 juni wordt doorgevoerd. Aangezien dit een belangrijke update is voor Cardano kan dit voor de grote hype hebben gezorgd. Het zal interessant zijn om te zien of de koers nog verder zal reageren als het testnet live is. 
Technische analyse ADA
Cardano heeft heel goed werk geleverd om de 161,8% te houden! Dit niveau fungeerde tot nu toe twee keer als sterke steun, nu dit niveau zo veel steun gaf kon de koers van ADA omhoog springen en ons target van $0,615 raken. In de Discord omgeving voor leden gaven wij al aan dat het niveau van 161,8% een punt was waar we goed op moesten letten, dit was precies zoals wij verwacht hadden. Waar we op het moment van posten nog niet wisten waar de koers mogelijk heen zou gaan weten we dat nu beter. 
Er zal later vandaag in de Discord omgeving een nieuwe technische analyse worden gedeeld met daarop een nieuwe richting voor ADA. Hierin wordt duidelijk welke kant we op denken te gaan.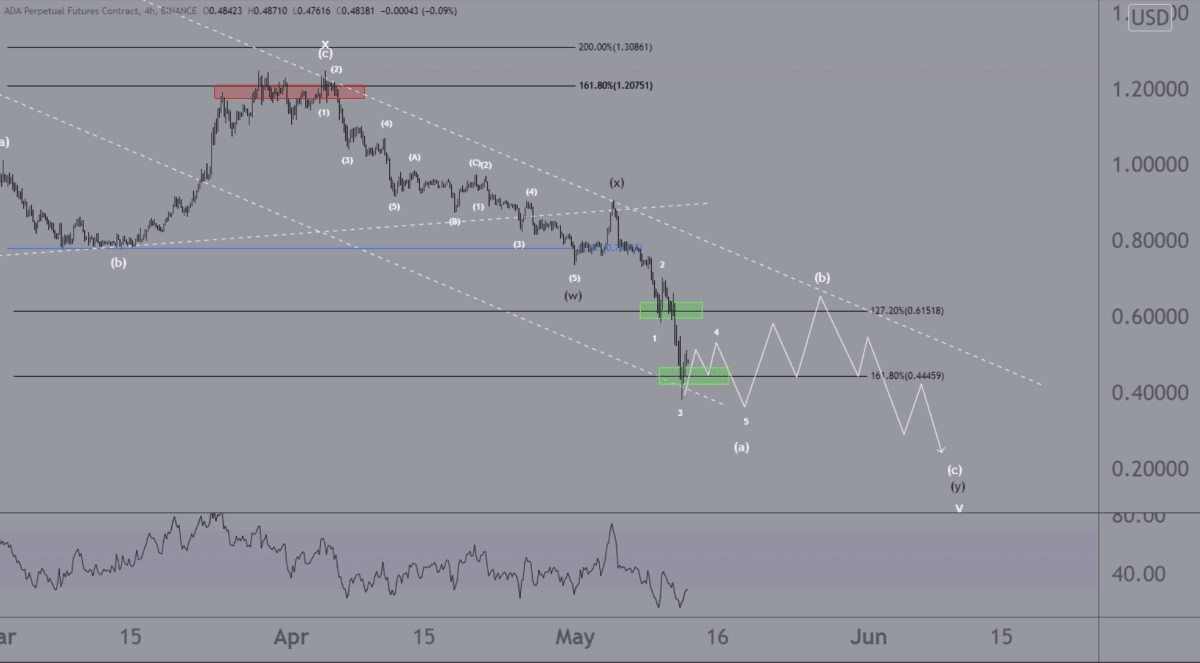 Wat zijn de verwachtingen voor Cardano (ADA)?
Voorlopig zijn ontwikkelaars van Cardano dus druk bezig met het afmaken en uitrollen van de Vasil update. Of deze update nog verdere impact gaat hebben op de prijs is afhankelijk van een groot aantal factoren die dagelijks verschillen. De crypto-markt en zwaar onderhevig aan economische gebeurtenissen en traditionele aandelenmarkten. Dit maakt het soms lastig om het juiste moment te bepalen om in een bepaald project te investeren.
ADA kopen of verkopen?
Wil jij graag dit soort koersanalyses van crypto eerder zien? Dan verwijzen wij je graag door naar onze Discord community voor leden. Hier bediscussiëren ervaren analisten en handelaren dagelijks hun eigen handelsplannen. Ook delen we hier regelmatig aanvullende koersanalyses en updates van projecten die we eerder in deze rubriek hebben behandeld. Via Discord kunnen we 24/7 kennis met elkaar delen en proberen we samen met onze leden de markt voor te blijven. 
Disclaimer: Beleggen brengt risico's met zich mee. Onze analisten zijn geen financieel adviseurs. Raadpleeg altijd een adviseur bij het maken van financiële beslissingen. De informatie en tips die op deze website worden verstrekt zijn gebaseerd op eigen inzichten en ervaringen van onze analisten en dienen alleen voor educatieve doeleinden.