In de premium omgeving van Crypto Insiders worden dagelijks actuele technische analyses gedeeld door ervaren analisten. De afgelopen periode kwam cardano (ADA) hier regelmatig ter sprake. In dit artikel blikken we terug op deze technische analyse en brengen we de recente ontwikkelingen en verwachtingen voor de komende periode in kaart. Mocht je na het lezen van dit artikel nog vragen hebben, kun je deze eenvoudig stellen in onze Discord community. Hier staan onze technische analyses doorgaans 48 uur eerder klaar voor onze leden.
Wat is Cardano?
Om te begrijpen wat Cardano is, moeten we eerst onderscheid maken tussen Cardano en ADA. Dit zijn namelijk twee verschillende dingen. Als we het hebben over Cardano, dan praten we over het project en het blockchain-platform. Bij ADA hebben we het over de bijbehorende cryptocurrency. Cardano wordt gebruikt om ADA te ontvangen en te versturen maar heeft daarnaast ook andere functionaliteiten.
Cardano is een open-source blockchain-project die met verschillende lagen is ontworpen zodat ontwikkelaars hier verschillende applicaties op kunnen bouwen en gebruiken. Het netwerk introduceerde afgelopen zomer hier smart contracts voor.
Laatste Cardano nieuws
Santiment heeft onlangs bekend gemaakt dat ADA investeerders, die hun coins nu verkopen, flink winst hebben gemaakt. Het aantal on-chain transacties op de blockchain die uitgevoerd worden met winst tegenover het aantal gedaan dat uitgevoerd wordt in verlies, ligt op het hoogste punt sinds de laatste week van maart. Nadat de ADA koers met 22% in drie weken was gestegen, besloten investeerders nu hun winst te nemen.
📊 #Cardano sentiment is rather positive at the moment, and prices are +22% in the past 3 weeks. The ratio of on-chain transactions as profit taking vs. selling at a loss is at its highest level of profit taking since the final week of March. https://t.co/RfwCmR64gb pic.twitter.com/vsb3OdGskU

— Santiment (@santimentfeed) August 16, 2022
Wat zijn de verwachtingen voor Cardano?
Of de bovenstaande ontwikkelingen nog een verdere impact zullen hebben op de prijs, is afhankelijk van een groot aantal factoren die dagelijks verschillen. De crypto-markt is immers zwaar onderhevig aan economische gebeurtenissen en traditionele aandelenmarkten. Daarom is het soms lastig om het juiste moment te bepalen om in een bepaald project te investeren. Een technische analyse kan bijvoorbeeld helpen bij het bepalen binnen welk tijdspan een cryptovaluta interessant (kan) zijn om te kopen of verkopen.
Technische analyse ADA koers
Onlangs werd voor ADA een nieuwe technische analyse gedeeld in de Discord community van Crypto Insiders. In deze grafiek is te zien dat op basis van een Elliot Wave analyse nog een stijging richting de rode verkoopzone wordt verwacht en daarna mogelijk een harde daling. Dat komt doordat de koers een ABC patroon vormt waarbij de C wave altijd uitkomt tussen de 100% en 123,2% van de Fibonacci reeks. De eerste target lag rond de $0,59. Na een aantal dagen wist de koers deze target te raken. De koers van ADA was sinds de koopzone met ongeveer 20% gestegen.
Wil jij dit soort analyses eerder lezen? Neem dan ook een kijkje in de Premium omgeving. Hier kan je ook direct in contact komen met verschillende analisten en crypto enthousiastelingen die klaar staan om jou te helpen!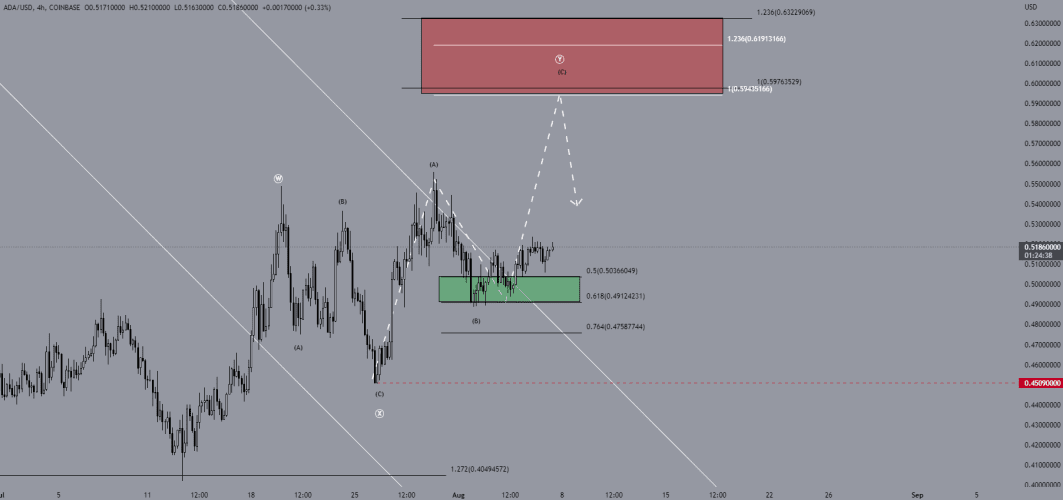 ADA kopen of verkopen?
Zoek jij hulp met handelen in crypto? Dan verwijzen we je graag door naar onze Discord community voor leden. Hier bediscussiëren ervaren analisten en handelaren dagelijks hun analyses en handelsplannen. Ook delen we hier als eerst onze technische en fundamentele analyses. In onze Discord community kunnen we 24/7 kennis met elkaar delen en proberen we onze premium leden op de hoogte te houden.
Disclaimer: Beleggen brengt risico's met zich mee. Onze analisten zijn geen financieel adviseurs. Raadpleeg altijd een adviseur bij het maken van financiële beslissingen. De informatie en tips die op deze website zijn verstrekt is gebaseerd op eigen inzichten en ervaringen van onze analisten. Deze dienen daarom alleen voor educatieve doeleinden.