Crypto Insiders leden ontvangen in onze Discord omgeving dagelijks nieuwe technische analyses voor cryptocurrencies. In dit artikel delen we een recente analyse van the sandbox (SAND) uit onze Premium groep. Ben je nog geen lid of mocht je na het lezen van dit artikel nog vragen hebben, neem dan eens een kijkje op onze Premium informatiepagina.
Metaverse crypto vangen klappen
Het valt op dat vooral cryptocurrencies gebonden aan de zogenaamde metaverse het zwaar hebben vandaag. De drie bekendste tokens uit deze sector staan vandaag het diepst in het rood onder de grootste crypto. Zo staat op het moment van schrijven sandbox (SAND) vandaag meer dan 5% in de min, decentraland (MANA) maar liefst 6% en axie infinity (AXS) zelfs ongeveer 8%. Alle drie koersen verloren al zo'n 30% van hun waarde door de FTX crash afgelopen week.
Technische analyse SAND koers
Vandaag zoomen we in op de koers van SAND. De koers kon niet genoeg support vinden rond $0,6 en zakte tegen vanochtend al naar $0,55. Vervolgens kon SAND samen met de markt iets herstellen, maar de $0,6 was nu omgeslagen in weerstand. SAND zakt op het moment van schrijven naar $0,58.
In de Premium omgeving van Crypto Insiders gaven de analisten al langer aan dat dat SAND flink kan dalen, zoals in de vorige analyse is te lezen. De analisten blijven echter vooralsnog bearish over SAND en dat leggen zij als volgt uit:
"Voor SAND wachten we nog steeds op de continuatie naar beneden. Wij verwachten dat de koers nog richting de groene zone op de grafiek zal dalen. Deze zone wordt gevormd door een Fibonacci cluster van een aantal belangrijke niveaus en ligt tussen de $0,45 en $0,52. Daarnaast maakt de koers een groter 12345 Elliott Wave patroon, waarbij de vijfde en laatste wave bijna ten einde komt.

Zodra dit patroon afgerond wordt, verwachten we een omkeer en kan de koers weer stijgen. Zodra wij duidelijker in kaart kunnen brengen waar deze stijging zal leiden, zullen we dat zo snel mogelijk delen in de Premium omgeving van Crypto Insiders."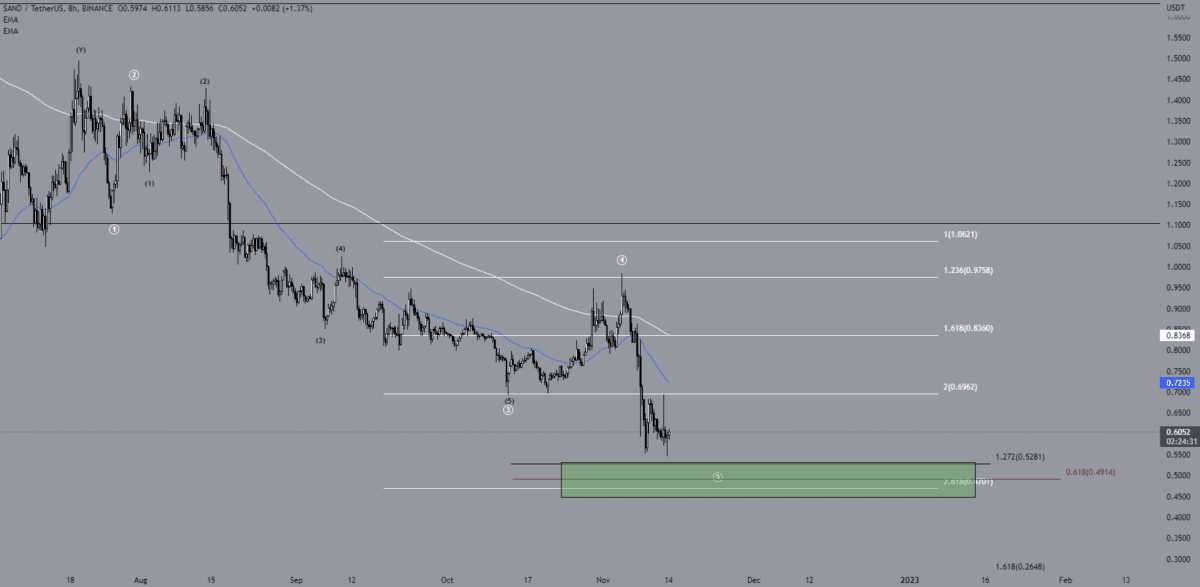 The sandbox kopen of verkopen?
Overweeg jij SAND te kopen of verkopen? Zoek jij hulp met handelen in crypto? Dan verwijzen we je graag door naar onze Premium membersgroep. Hier ontvangen leden als eerst de nieuwste technische analyses van een groot aanbod aan crypto.
Ook krijg je toegang tot exclusieve crypto-projecten, koersvideo's, handelsplannen en ask me anything (AMA) sessies met onze analisten. In onze Discord kunnen we 24/7 kennis met elkaar delen en proberen we samen met onze leden de markt voor te blijven. Word lid en probeer een Premium-lidmaatschap 30 dagen gratis.
Disclaimer: Beleggen brengt risico's met zich mee. Onze analisten zijn geen financieel adviseurs. Raadpleeg altijd een adviseur bij het maken van financiële beslissingen. De informatie en tips die op deze website zijn verstrekt is gebaseerd op eigen inzichten en ervaringen van onze analisten. Deze dienen daarom alleen voor educatieve doeleinden.