In de Premium omgeving van Crypto Insiders worden dagelijks actuele technische analyses gedeeld door ervaren analisten. De afgelopen periode kwam ApeCoin (APE) hier regelmatig ter sprake. In deze rubriek blikken we terug op deze technische analyse en brengen we de recente ontwikkelingen en verwachtingen voor de komende periode in kaart. Mocht je na het lezen van dit artikel nog vragen hebben kun je deze eenvoudig stellen in onze Discord community, hier worden onze technische analyses doorgaans 48 uur eerder gedeeld met onze leden.
Wat is ApeCoin (APE)?
ApeCoin is een vrij nieuwe ERC-20 token binnen het Bored Ape ecosysteem en werkt als governance– en utility-token. Investeerders die een non-fungible token (NFT) uit de Bored Ape Yacht Club in bezit hebben, kregen deze cryptocurrency middels een airdrop. Met deze tokens kunnen zij dus voor bepaalde voorstellen stemmen en krijgen ze verschillende voordelen of speciale acties aangeboden.
Laatste ApeCoin nieuws
Het team van ApeCoin heeft onlangs op hun Twitter laten weten dat ze meet staking functionaliteiten zullen komen. De mogelijkheid om te staken was in de Decentrale Autonome Organisatie (DAO) voorgesteld en goedgekeurd.
Op Twitter heeft ApeCoin ook laten weten een partij gevonden te hebben die dit project zal overzien en ontwikkelen. Na lang beraad is het team achter ApeCoin uitgekomen op Horizen Labs. Zij zullen van ApeCoin een beurs krijgen om dit te ontwikkelen. Het ontwikkelingen van de staking functionaliteiten zal tussen de 12 tot 16 weken duren.
ApeCoin fam – we hear you on staking. It's important and something we want to get right. We're currently finalizing details that will serve as the basis for a wider update on our progress in line with AIPs-21&22. Expect more frequent updates and collaboration soon. pic.twitter.com/jKi8fZuaqd

— ApeCoin (@apecoin) July 22, 2022
Wat zijn de verwachtingen voor ApeCoin (APE)?
Of bovenstaande ontwikkelingen nog verdere impact gaat hebben op de prijs is afhankelijk van een groot aantal factoren die dagelijks verschillen. De crypto-markt is immers zwaar onderhevig aan economische gebeurtenissen en traditionele aandelenmarkten. Dit maakt het soms lastig om het juiste moment te bepalen om in een bepaald project te investeren.
Technische analyse APE koers
In de Discord omgeving hebben de analisten van Crypto Insiders onlangs een nieuwe technische analyse gedeeld van APE. Hierin was het nog niet geheel duidelijk welke kant we op zouden gaan. Hierbij konden we zowel een ABC als 12345 Elliott Wave patroon zien. De koers heeft zich echter ondertussen wat weten te ontwikkelen, waardoor het nu wat duidelijker is welke kan we op gaan. Deze update is in de Discord community gedeeld.
Wil jij dit soort analyses eerder lezen? Neem dan ook een kijkje in de Premium omgeving. Hier kan je ook direct in contact komen met verschillende analisten en crypto enthousiastelingen die klaar staan om jou te helpen!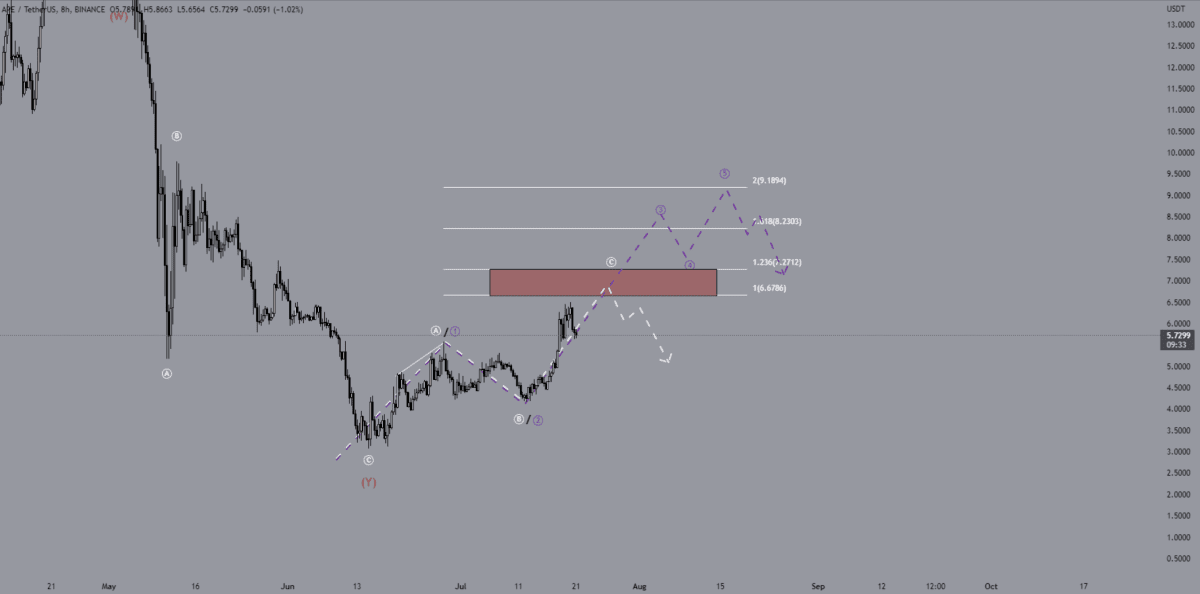 APE kopen of verkopen?
Zoek jij hulp met handelen in crypto? Dan verwijzen we je graag door naar onze Discord groep voor leden. Hier bediscussiëren ervaren analisten en handelaren dagelijks hun analyses en handelsplannen. Ook delen we hier als eerst onze technische en fundamentele analyses. In onze Discord community kunnen we 24/7 kennis met elkaar delen en proberen we samen met onze premium leden de markt voor te blijven.
Ook hield onze hoofdanalist, bekend als AppY, onlangs een ask me anything (AMA) sessie voor onze premium leden. Deze is nu voor iedereen terug te zien en staat vol met zeer interessante technische analyses!
Disclaimer: Beleggen brengt risico's met zich mee. Onze analisten zijn geen financieel adviseurs. Raadpleeg altijd een adviseur bij het maken van financiële beslissingen. De informatie en tips die op deze website zijn verstrekt is gebaseerd op eigen inzichten en ervaringen van onze analisten en dienen alleen voor educatieve doeleinden.