Disclaimer: Beleggen brengt risico's met zich mee. Onze analisten zijn geen financieel adviseurs. Raadpleeg altijd een adviseur bij het maken van financiële beslissingen.
---
In de Discord omgeving van Crypto Insiders delen ervaren analisten dagelijks actuele technische analyses voor cryptocurrencies. In dit artikel delen we een recente analyse van binance coin (BNB). Ook benoemen we enkele interessante ontwikkelingen en verwachtingen voor de komende periode. Mocht je na het lezen van dit artikel nog vragen hebben, dan kun je deze eenvoudig stellen in onze Discord groep.
Wat is binance coin?
Binance coin, of BNB, is de native crypto van Binance, de grootste cryptocurrency exchange ter wereld. BNB lanceerde in 2017 in eerste instantie op het Ethereum (ETH) netwerk als een ERC-20 token, maar werd later overgezet naar Binance's blockchain.
BNB is zeer populair in de handel met crypto op het Binance platform doordat de exchange lage transactiekosten ervoor hanteert. Binance vernietigt daarnaast regelmatig grote hoeveelheden BNB tokens in een zogeheten automatische token burn om het aanbod in bedwang te houden.
Binance coin is momenteel de vijfde grootste crypto op de markt met een marktkapitalisatie van ongeveer $43 miljard.
Laatste binance coin nieuws
Medio juli vond de 20ste BNB token burn plaats. Bijna 2 miljoen BNB tokens werden vernietigd ter waarde van zo'n $444,6 miljoen. Naar verwachting vindt de volgende token burn in oktober plaats.
Onlangs introduceerde Binance ook liquid staking op de BNB Chain. Vandaag lanceert Binance een upgrade voor het Gibbs testnet van de BNB Beacon Chain. Met Binance improvement proposal (BEP) 154 kunnen delegators hun BNB vastzetten om staking beloningen direct op de Binance Smart Chain te ontvangen.
BNB Beacon Chain's Testnet Gibbs Upgrade has arrived.

With this BEP 153, individual and institutional delegators can stake BNB to specified validators and get staking rewards on BSC directly.

Find out more about what the upgrade will mean ⤵️https://t.co/Tu0Jk7dhRL

— BNB Chain (@BNBCHAIN) September 7, 2022
Technische analyse BNB koers
Op 1 september ontvingen Crypto Insiders leden een nieuwe technische analyse van binance coin. De analisten gaven toen aan dat zij nog een verdere daling verwachten voor BNB en dat gebeurde ook: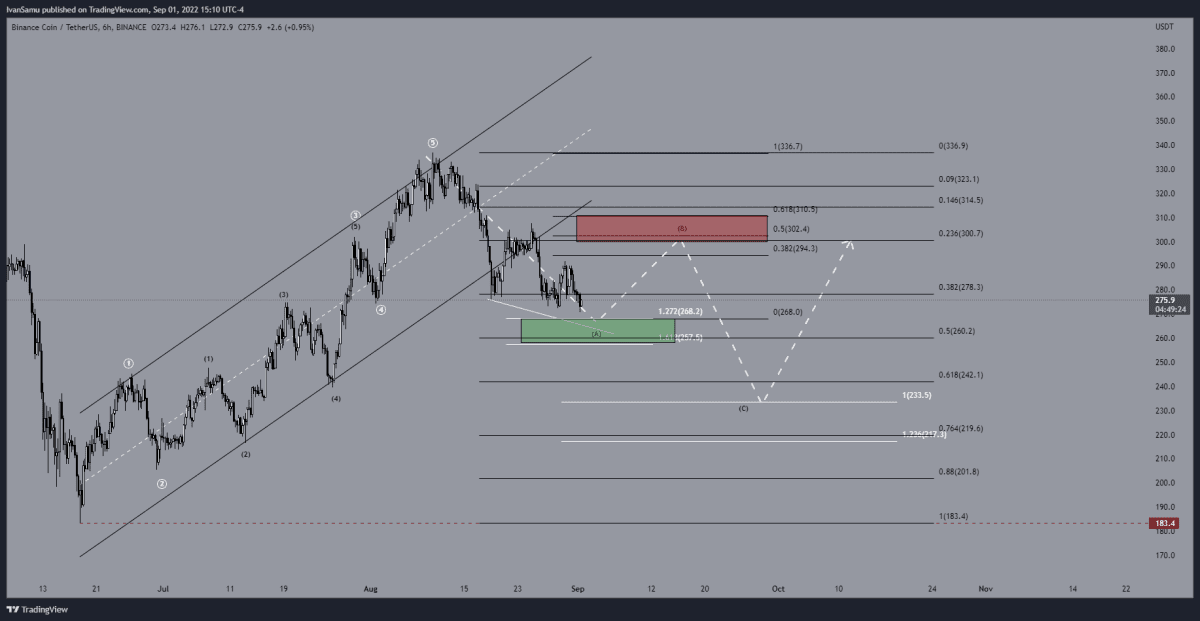 Toch zien de analisten op langere termijn ook goede kansen, de koers heeft namelijk een zogenaamde 12345 impulsive Elliot Wave afgerond. Echter zal de BNB koers eerst ook een corrective wave omlaag moeten afronden voordat de koers weer kan stijgen. De analisten verwachten dat deze wave rond de $242 zal eindigen. Daarna zien we wellicht weer een bullish continuatie.
Heb je vragen over deze analyse, stel ze dan gerust in onze Discord omgeving. In de premium groep staat voor onze leden al een nieuwere analyse van BNB  klaar.
BNB kopen of verkopen?
Zoek jij hulp met handelen in crypto? Dan kunnen de experts in de Discord community voor leden je hierbij helpen. Hier bespreken onze analisten en andere handelaren dagelijks hun mening en kijk op de markt. Ook delen we hier als eerst onze technische en fundamentele analyses, actueel NFT nieuws en ander economisch nieuws. Via de Discord app kunnen we eenvoudig kennis met elkaar delen en blijven we samen onze premium leden de markt voor.