Een van de meest populaire projecten van vandaag is PancakeSwap (CAKE). Deze cryptocurrency werd ook vaak besproken in de premium omgeving voor leden van Crypto-Insiders. CAKE is over de afgelopen zeven dagen met maar liefst 14% gestegen. In dit artikel kijken we naar mogelijk fundamentele redenen waarom deze cryptovaluta in waarde is gestegen en analyseren we de koers zodat je een weloverwogen beslissing kunt maken om CAKE te kopen of verkopen. 
Recente ontwikkelingen PancakeSwap
Een van de meest belangrijke ontwikkelingen rondom het project is het feit dat PancakeSwap nu ook te gebruiken is vanuit de Binance app. Dit betekent ook meteen dat PancakeSwap het eerste decentralized finance (DeFi) project is dat werkt op het mobiele platform van Binance. Dit is natuurlijk erg goed nieuws voor PancakeSwap aangezien Binance de grootste exchange op basis van volume is ter wereld. Het feit dat de miljoenen dagelijkse actieve gebruikers via de Binance app gebruik kunnen maken van PancakeSwap zal voor een harde toename in volume kunnen zorgen.
Daarnaast zien we op het officiële Twitter-account van PancakeSwap dat het project weer een flinke token burn achter de rug heeft. Dit betekent dat er een grote hoeveelheid CAKE tokens vernietigd is, waardoor het totale aantal coins afneemt. Dit is goed voor de schaarsheid van CAKE. Bij deze token burn zijn er in totaal 6.854.583 tokens vernietigd, wat gelijk staat aan $45 miljoen. 
Wat kunnen we nog van PancakeSwap verwachten?
Helaas is het nog niet helemaal duidelijk wat we van PancakeSwap kunnen verwachten vanaf Q2 van dit jaar. De meest recente roadmap van het project ging over het eerste kwartaal van dit jaar en de doelen die hierop vermeld staan zijn al merendeels behaald. Toch zijn er een aantal terugkerende updates op de roadmap. Deze updates zullen we dus in ieder geval nog kunnen verwachten in de aankomende periode. Denk hierbij aan updates aan de UI op de website, nieuwe non-fungible token (NFT) collecties of lijnen en verschillende listings van nieuwe coins. Mochten er nieuwe ontwikkelingen komen rondom het project zullen we dit zo snel mogelijk delen in de premium omgeving voor leden.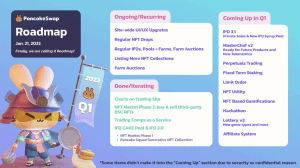 Marktsentiment en adoptie
Als we kijken naar het sociale volume van dit jaar van PancakeSwap, ofwel hoeveel er over het project wordt gesproken op social media, zien we dat dit vrij stabiel blijft met een kleine dip in februari. Dit wil zeggen dat het project toch erg populair en veelbesproken blijft. Dit is natuurlijk ook niet gek aangezien PancakeSwap een erg populaire en veelgebruikte DEX is. 

Vervolgens kunnen we natuurlijk ook zien hoeveel deze DEX gebruikt wordt . We zien dat er ongeveer $6,3 miljard vast staat in PancakeSwap. Dit is een deel op de Binance Smart chain en voor $1,5 miljard staat er vast in staking op het platform. Als we op de grafiek kijken zien we dat dit getal schommelt tussen de $5 en $10 miljard.

Daarnaast kan het platform ook nog gebruikt worden om verschillende NFT's op te verhandelen. Op de onderstaande grafiek zien we toch iets opvallends. Hier is namelijk te zien dat het aantal NFT's dat werd verhandeld een harde stijging maakt maar het aantal unieke adressen dat meer dan $100.000 aan NFT's kocht daalt. Dit wilt eigenlijk zeggen dat NFT's nu ook onder de retail traders populair beginnen te worden. Minder whales kopen NFT's maar er worden meer kleinere transacties gedaan.

Tot slot zien we ook dat PancakeSwap onder ontwikkelaars steeds populairder wordt. De activiteit van ontwikkelaars op PancakeSwap is deze maand extreem toegenomen. Ondanks dat zien we dit volume toch weer sterk afnemen. Het zal interessant zijn om te zien of dit in de komende tijd nog zal stijgen.

Technische analyse CAKE
CAKE wist over de afgelopen 24 uur met ongeveer 1% te stijgen en over de afgelopen zeven dagen met ongeveer 14%. In de afgelopen 30 dagen maakte CAKE al helemaal een prachtig rendement. In deze periode steeg de cryptocurrency namelijk met 22%. CAKE staat op het moment van schrijven op de 55e plaats op basis van marktwaarde. 
Als we naar de grafiek van CAKE kijken zien we vooralsnog een trend die bearish is. Alle pieken worden lager en de bodems zakken mee. Toch lijkt de koers over de afgelopen dagen wel weer een stukje te willen stijgen. Mocht deze stijging en het positieve sentiment op de markt zo door blijven gaan dan zouden we misschien een overtuigende uitbraak uit de neerwaartse trend kunnen zien. Hier zou je dan een mooie entry kunnen vinden mocht de koers de nieuwe steunlijn testen.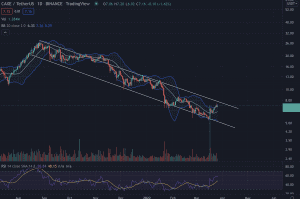 Hoe bepaal ik het juiste moment om te kopen?
Overweeg je een positie te nemen in CAKE, maar weet je niet zo goed wanneer je het best kunt instappen? Vraag het aan een ervaren analist in onze premium omgeving voor leden! Hier worden dagelijks additionele technische analyses gedeeld door verschillende analisten die dieper op de koers ingaan. Je komt hier vrij eenvoudig in contact met verschillende analisten en ervaren crypto coaches, zij helpen je graag een weloverwogen beslissing te maken. Je kan dit nu de eerste 30 dagen gratis en vrijblijvend uitproberen!